Career Services is committed to engaging students early and often through all stages of career development — exploration, planning, reflection, and decision-making.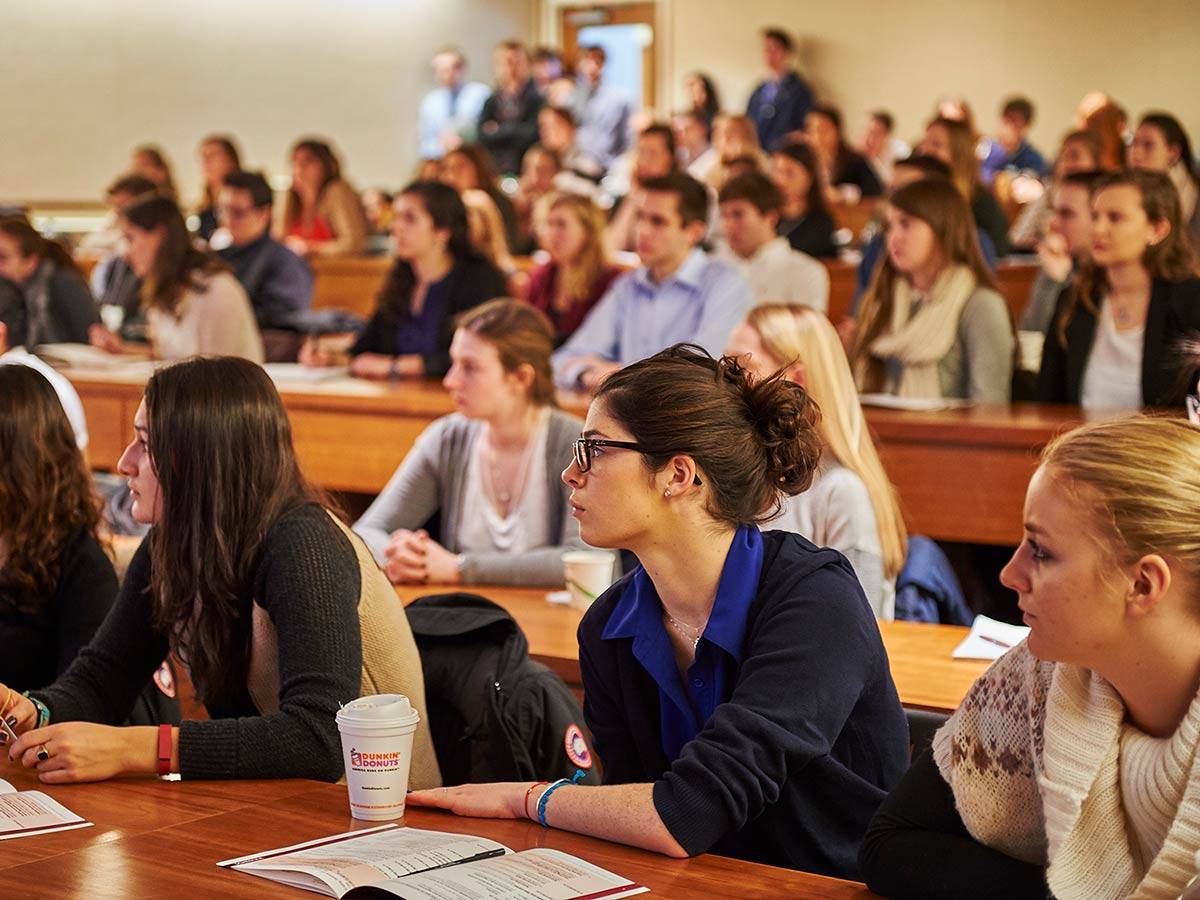 Mission of Career Services
Leveraging the Colgate network, Colgate Career Services empowers Colgate students and alumni to engage in strategic exploration, preparation, and action — translating the liberal arts into a lifetime of meaningful work.
Fulfilling the Mission
Colgate Career Services fulfills its mission through:
Career advisors are adept in helping students discover a sense of self and purpose, even when starting from scratch. Once pinpointed, students consult with career advisors savvy in a particular industry, learning the best strategies for career success.
Our advisors conduct research, attend professional conferences, and network with faculty, employers, and alumni partners to stay current on industry trends.
We employ multiple strategies to cultivate and maintain relationships with providers of diverse post-graduate opportunities.
Our online internship and job platform, Colgate Handshake, hosts Colgate Premier employment opportunities specifically targeting Colgate students.
Summer on the Cuyahoga (SOTC): Paid internships, alumni networking, and community housing offered as part of an economic development program in Cleveland.
Partnering with Faculty
For successful outcomes it is vital that Colgate Career Services work together with faculty in providing students with guidance as they prepare for their lives as college graduates.
What You Can Do
In addition to sharing your own insights, please refer students to Colgate Career Services should they inquire with you about general career or industry-specific questions. We are able to assist students in:
Clarifying career and academic interests utilizing career assessments.
Developing job and internship search strategies.
Writing basic or targeted resumes, cover letters, and personal statements.
The process of applying to graduate or professional schools, including standardized testing.
Preparing for employment interviews.
Identifying career resources for special populations: students of color, LGBTQ, veterans, international students, etc.
Funding to support unpaid or underpaid experiential opportunities.
Receiving academic credit for internships where credit is required.
We ask that the faculty please share any internship or full-time opportunities sent by employers, parents, or former students, as well as student worker positions you have submitted to the Portal. We post these positions to Colgate Handshake where it will receive maximum student exposure. Just email us the description.
We are always considering new ways to reach out to and engage with faculty across campus. If you have ideas of new ways we might collaborate with you or adjust our current practices, please contact us at ccs@colgate.edu.
Classroom Presentations
One way to help students connect their academic work at Colgate to their plans for life after graduation is to collaborate with Career Services for an in-class presentation tailored to the students in class. A 15-45 minute presentation or workshop in class may be a productive and educational opportunity at a time when your own schedule may require you to cancel class or have a late arrival/early departure. 
Departmental Meetings
Colgate Career Services staff is also available to attend departmental meetings to share current initiatives in career services, provide an overview of services and opportunities, and to collaborate with the department to best meet the needs of students.
Available Subject Matter
Here are a few possible topics we are prepared to present:
How to prepare study group participants for their internship placements and applying for summer internships from off-campus.
What can I do/What have Colgate alumni done with a particular major?
Using Career Assessments to discern interests, values, and career direction.
Preparing application materials – targeting resumes and cover letters.
Personal statement preparation for graduate school admission.
A general overview of Career Services.
Scheduling
To schedule, please email ccs@colgate.edu.
Career Services has funds designated to collaborate with faculty on events designed to expose students to diverse career paths. We also entertain proposals from students to subsidize career-oriented conference registration fees.
Funds are limited, so connect with Colgate Career Services as early as possible to take advantage of these resources.
Colgate Career Services tracks students' summer and first post-graduate outcomes and can provide department-specific data to aid your work with current students—especially those who seek clarity on what to do with a certain major.
Members of the faculty are welcome to attend on-campus career events, including employer information sessions, to learn more about their interests and processes. Many of our employers seek access to the faculty, and many sometimes members of the faculty will invite the contacts they make with employers or graduate programs into classroom or student organization settings for informational purposes.
If this is something in which you are interested, please contact Recruiting & Employer Relations.
Colgate Premier Employers, 2021–22
Colgate worked with the following employers during the 2021–22 academic year to pair students with post-graduation career opportunities.
374Water
65 Equity Partners
Acheson Doyle Partners Architects, PC
ADHD & Autism Psychological Services and Advocacy
Advantage Capital
Affect Therapeutics
AGC Partners
Alliance for Citizen Engagement
AlphaSights
Amazon
Ambra Health
American Association of People with Disabilities
American Express
Apogee Adventures
Armory Square Ventures 
Assemble Partners
Associated Press
Atlas Holdings
B6 Real Estate Advisors
Ball Aerospace
Bank of America
Barclays
Baxter
BetterHealthcare
Blackstone Real Estate Portfolio Companies
Bloomberg
BMF
BNP Paribas
Board of Elections in the City of New York, Queens
Bond Benefits Consulting
Bozzuto Group
Cadent Consulting Group
Cambridge Associates
Carney, Sandoe & Associates
Cato Institute 
Center for Women's Mental Health, Massachusetts General Hospital
Cerner Enviza
Challenge Detroit
Child Mind Institute
Chimera Securities
Citi
City Year
Class VI Partners
Close Concerns
CohnReznick
Cold Spring Harbor Laboratory
Colman Brohan & Davis
Colony Group
Community Memorial Hospital
Crestline Investors
Crossroads
Daversa Partners
Deloitte
Department of Homeland Security
D. E. Shaw Group
Deutsche Bank
Dinte Global Executive Search
dQ&A Market Research
DSM Engines 
Dunne Marketing
Dynasty Consulting
Ecosystem Planning and Restoration
EF Education First
Eight Sleep
Empery Asset Management
Environment America
Epic
Evergreen Strategy Group
EXPLO
EY
EY-Parthenon
Family First Life Insurance Company
Fidelity Investments
Focus Forward
FPIA Partners
FTI Consulting
Galatea Associates
Gartner
'Gate Grubs
German American Exchange
Girls Who Invest
Goldman Sachs
Google
Gray Panthers NYC
Griffiss Institute
Guidepoint
Hall Capital Partners
Handshake Partners
Harvard Business School
Henry's Fork Foundation
Hildebrand Family Self-Help Center
HubSpot
Human Rights Campaign
iD Tech
Ikaso Consulting
Ipsos
Ivey, Barnum & O'Mara
JBA Equities
Jennison Associates
JLL
Kivvit
Latham & Watkins
Lincoln Financial Group
Lord, Abbett & Co.
M&T Bank
Macquarie
MarketBridge
Massachusetts General Hospital
Maverick Real Estate Partners
Maytech Global Investments
McMaster-Carr
Medalist Partners
Mediators Beyond Borders International
Memorial Sloan Kettering Cancer Center
Mizuho Americas
Morgan Partners
Morgan Stanley
Motif FoodWorks
Mott Haven Fridge Network
Mound Cotton Wollan & Greengrass
NAI James E. Hanson
National Geographic Society
National Student Leadership Conference
NatWest Markets
NBCUniversal
NBT Bank
NERA Economic Consulting
NerdWallet
NeuroLeadership Institute
New York County District Attorney's Office
North Suburban Legal Aid Clinic
Northwestern Mutual
NY Green Bank
Omnicom Media Group
Opentrons Labworks
Overland Summers
Oxeon Partners
Park Square Executive Search
Patch Technologies
Paychex
Pegasystems
Perry Warren for State Representative Campaign Committee
Phaidon International
Photronics
Pinterest
Point O'Pines Camp for Girls
Post Investment Group
Project Rousseau
Publicis Media
Qontigo
Quadrant
Raider Hill Advisors
RBC Capital Markets
Reckitt
Red Ventures
Redgate Real Estate Advisors
Regional Economic Models
RF|Binder
Rivkin Radler
Robin Hood Foundation
Roessel Joy
Rookie Road
Roux Associates
Russell Tobin & Associates
Scotiabank
Seurat Group
Shea & Company
Shea Yeleen
Silicon Valley Bank
Silverstein
Simchick
Slalom Consulting
Soros Fund Management
Southern Teachers Agency
Sparrow
Spencer Stuart
Standard Chartered Bank
Starfish
Strategies for Wealth
Stryker
Success Academy Charter Schools (NY)
Summer on the Cuyahoga
T. Rowe Price
Teach For America
The Glimmerglass Festival
The Gotham Film and Media Institute
The Institute for Responsible Citizenship
The New England Center for Children
The Office Performing Arts + Film
Third Bridge
Tigercomm
Trace Innovations
TransPerfect
Transportation Alternatives
True
Tuck Business Bridge Program at Dartmouth College
U.S. PIRG
Uala
United Talent Agency
VA New Jersey Health Care System
Valet Seller
Veeva Systems
Venture For America
Verve Event Co.
Voices Center for Resilience
W. W. Norton & Company
Women's Association of Venture & Equity
Yale Social and Affective Neuroscience of Autism Lab
Ziegler
ZS Associates