Campus computer labs offer the Colgate community options for everything from quickly checking email to extensive work on research papers to specialty software not available on one's personal computer.
Remote Access to Computer Lab Software
AWS Appstream 2.0 is the recommended method for access to Colgate licensed windows software such as Matlab, R, Maple, Stata, ArcGIS, Microsoft Office and the Adobe Creative Cloud suite. Appstream can also be used as a virtual Desktop, with all of the same look and functionality of a computer lab desktop.
When Working in a Public Lab
Saving Files
Use caution when saving work in a public lab. Any files saved on the hard drive of the computer are erased when any user logs off. To save work use a USB flash drive, network file storage, email documents to oneself, or upload to cloud locations such as Google Drive or Dropbox.
Logging Off
To protect your digital security, identity, and files, always log out of all accounts when finished working in a public lab. Also make sure to log off the lab computer when finished.
These applications are typically installed on laboratory Mac computers:
Acrobat DC
Adobe Flash Player
After Effects CC
Audition CC
Chrome
Dreamweaver CC
Flip4 Mac plugin
Google Talk Voice plugin
GPower
Illustrator CC
InDesign CC
iTunes
Keynote
Lightroom Classic CC
Matlab
Media Encoder CC
Microsoft Office (Word, Excel, PowerPoint)
Numbers
Pages
Photoshop CC
Premiere Pro CC
Preview
QuickTime
R/R Studio
Safari
Silverlight
SPSS
Texmaker
VLC Media Player
Vue
These applications are typically installed on laboratory Windows PCs:
7-zip
Adobe Creative Cloud suite

Acrobat
After Effects
Audition
Dreamweaver
Illustrator
InDesign
Lightroom
Lightroom Classic
Media Encoder
Photoshop
Premiere Pro

ArcGIS Desktop
ArcGIS Pro
Google Chrome
Google Earth Pro
MATLAB
MAXQDA
Microsoft Office suite

Access
Excel
OneNote
PowerPoint
Publisher
Word

Notepad++
RStudio
SAS Enterprise Guide
SPSS
StataSE
VLC Media Player
Wolfram Player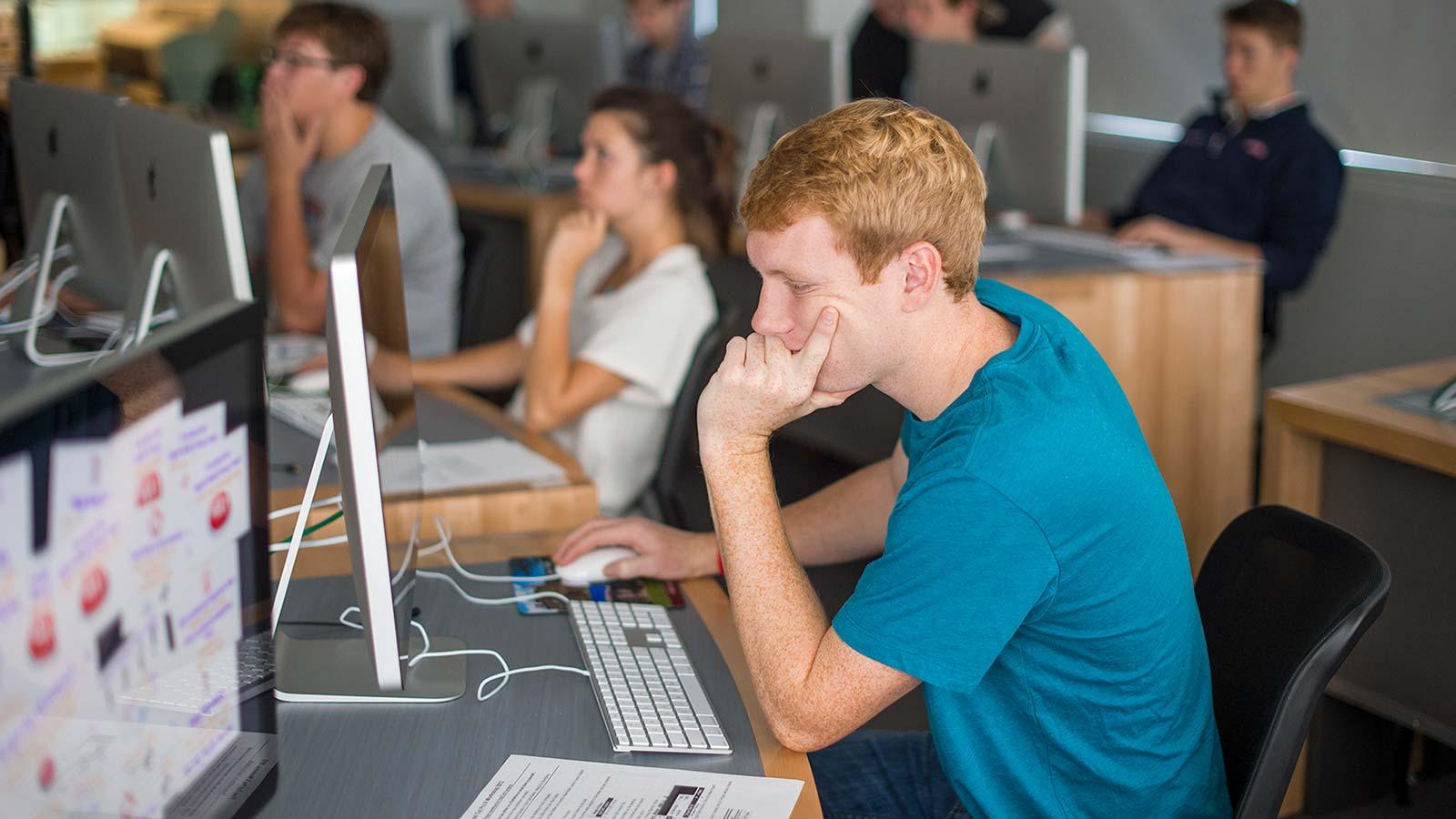 Labs
Room 345: 30 PCs
Third Floor Reference Area: 22 PCs
Room 501: 20 PCs
Fifth-floor learning commons area: 25 Macs with standard software plus Final Cut Pro and Adobe Creative Suite
Digital Learning and Media Center (see below)
Features
Printing available
Scanning available
Specialized software

MAXQDA in Case 345 and Case 501
FinalCut Pro in the fifth-floor learning commons
Media software in the Digital Learning and Media Center (see below)
Hours and Availability
These facilities open whenever the library is open (library hours). Check current workstation availability for:
Located in Case Library and Geyer Center for Information Technology
Features
20 Macs with media creation software including:

Final Cut Pro
Motion
Adobe Creative Suite
Logic
Camtasia

20 TB SAN for integrated storage
Hours
This facility is open whenever the library is open (library hours), but may be closed during some windows when reserved for classes.
The facility is staffed by trained media mentors:
Sunday–Thursday: 10 a.m.–10 p.m.
Friday–Saturday: 10 a.m.–4 p.m.
Features
22 PCs
Printing Available
Scanning Available
Hours
This facility is open whenever the library is open (library hours)
The lab is located on the lower level of the Coop, adjacent to the WRCU student radio station.
Features
25 PCs
Printing available
Scanning available
Hours
The lab is during the fall and spring semesters (except holidays/breaks)
| | |
| --- | --- |
| Monday | 8am - 10pm |
| Tuesday | 8am - 10pm |
| Wednesday | 8am - 10pm |
| Thursday | 8am - 10pm |
| Friday | 8am - 10pm |
| Saturday | 10am - 10pm |
| Sunday | 10am - midnight |
Features
13 PCs
Printing available
Check Current Lab Availability
Network Accounts
To access laboratory computers, students, faculty, and staff will be required to log in using their network account credentials.
Ask for Help
If you are unable to find the information you need in the documentation available online, the ITS Service Desk is available to assist.