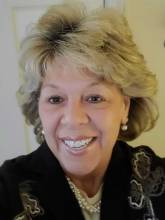 Terri Stewart, director of the Department of Campus Safety at Nazareth College, has been named director of campus safety at Colgate University. She will take up her new position in Hamilton, N.Y., on Jan. 3, 2022.
"I am excited to welcome Terri into this important role at the University," says Joseph Hernon, associate vice president for emergency management, campus safety, and environmental health and safety. "While every campus is different, her varied expertise and experience within higher education will be valuable assets for our community."
Stewart has a long career in higher education public safety. She began as a public safety officer and communication specialist at Syracuse University. She was promoted to director for training, customer, and staff relations and professional standards before moving to Texas Southern University as deputy chief of police — a position she subsequently held at the University of the District of Columbia. She has since served as director and chief of police at Trinity University in Washington, D.C., and at Ithaca College.
As campus safety director at Nazareth, Stewart oversees a professional staff of 19, responsible for patrol and security, crisis response, Title IX investigations, fire safety and environmental health and safety, as well as security for special events.
Stewart serves as an appointed co-chair of the COVID-19 Pandemic Task Force Health and Safety subcommittee at Nazareth. She is also Behavioral Intervention Team chair and a member of the Care team, responding to students in distress. Stewart is a member of a strategic planning and coordinated community response team, funded through a grant from the U.S. Justice Department's Office on Violence Against Women.
A graduate of Syracuse University with a bachelor's degree in communications, Stewart earned her MS in organizational management and development at Trinity University. She has been recognized repeatedly for outstanding service and exemplary achievement, most recently at Nazareth, where the Undergraduate Student Association honored her commitment to promoting, supporting, and advocating for equity and social justice in advancing the Nazareth mission and vision for diversity, equity, and inclusivity. 
"I am extremely pleased, proud, and grateful to be joining the Colgate community," Stewart says. "The safety of our students, faculty, and staff is a tremendous responsibility. Drawing on my record of collaboration, community-based outreach, and meaningful partnerships, I look forward to leading the campus safety team and working alongside the University community to advance Colgate's mission, vision, and values."