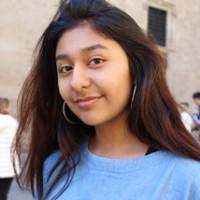 Melanie Tlaseca Verde '23 is representing Colgate University this year as a Newman Civic Fellow, receiving the national fellowship that recognizes students who dedicate their time to creating positive change in local and global communities.
The fellowship is awarded by Campus Compact, a national coalition of colleges and universities striving to build democracy through civic education and community development. Each fellow is nominated by a Campus Compact member, who is invited to select one student from their campus every year.
This year, Jeremy Wattles, director of the Max A. Shacknai Center for Outreach, Volunteerism, and Education, nominated Tlaseca Verde for their commitment to improving campus culture and their significant work in their home community. "Melanie showed a breadth and depth of community and social-change work that elevated them to the top of the applicant pool," Wattles said. "I look forward to their continued engagement with pertinent and urgent social issues."
Tlaseca Verde was nominated for their outstanding civic engagement work and advocacy for marginalized groups, both on campus and at home in Newark, N.J. At Colgate, they are known as a voice for neurodivergent peers, addressing disability injustice by building awareness among fellow students and encouraging the Office of Disability Services to expand its efforts. They also provide leadership to advance comfort and community for queer students, Black and Indigenous people of color, and allies.
Tlaseca Verde secured the Jim P. Manzi '73 fellowship during the summer of 2021, working at the Women's Lunch Place, an advocacy and daytime shelter and soup kitchen in Boston, Mass., for women experiencing housing insecurity.
Through the Newman fellowship, Campus Compact provides a year of civic-centered learning and networking opportunities that encourage personal and professional growth. Tlaseca Verde will attend numerous virtual training and networking sessions with other fellows across the country in order to continue on their path of enacting community-based progress.
"The work of fighting for respectable living conditions and affordable housing within my hometown, as well as the fruitful work of executing events where joy is a form of resistance for historically marginalized people at Colgate, are projects that will not end when I graduate," says Tlaseca Verde. "They encompass my lifelong commitment to building the communities I am a part of and fighting the injustices that pervade them."
Double majoring in philosophy and women's studies, Tlaseca Verde plans to pursue a master's in social work and a JD after graduation, concentrating on undocumented immigrants, tenants' rights, and BIPOC communities.