Each spring, Colgate University's Longyear Museum of Anthropology offers a new exhibit highlighting fundamental aspects of culture. This spring, the museum hosts "Imagining Indigeneity in a Global Future," curated and designed by Justice Wysinger '23. 
In this exhibit, Wysinger highlights case studies on material culture and knowledge from different Indigenous communities worldwide. Wysinger hopes the exhibit will raise awareness about issues that affect Indigenous communities around the world and their cultural practices — including globalization, environmental degradation, water pollution, and resource extraction. 
At the exhibits' opening celebration, attendees listened to a series of presentations, including a Haudenosaunee Thanksgiving address, spoken in Oneida by Community Liaison Lisa Latocha; a traditional Ifa or Yoruba blessing by Wysinger's mother, Iya Ifatola Tifase; and a moving speech from Wysinger herself.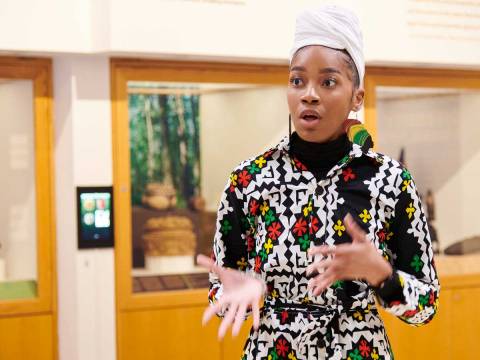 "Instead of incorporating Indigenous knowledge into the foundation of globalized agricultural practices and resource extraction," Wysinger said, "Westernized notions of how science should be undertaken have long taken precedence."
Wysinger's exhibit underscores the value of resources to Indigenous communities, which are often ignored in mass exploitation and marketing. Walls of the exhibit are scrawled with quotes from Indigenous authors and environmentalists, such as Robin Wall Kimmerer, the author of the 2021 Community Read, Braiding Sweetgrass, and Imbolo Mbue, the author of the 2022 Community Read, How Beautiful We Were. 
"When the sky began to pour acid and rivers began to turn green, we should have known our land would soon be dead. Then again, how could we have known, when they didn't want us to know?" reads a quote from Mbue above six vibrant, hand-stitched Mola panels made by the Indigenous Guna Yala people of northeast Panama.
In Guna culture, these hand-stitched molas are typically sewn onto the front and back of a blouse to add vibrancy and color to one's outfit. The creation of a single mola involves delicate threading of various patterns on layers of cloth and can take months of work.
Based on projections of climate change during the next century, it is likely that coastal communities like the Guna will eventually be forced to relocate; climate-driven migration carries the risk that some cultural practices, such as mola making, could fade away or not survive the journey. 
Wysinger hopes that, by experiencing the variety of Indigenous cultures and wisdom represented by her exhibit, visitors will begin to recognize that issues faced by Indigenous communities affect all of humanity.
"While modernity has socialized consumers to separate themselves from production in an out-of-sight, out-of-mind fashion, the conservation issues we often learn about in our classes are not far from us," said Wysinger, "and neither are their consequences."