This year, Colgate University has commemorated its Bicentennial, looking back on a proud history and forward to a bright future.
Today, the University community focused intently on the joys of the present moment. Six hundred and eighty four members of the Class of 2019 received their degrees during the institution's 198th commencement exercises held along the banks of Taylor Lake — Colgate's first outdoor ceremony since 2008.
Hundreds of family, friends, faculty, and staff cheered the accomplishments of class valedictorian Matthew Kato (history major) of Los Angeles, Calif., and salutatorian Tianyi Mike He (chemistry and philosophy major, Phi Beta Kappa), of Shenzhen, China. The University also recognized the 459 class members who graduated with honors and the 39 elected to Phi Beta Kappa. Five students were awarded the master of arts in teaching, two with distinction.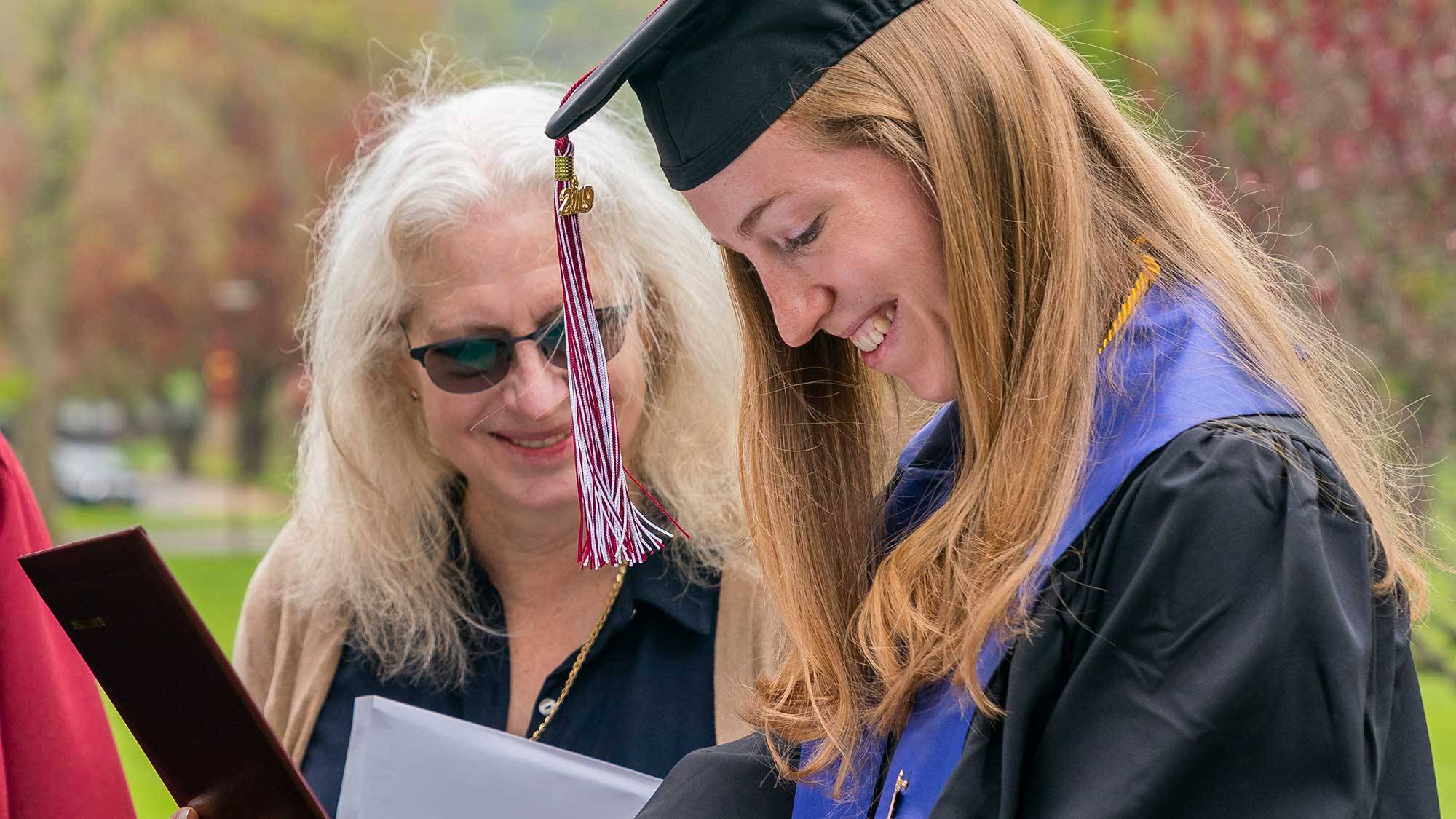 The University conferred honorary degrees upon Rep. Antonio Delgado '99; Brookings Institution Senior Fellow Jung Pak '96; author and University of Southern California English professor Viet Thanh Nguyen; performance artist and School of the Art Institute of Chicago professor Nick Cave; Raider Hill founder and Board of Trustees Chair Emeritus Daniel B. Hurwitz '86, P'17,'20; and EMILY's List founder and former president Ellen Malcolm.
The ceremony was the culmination of a three-day celebration that included the traditional ALANA graduation ceremony, Senior Torchlight Procession, seminars by the University's honorary degree recipients, and Baccalaureate service.
Baccalaureate attendees were addressed by this year's 1819 Award winner, D'Jonita Cottrell '19, and the 2019 Jerome Balmuth Award winner, Peter Balakian, Donald M. and Constance H. Rebar Professor in humanities and professor of English.
Outlining seven milestones to guide new graduates, Balakian said, "I hope you will always make your Colgate education work in exponentially expansive ways as life unfolds. May your happiness always be connected in some way to working for others. I hope you relish this moment, dwell on it, assess what this stone means to you on this road of yours. All of us feel great pride in your accomplishments and great hope for your futures."
Pride and hope had its own soundtrack Sunday morning. Degree recipients and their professors filed down Willow Path, lit with thousands of lights, behind the Mohawk Valley Frasers.
The Class of 2019 was welcomed by President Brian W. Casey, who told them, "You are a class assembled at a unique moment in Colgate history. You are a class that saw Colgate enter its third century. You will always be Colgate's Bicentennial class. Today we celebrate all of the faculty and students who have brought the University forward."
After an introduction by teammate and friend Adonal Foyle '98, Delgado delivered a commencement address that focused the Class of 2019 on the power of love.
"In love, you will find the courage to turn down all the outside noise in order to hear your inner voice," Delgado said. "In love, you will find the strength to follow your heart and intuition when all around you think otherwise."
Delgado spoke of his mother's love, which brought him into the world in spite of a dangerous pregnancy; his love of hip-hop culture and the pursuit of justice, which led him on a voyage of self-discovery; and the love of a Colgate faculty member, the late political science professor Joseph Wagner, who led Delgado to study political science and philosophy and to apply for a Rhodes Scholarship. He also spoke about his love of America. That affection guided him to victory in a district that is 90 percent white, largely rural, and evenly split between political parties.
Delgado passed on a key lesson from his campaign experience. "Love has a way of making folks disagree in an agreeable fashion," he said. "And it can inspire you to reach beyond differences in order to find common ground.
"To be great, one must be good, and to be good, one must love," Delgado added. "For only love can lead to kindness, compassion, decency, honesty, mutual respect, and understanding."
As examples, Delgado cited the work of Uyi Omorogbe '19, whose Thought Into Action start-up dedicates its profits to renovating and building schools in Africa. Delgado also noted the work of Oneida Shushe '19, whose Kathryn Davis Projects for Peace fellowship will allow her to travel to Kosovo, where she will work to expand access to dental health care among children and minority populations.
"The hard work, the meaningful work, the work that takes strength of character, often requires that one go against the herd — not to be a contrarian, not to grab a headline, but instead, to unite — to elevate the conversation in pursuit of a greater good or higher purpose," Delgado said. "None of this work can be done in the absence of love."
Commencement details:
719 undergraduate students recognized
35 earned their degree on December 31, 2018
5 graduate students recognized
459 earned university honors
61 Summa Cum Laude
215 Magna Cum Laude
183 Cum Laude
39 students were elected to Phi Beta Kappa