April 10–22, Colgate University celebrated 13 Days of Green, inspiring and empowering students, faculty, and staff to embrace a sustainable future.
The annual celebration began 13 years ago, when a passionate group of students took the initiative to plan a series of sustainability-related events leading up to Earth Day. 
"This year, the interns helped to organize 14 events attended by more than 470 students, faculty, and staff," says Director of Sustainability John Pumilio, "It's inspiring to see how this program has continued to grow throughout the years, becoming an annual spring-time tradition at Colgate."
Assistant Director of Sustainability Julia Sparks adds, "Through cross-campus collaboration, we hope to reach a wider audience and engage each person with an aspect of sustainability about which they are already passionate. Sustainability is for everyone."
Kickoff Event
It all began with a celebration on the Academic Quad. Community members visited tables hosted by campus organizations including the Beekeeping Club, STEM/Sustainability Career Advisers, and Sustainability Representatives (S-Reps). After learning about how to get involved in these sustainability efforts, attendees enjoyed live music, played lawn games, and indulged in a low-waste treat: Maxwells ice cream.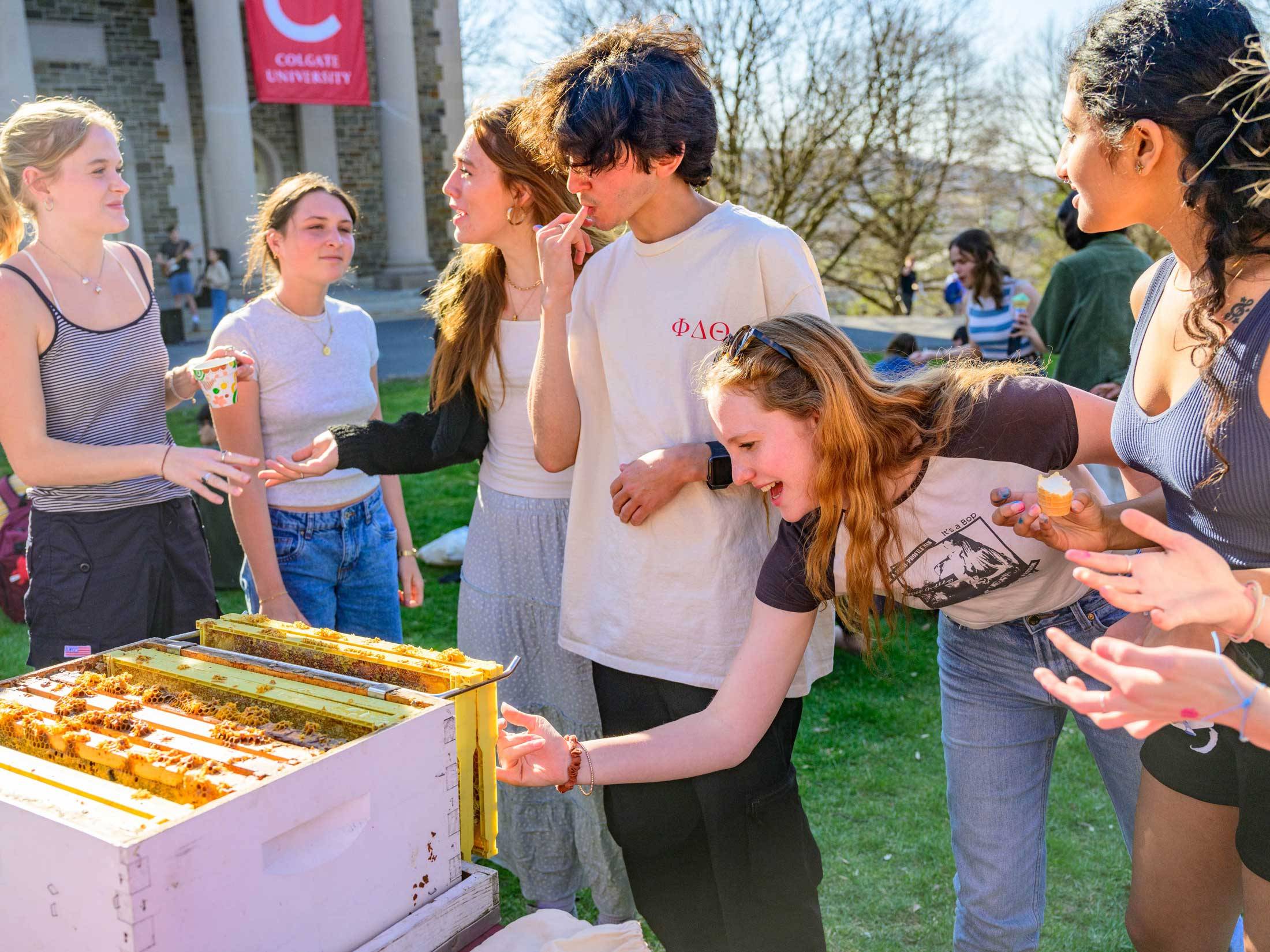 Spring Cleaning Swap
Sustainability and ALANA organized the Spring Cleaning Swap, which minimized landfill waste by encouraging participants to donate their reusable household goods, clothes, and books — while also allowing them to take home new items for free. A simple exchange of goods became a lively market, with attendees perusing and exchanging their finds.
Screening of Expedition Reef
The Vis Lab hosted a screening of Expedition Reef. The film takes viewers on an underwater journey, immersing them in the vibrant and dynamic world of coral reefs. The film not only showcases the growth, feeding habits, and reproduction of coral, but also emphasizes their critical role in supporting more than a quarter of the marine life on our planet. It dove into the harsh realities that threaten "rainforests of the sea": climate change, habitat destruction, and overfishing.
Sustainability Walking Tour
At 4:13 p.m., the Office of Sustainability interns hosted a campus tour, which highlighted the University's sustainability efforts, from architecture to student life. The itinerary included a visit to the Colgate greenhouse and LEED certified buildings, views of the campus tree canopy, and glimpses of other sustainable initiatives.
"Susty" Trivia
S-Reps hosted a special edition of Donovan's Trivia dedicated to sustainability. Questions covered topics from sustainability at Colgate to environmental pop culture.
ENST Brown Bag: Black Geographies and Environmental Justice
The Environmental Studies Program hosted a Brown Bag event that focused on Black geographies and environmental justice. The event was led by Visiting Assistant Professor of Environmental Studies Parvathy Binoy, who discussed contemporary environmental justice struggles in the American South. The talk explored the ways in which environmental justice intersects with structures of anti-Blackness and structural racism, with a particular focus on the Cop City protests in Atlanta and the efforts of a group of environmental justice organizations in Louisiana.
Afternoon of Service
The Max Shacknai Center for Outreach, Volunteerism, and Education (COVE) hosted an afternoon of service that offered a chance to give back to the community through invasive plant removal, trail maintenance, garden preparation, and the painting of donation boxes for the COVE Salvage Program. Community partners included Colgate Community Garden, Roger's Environmental Education Center, Chenango Trail Association, and Spring Farm CARES Nature Sanctuary.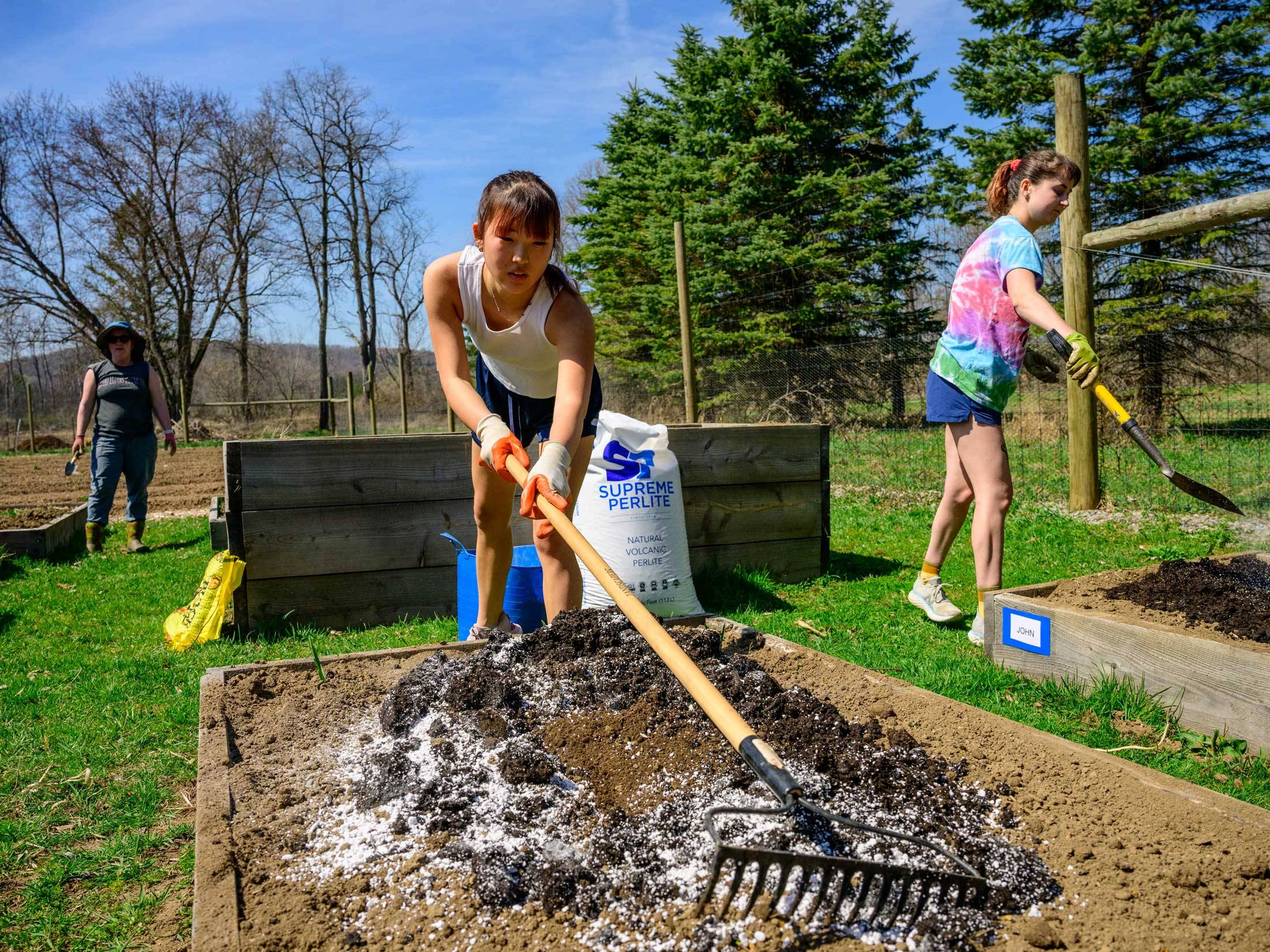 Hami-Down 'Gate Clothes Sale
Hami-Down 'Gate, a student-founded organization committed to promoting sustainability on campus, hosted a successful clothing sale in the Hall of Presidents. The event provided an opportunity for shoppers to browse and purchase secondhand clothing at an affordable price.
Screening of To the End
The Hamilton Movie Theater, Vis Lab, and Office of Sustainability organized a free screening of the award-winning environmental film To The End. The film follows four young women, including Rep. Alexandria Ocasio-Cortez, as they grapple with new challenges of leadership and power and work together to defend their generation's right to a future.
Painting With Local Pigments
Attendees explored their artistic side by painting with pigments created from local plant species and other natural ingredients found in nature's spring palette. They learned about the ecological role of local species and how an artistic view of nature can inspire sustainable change. The event also featured a demonstration on how to make paint from plants, bark, soil, and other natural sources.
"Climate Resilience and Colgate" Workshop
This workshop for Colgate employees, led by Director of Sustainability John Pumilio, featured conversation on the effects of climate change on the University and steps being taken to prepare for the future.
Environmental Justice Trivia at the Longyear Museum
The Longyear Museum hosted Environmental Justice Trivia Night in Alumni Hall. Attendees learned about the current museum exhibition on indigenous environmental justice, curated by curatorial intern Justice Wysinger '23. As the teams competed, they indulged in traditional Haudenosaunee food and drink from Angela Ferguson of Onondaga Nation.
Oak Awards Ceremony
The annual Oak Awards Ceremony recognized outstanding individuals and campus groups making significant contributions to sustainability efforts. Guest speakers emphasized the importance of the effort. During the ceremony, the Environmental Studies Program also celebrated several seniors who have demonstrated a strong commitment to community service, research, and justice.
​​Earth Day Bird Walk
Assistant Director of Sustainability Julia Sparks and environmental studies senior Will Krohn led the Earth Day Bird Walk — a leisurely stroll through the Colgate forests to find and observe the many bird species that migrate through the area in the spring, as well as the year-round residents. Participants kept an eye out for the beautiful yet ephemeral wildflowers that blossom in the forest understory.
Broad Street Bash
The Office of Sustainability, Community Garden, and Greek Life Sustainability Chairs closed out the 13 Days of Green with live music, campfires, free food, and lawn games. The highlight of the event was the announcement of the winner of the inaugural Broad Street ECOlympics — Colgate's most eco-friendly organization — Kappa Kappa Gamma.