The Colgate Community Garden is a student-led initiative that provides a fun and warm community for students and others who want to explore the principles of organic gardening.
At the Garden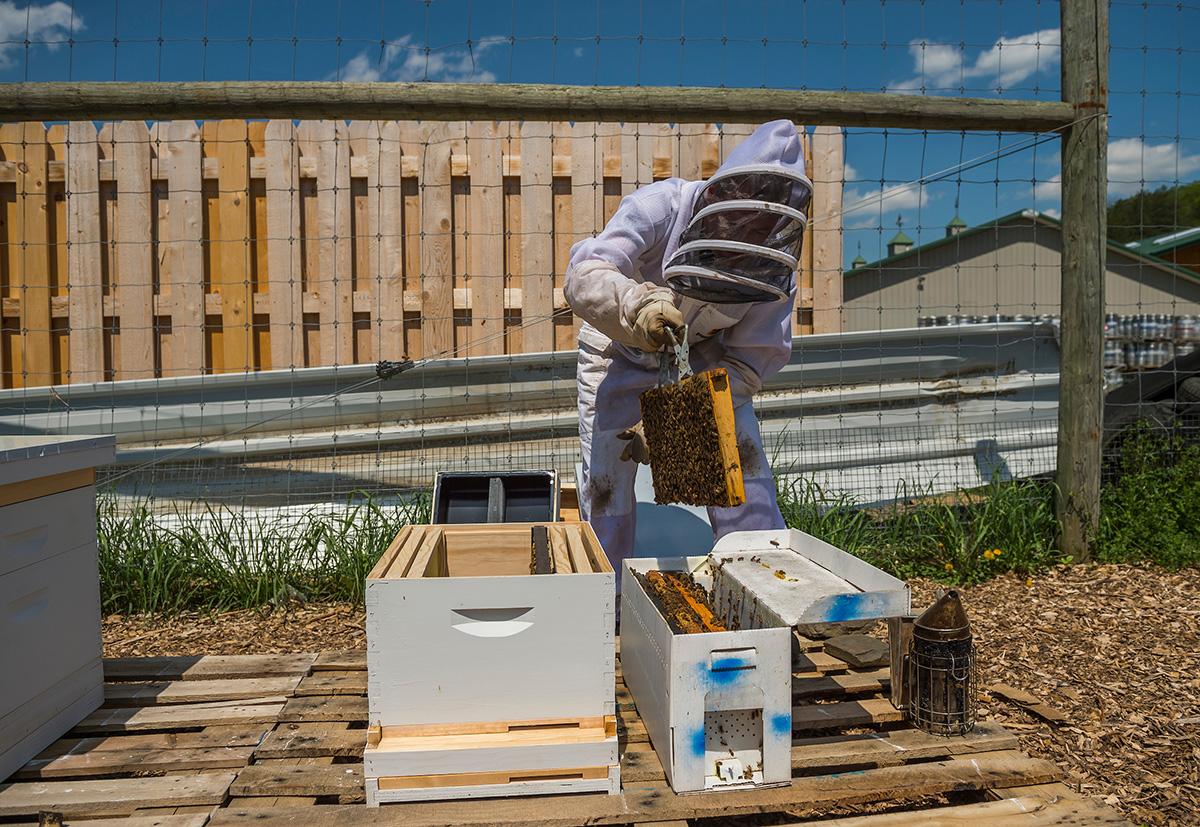 Located just south of the campus, the operations of the garden are managed by Colgate students and a garden manager. Efforts in the garden are spearheaded by the student groups Green Thumbs and Beekeeping Club. The garden invites involvement and visits from campus for a variety of activities, including:
Work parties
Open volunteer hours
Volunteer groups
Student research projects
Potlucks for community plot members
Apiary
In addition to vegetables, herbs, and flowers, the garden features an apiary that is home to as many as four honey bee hives. The hives have a symbiotic relationship with the plants of the garden, while also producing honey for harvest. The apiary is managed by the Colgate student group, Beekeeping Club.
Produce
The garden produces the vegetables, herbs, and more outlined below. Half of all produce is donated to the local Hamilton Food Cupboard, and the other half is split between campus dining halls and the weekly campus farm stand.
Apples
Beans
Beets
Brussels sprouts
Cabbage
Carrots
Cauliflower
Cucumber
Eggplant
Flowers
Gourds
Honey
Herbs
Kale
Kohlrabi
Lettuce
Onions
Peas
Peppers
Pumpkins
Raspberries
Squash
Swiss chard
Tomatoes
Watermelon
Zucchini
Weekly Farm Stand
During the garden's growing season, it supplies the produce for a weekly campus farm stand, giving students, faculty, and staff easy access to fresh, locally grown produce. The farm stand's hours will be posted to the campus calendar.
Community Plots
The garden features 11 community plots — roughly 8'x4' raised bed gardens — for individuals to manage and grow their own produce. These plots:
$25 per year
Available to anyone from the Colgate or local communities
Include access to the garden site and tools/equipment for gardening.
Those with community plots build a community within the garden, often working side-by-side and hosting potluck dinners as they manage their own plots.
History of the Garden
Colgate's Community Garden began in 2009 as a research project by Megan Cronin '10, Teddi Hofmann '10, Maria Kryachko '10 and Kate Pavelich '10 for their senior seminar in environmental studies. With funding from the class gift of the Class of 2010, and the leadership of the student group Green Thumbs, it was possible to break ground on the Community Garden during the summer of 2010, on a plot of land adjacent to Newell Apartments.
In 2014, the garden was relocated to its current and more suitable growing location just south of Colgate's townhouse community. In 2017, it then welcomed honey bees as residents with the introduction of an apiary and its two hives under the management of Beekeeping Club.
Contact
For more information about the garden and the various opportunities it presents, contact the garden manager: