In a normal year, Colgate employs more than 300 student workers, including Links and CLs to assist with arrival days. In the absence of these student workers, and faced with the logistics of providing for students' needs during the universal quarantine, Colgate employees came together to fulfill the new demands placed upon the community by the COVID-19 pandemic.
According to Yariv Amir, senior associate athletics director and coordinator of the volunteer effort, 398 people worked a total of 2,671 shifts from Aug. 3 through Sept. 28. Duties included everything from unloading and delivering student belongings to residence halls, to delivering more than 4,500 boxes of textbooks, 30,000 packages from the mail room, and 55,000 meals. "Colgate employee volunteers also staffed the testing sites, monitored outdoor time, and completed many other odd jobs as needed," Amir added.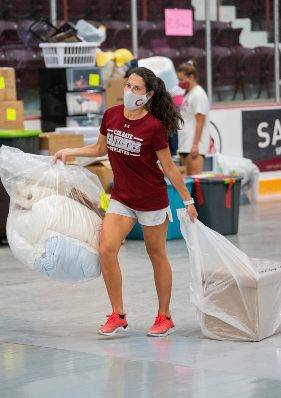 Nearly 63% of employee volunteers were from the athletics department, with Tracy Waters (administrative assistant, advancement) and John Painter (director of athletic communications) completing the most shifts from start to finish. Volunteers are still needed to deliver meals to students in quarantine — please sign up via this spreadsheet.
In a related effort, the academic administrative assistants organized to assist residential life staff in preparing dorms for student arrival. They created welcome banners and signs, delivered PPE supplies to each room, and created and applied name tags to every door in Colgate-owned residences prior to student arrival.
"During the weekend before student arrival we started writing the names on the door decs (name tags) for each student. Then we put the door decs on each of the dorm rooms both on and off-campus," said Nicole Carvell, administrative assistant (PCON, NAST, ALST). Carvell logged 119,087 steps and climbed 212 sets of stairs in a nine-day period. Not bad for a desk job.
"The response for volunteers from employees and students has been amazing, while not surprising," said Lori Chlad, associate vice president of human resources "Whenever there is a need at Colgate, people are always willing to step up in big ways. It is what makes us Colgate."