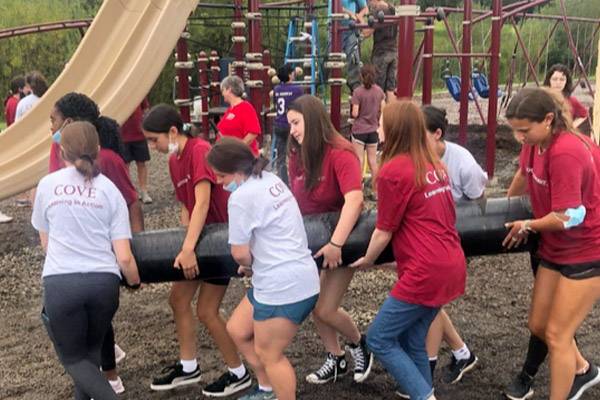 Message from the Director
This past year, the Max A. Shacknai Center for Outreach, Volunteerism, and Education (COVE), founded in 2001, celebrated its 20th anniversary. I want to express my deep gratitude to the students, faculty, staff, alumni, and community partners who built the COVE over two decades. In April we held a celebratory dinner with over 90 guests and with past directors Ingrid Hale '89 and Krista Saleet, and Jonah Shacknai '78, our namesake's father, attending. One of the COVE's founders, Betsy Levine-Brown '01, and her father, Tom Levine '71, were also present. Betsy, along with fellow classmates Adrienne LaGier '01 and Jenny Indig '03, and former Dean of the College Adam Weinberg, took the idea of a community engagement center that prior students, faculty, and staff had advocated for since the 1970s, and made it a reality. They did their research, wrote a proposal and strategic plan, convinced the University's leadership, and made a lasting contribution.
Since 2001, Colgate students have contributed over half a million hours of service and the equivalent of $12,000,000 of economic impact. And in 2020, nearly 71% of eligible students voted in the presidential election, exceeding the national average of college students (66%). We recently invited external reviewers to visit our program and they shared with me how impressed they were by our significant accomplishments that promote the public good. There are always things to improve, but we should appreciate that compliment, especially from people who work with hundreds of colleges and universities around the world. We are an anchor institution in Madison County and beyond; our work is important, and we should not shrink from that ongoing responsibility.
Our students are the ones who fuel these profound efforts. They understand the power of the public good and public service, perhaps better than many prior cohorts of Colgate students. Recently, they have lived through a global pandemic and public health crisis, an age of climate change refugees, ongoing war zones that create more refugees, runaway economic inequality, and more. They understand that we are called to love the stranger, to welcome them as citizens among us, to see the humanity and dignity in everyone we meet. Or, like one of the Greek words for love, xenia, a relationship rooted in hospitality, generosity, and reciprocity. An antonym for xenia, anomie, is a sociological concept recently profiled in the popular press; it describes the uprooting or breakdown of social bonds between the individual and community that we have also experienced in recent years. Perhaps xenia, grounded in loving and compassionate hospitality, can counterbalance the divisive pull of anomie. Rather than despair, it can turn us toward healing and repair, toward reconciliation, restoration, and renewal. It can give meaning and purpose to our time on this earth.
We all have a chance to join in the renewal and hope inherent in this important work. Service pointed toward just and moral ends, civic engagement that transcends surface-level relationships, engaged citizenship that examines our place in communities, institutions, and structures of power, can change our lives and the lives of those around us. It has for me and for many of our students, and I have faith that it has, or it will, for you too.
I look forward to the next 20 years of the COVE's work with communities near and far.
-Jeremy T. Wattles '05