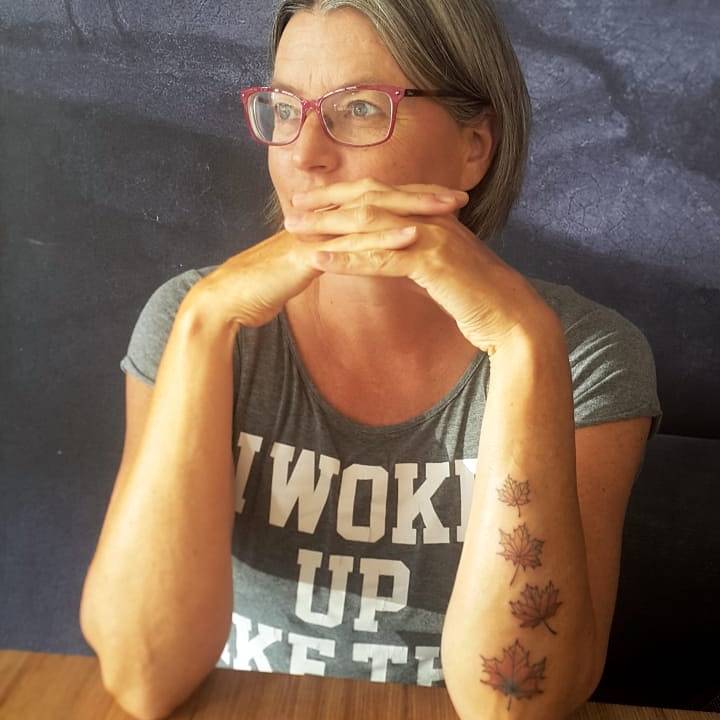 Susan Thomson
Professor of Peace and Conflict Studies; University Professor, Core Communities and Identities
BA, Saint Mary's University (Canada); LLB, University College London (UK); MA, PhD, Dalhousie University (Canada)
State-society relations in Africa, in particular power relations between the state and individuals in post-conflict countries; urban refugees and internally displaced persons; Rwanda; Kenya; research ethics and methodology.
July 1998 - December 2000: Resident coordinator, Anglophone Lecturers in Law Project, United States Agency for International Development (USAID) Law Project, Faculté de Droit, National University of Rwanda, Butare, Rwanda.
September 1997 - July 1998: Human rights programme officer, Justice Sector, United Nations Human Rights Field Operation in Rwanda, United Nations High Commission on Human Rights, Gitarama/Kibuye Sub-Office, Rwanda.
September 1994 - August 1997: Associate programme officer, Best Practices and Local Leadership Programme, United Nations Centre for Human Settlements, Nairobi, Kenya.
August 1993 - September 1994: Researcher, Women in Human Settlements Development Programme, United Nations Centre for Human Settlements, Nairobi, Kenya.
Peer-Reviewed Books
Rwanda: A Phoenix from the Ashes of Genocide? New Haven, CT: Yale University Press (under contract. Manuscript due June 2016, expected April 2017).
Whispering Truth to Power: Everyday Resistance to Reconciliation in Post-Genocide Rwanda.  Madison, WI: University of Wisconsin Press (July 2013).
Peer-Reviewed Co-Edited Book
Thomson, Susan, An Ansoms and Jude Murison, eds. (2013) Emotional and Ethical Challenges for Field Research in Africa: The Story Behind the Findings. London: Palgrave Macmillan.
Peer-Reviewed Articles
"Genocide in Rwanda" Oxford Bibliographies in African Studies, edited by Thomas Spear (New York: Oxford University Press), January 21, 2016.  http://www.oxfordbibliographies.com/view/document/obo-9780199846733/obo-9780199846733-0032.xml.
"The Problem-Solving Networks of Urban Refugee Girls Living in Nairobi: The Challenges of Coping" Conflict, Security and Development 13(5), November 2013, pp. 589-609.
"Rhetorical Legacies of Leadership:  Projections of 'Benevolent Leadership' in Pre- and Post-Genocide Rwanda" (with Marie-Eve Desrosiers) Journal of Modern African Studies, 49(3), August 2011, pp. 431-455.
"The Darker Side of Transitional Justice: The Power Dynamics behind Rwanda's Gacaca Courts" Africa, 81(3), August 2011, pp. 373-390.
"Whispering Truth to Power: The Everyday Resistance of Peasant Rwandans to Post-Genocide Reconciliation" African Affairs, 100(440), July 2011, pp. 439-456.
"Law, Power and Justice: What Legalism Fails to Address in the Functioning of Rwanda's Gacaca Court" (with Rosemary Nagy) International Journal of Transitional Justice, 5(1), March 2011, pp. 11-30.
"Local Power Relations and Household Gender Dynamics: Assessing Rwanda's Claim to Universal HIV/AIDS Treatment in Context" Special Issue on HIV/AIDS, Human Security and Governance in Africa: Canadian Journal of African Studies, 44(3), February 2011, pp. 552-578.
"La politique d'unité et de réconciliation nationale au Rwanda: figures imposées et résistance au quotidien" Genèses, 81(4), decembre 2010, pp. 49-63.
"Getting Close to Rwandans since the Genocide: Studying Everyday Life in Highly Politicized Research Settings" African Studies Review, 53(3), December 2010, pp. 19-34.
"Ethnic Twa and Rwandan National Unity and Reconciliation Policy" Peace Review: A Journal of Social Justice 21(3), July 2009, pp. 313-320.
Peer-Reviewed Chapters in Books
"Experiential Learning in Authoritarian Settings: Lessons from Postgenocide Rwanda (w/ Marie-Eve Desrosiers). In Rebecca Tiemessen and Robert Huisch (eds), Globetrotting or Global Citizenship? Perils and Potential of International Experiential Learning. Toronto: University of Toronto Press, 2014. pp. 141-160.
"Accepting Authoritarianism? Everyday Resistance as Political Consciousness in Post-Genocide Rwanda." In Ebenezer Babatunde Obadare and Wendy Willems (eds), Civic Agency in Africa: Arts of Resistance in the 21st Century. London: James Currey, 2014, pp. 104-124. 
"Peasant Perspectives on National Unity and Reconciliation:  Building Peace or Promoting Division?" In Maddalena Campioni and Patrick Noack (eds.) Rwanda Fast Forward: Social, Economic, Military and Reconciliation Prospects.  London: Palgrave MacMillan, 2012, pp. 96-110.
"Re-education for Reconciliation: Participant Observations on Ingando" in Scott Straus and Lars Waldorf (eds.) Reconstructing Rwanda: State Building and Human Rights after Mass Violence.  Madison: University of Wisconsin Press, 2011, pp. 331-339.
"'That is not what we authorised you to do…': Access and government interference in highly politicised research environments" in Chandra Lekha Sriram, John C. King, Julie A. Mertus, Olga Martín-Ortega and Johanna Herman (eds.) Surviving Field Research: Working in violent and difficult situations. London: Routledge, 2009, pp. 108-124.
Some Policy and Consulting Publications
"Rwanda." In Andreas Mehler, Henning Melber and Klaas van Walrave (eds), Africa Yearbook 11: Politics, Economy and Society South of the Sahara 2015, 2014, 2013, 2012, 2011, 2010, 2009, 2008. Leiden: Brill, forthcoming.
"Rwanda." In The World Conflict Report, 2012. Available online: http://www.worldconflictreport.org/page.php?pid=143.
"The Relationship between International Donors, the Government of Kenya and Somali's Al-Shabaab."  Briefing Paper prepared for the United Nations Development Programme and the World Bank in response to on-going conflict and resultant famine in the Horn of Africa, 2011.
"Seeing behind entrenched legitimizing myths: Examples from post-genocide Rwanda."  Invited monograph prepared for the Investigating Techniques for Eliciting Hierarchy-Enhancing Legitimizing Myths project, Royal Military College of Canada, 2011.
"Developing Ethical Guidelines for Researchers working in Post-Conflict Environments." Research Report prepared for the Program on States and Security, City University of New York, 2009.
Recent Book Reviews
Making Ubumwe: Power, State and Camps in Rwanda's Unity-Building Project by Andrea Purdeková, Journal of Modern African Studies, forthcoming, 2016
Training for Model Citizenship: An Ethnography of Civic Education and State-Making in Rwanda, by Molly Sundberg, Anthropos, vol. 111 (1), 2016, pp. 303-304.
Genocide, Risk and Resilience: An Interdisciplinary Approach, edited by Bert Ingelaere, Stephan Parmentier, Jacques Haers and Barbara Segaert, Testimony between History and Memory, April, vol. 120, 2015, pp. 193-194.
Ethnic Politics and Democratic Transition in Rwanda, by David E. Kiwuwa, Canadian Journal of African Studies 48(2), 2014, pp. 175-177.
Conflict and Peacebuilding in the African Great Lakes Region, edited by Kenneth Omeje and Tricia Redeker Hepner, The International Journal of African Historical Studies 45(3), 2014, pp. 508-509. 
Stuck: Rwandan Youth and the Struggle for Adulthood, by Marc Sommers, African Studies Review 56(1), 2013, pp.180-182.
Rwanda de la guerre au genocide: Les politiques criminelles au Rwanda (1990-1994), by André Guichaoua, Genèses 88(3), 2013, pp. 166-167 Also online: http://geneses.hypotheses.org/300.
AIDS and Rural Livelihoods: Dynamics and Diversity in Sub-Saharan Africa, edited by Anke Niehof, Gabriel Rugalema and Stuart Gillespie, Canadian Journal of Development Studies 33(2), 2013, pp. 279-280.
The Recurring Great Lakes Crisis: Identity, Violence and Power, edited by Jean-Pierre Chrétien and Richard Banégas, International Journal of African Historical Studies 45(1), 2012, pp. 136-138.
Recent Opinion Editorials
February 2016. "Rwanda's Achilles Heel: There is no back-up plan to Kagame." The Conversation, https://theconversation.com/rwandas-achilles-heel-there-is-no-back-up-plan-to-kagame-53988.
 November 2015. "Rwanda's Gacaca Courts." Testimony Between History and Memory, 121, pp. 143-144. 
April 2015. "Rwanda: Visible Progress but Power Still a Male Preserve." The World Today (England), https://www.chathamhouse.org/publications/the-world-today/2015-04/rwanda-visible-progress-yet-power-still-male-preserve
November 2014. "Obstacles to Rwanda's State-led Reconciliation" United States Institute for Peace Insights, https://www.usip.org/publications/2014/11/fall-2014-insights-newsletter-reconciliation
June 2014. "Why are Rwandans Disappearing?" (w/ Lara Santoro) The New York Times, http://www.nytimes.com/2014/06/18/opinion/why-are-rwandans-disappearing.html?_r=0.
May 2014. "Rwanda since the genocide: Elite ambitions, rural realities" Al Jazeera Magazine (Qatar), aje.me/magazine 
May 2014. "Rwanda's National Unity and Reconciliation Program" E-International Relations (England), http://www.e-ir.info/2014/05/01/rwandas-national-unity-and-reconciliation-program/ 
March 2014. "Rwanda's Twitter-Gate: The Disinformation Campaign of Africa's Digital President" African Arguments Online (England), http://africanarguments.org/2014/03/17/rwandas-twitter-gate-the-disinformation-campaign-of-africas-digital-president-by-susan-thomson/