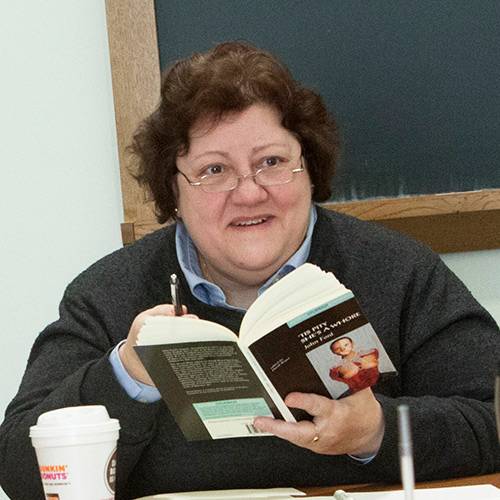 Susan Cerasano
Edgar W.B. Fairchild Professor of Literature
Department/Office Information
English
MWF

11:15am - 12:15pm

(416 Lathrop Hall)
BA West Chester State College 1975; MA, PhD University of Michigan 1976, 1981
Theater history, Shakespeare and his contemporaries, early modern literature and culture, biographical research and writing.
Renaissance theater history and drama, biography, social and economic history (1500-1650)
In the Prayse of Writing: Early Modern Manuscript Studies (British Library Publications, 2012), with Steven W. May
Julius Caesar (W. W. Norton, 2012)
"Theatre Entrepreneurs and Theatrical Economics" in The Oxford Handbook of
Early Modern Theatre, ed. Richard Dutton (Oxford University Press, 2008)
"Economics" in A Concise Guide to Renaissance Literature, ed. Donna B. Hamilton (Blackwell, 2006)
The Merchant of Venice (Routledge, 2003)
Readings in Renaissance Women's Drama (Routledge, 1998)
Renaissance Drama by Women: Texts and Documents (Routledge, 1996)
Exhibition catalogue for Edward Alleyn: Elizabethan Actor, Jacobean Gentleman (Dulwich Picture Gallery, London, 1994)
Gloriana's Face: Women, Public and Private in the English Renaissance (Harvester/Simon and Schuster, 1992)
Numerous articles and reviews in Shakespeare Quarterly, Medieval and Renaissance Drama in England, Shakespeare Studies, Shakespeare Survey, and Renaissance Quarterly, including guest editor for symposium in Shakespeare Quarterly entitled "Theatrical Movements" in which appeared "The Geography of Henslowe's Diary" (Fall, 2005).
Contributor to the New Oxford Dictionary of National Biography, The Encyclopedia of Tudor England, and The Cambridge World Shakespeare Encyclopedia.
Projects currently in process: a biography of the early modern theatre entrepreneur Philip Henslowe.
Seminar instructor, "Early Modern Manuscripts," the Folger Shakespeare Library, Washington, DC (2005), Seminar Leader, "Rewriting the Elizabethan Stage," The Folger Shakespeare Library, Washington, D.C. (Spring, 2001), Editorial Board, Shakespeare Studies, Editor-in Chief, Medieval and Renaissance Drama in England; winner of the Josephine A. Roberts Editing Award (given by the Society for the Study of Early Modern Women) for Renaissance Drama by Women (1997); NEH Grants 1988-89, 1983, ACLS Grant 1990, Rackham Fellow, University of Michigan 1979-81
Editor, Medieval and Renaissance Drama in England; editorial board (Shakespeare Studies); Consultant, Museum of London Archaeology Service (Rose Playhouse project). Member of the board of consultants and contributing editor for the Dulwich College Manuscripts Archive Digitization Project  (now online at www.henslowe-alleyn.org.uk); Member, editorial board for the Thomas Heywood editing project (Oxford University Press).