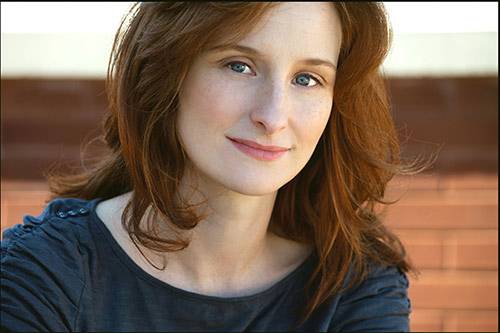 Shannon (April) Sweeney
Associate Professor of Theater; Chair, Department of Theater
Department/Office Information
Theater
April Sweeney is an actor and theater maker originally from Dallas, Texas. She holds a bachelor of fine arts in acting from Marymount Manhattan College and a master of fine arts in acting from Columbia University.  She has performed internationally in theaters and festivals in Argentina, Belgium, Bolivia, Colombia, Costa Rica, France, Ireland, and Hungary. In the United States she has performed in regional theater,  a national tour, off-Broadway and downtown New York theater over the past decade.  
Ms. Sweeney has taught a number of master classes and workshops throughout Bolivia and Argentina while in residency with Laboratorio Teatral Willaldea. Directing credits include: Avalon(co-director, Stonington Opera House, ME); MEDEA and Admissions (COLD READ, Syracuse Stage); She, and the Empty Living Room (undergroundzero festival, NYC); Atardecer 43 (Teatro Comunitaria Villa Traful, Argentina); A Short Play for 3 Spanish Speaking Actresses Stuck in a Cherry Orchard and Contemplations on a 4 Minute Macbeth at (Laboratorio Teatral WILLALDEA, Argentina); and PMURT a performance lecture by Kevin Doyle (Vooruit, Ghent, Belgium).
At Colgate University Erin Courtney's Map of Virtue, Federico León's 1500 Meter's Above Jack's Level, Melody Bates' R & J & Z, and Antigone. She has also developed several TYA works PUNCHjudyJUDYpunch, They Say Her Name is Alice, Wald, a wondertale , and an adaptation of Kate DiCamillio's Flora and Ulysses.
Projects in development include I Digress by Sauda Jackson, Expanse of the Hudson River as Painted by Thomas Cole (an adaptation of Djuna Barnes' first novel Ryder), a project based on the work of Manuel Puig, and FAUNA by Romina Paula.
Selected performance projects include:
At Black Lake, The TANK, New York City, 2019 
Distancia, 13th Festival de las Artes [FIA], San Juan, Costa Rica, 2017
Witness (LONEtheater), Matías Umpierrez and BOOM Arts, Portland, OR 2016
The Irresistible, Immersive Gallery, Williamsburg, NY 2015
Distancia, Festival Internacional de Teatro de Manizales, Colombia 2014
Witness (LONEtheater), undergroundzero festival, NYC 2014
Any Other Normal a film by Brok Labrenz 2014, Sydney World Film Festival 2015, Swedish International Film Festival 2016, Hamilton International Film Festival 2016
Distancia, Festival Internacional de Buenos Aires [FIBA] and Teatro San Martín 2013
The World is Round is Round is Round, The Mill, Albany, NY 2013
The Good Person of Szechwan, Columbia Stages 2012
Orchardless: Decay of Cities, New Orleans Fringe Festival 2012
The Rover, New York Classical Theater 2011
Bellona, Destroyer of Cities, Kitchen, NYC 2010
Untitled Mars (This Title May Change), Performance Space 122; National Theater of Hungary, Budapest 2008
This Place is a Desert, ICA Boston; Under the Radar Festival/Public Theater 2008
Women Dreamt Horses, BAIT/Buenos Aires in Translation Festival Performance Space 122 2006
Streetcar Named Desire, National Tour Montana Repertory Theater 2004
Grapes of Wrath at the Arkansas Repertory Theater 2000
The above work has been written about in Theater Heute, ARetez Revista de les Artes Escénicas, La Nación, Tiempo Argentino, American Theater Magazine, The New York Times, The New Yorker, and Time Out NY.
Publications
Sweeney, April.  "The Flight of the Golden Falcon by Anna Correa." Analola Santana and Jimmy A. Noriega (Ed.), (Re)Positioning the Latina/o Americas: Theatrical Histories and Cartographies of Power. Carbondale, Illinois: Southern Illinois University Press. 2018.
Sweeney, April and Werth, Brenda, (eds). Fauna and other plays by Romnina Paula. Translated by Jean Graham Jones, April Sweeney and Brenda Werth. Chicago, Illinois: Seagull Books, University of Chicago Press. (forthcoming 2021).
Produced Plays 
-Distancia by Matías Umpierrez, co-translated with Patricia Masera
  2017 Festival Internacional de las Artes, San Juan, Costa Rica  
  2014 Festival Internacional de Teatro de Manizales, Manizales, Columbia
  2013 FIBA and Teatro San Martín, Buenos Aires 
  
- WITNESS (LONEtheater) by Matías Umpierrez
   2014 undergroundzero festival NYC 

- FAR (LONEtheater) by Umpierrez, co-translated with Ben Mandell
  2014 undergroundzero festival, NYC 

-1500 Meter's Above Jack's Level by Federico León, co-translated with Brenda Werth
  Colgate University Theater production, 2010
BFA, Marymount Manhattan College, 1995; MFA in Acting, Columbia University, 2000
Colgate University, Associate Professor, 2012-present
Colgate University, Assistant Professor, 2006-present
Massachusetts Institute of Technology, Guest Artist, 2005
Puerto Villaroel, Chapare, Bolivia, Artist in Residence, 2005
Casa de Cultura, Santa Cruz de la Sierra, Bolivia-Artist in Residence, 2005
2018    National Endowment of the Arts Literature Translations Collaboration Fellowship 
            with Brenda Werth for the translation of Fauna into English by Argentine playwright 
            Romina Paula.
 
2015    National Endowment of the Humanities Summer Fellowship            
            Latin American Theater Summer Seminar, Buenos Aires, Argentina
Acting, Movement for Actors, Improvisation, Live Hybrid Theater/Cinema, Argentine Contemporary Theater, Theater in Translation
-THTR 254 Basic Acting
-THTR 257 Performance I
-THTR 259 Children's Theater Workshop
-THTR 353 Theater, Play and Improvisation
-THTR 355 Advanced Acting
-THTR 357 Performance II
-THTR 363 Narrative Improvisation and Storytelling
-CORE 152 Challenges of Modernity