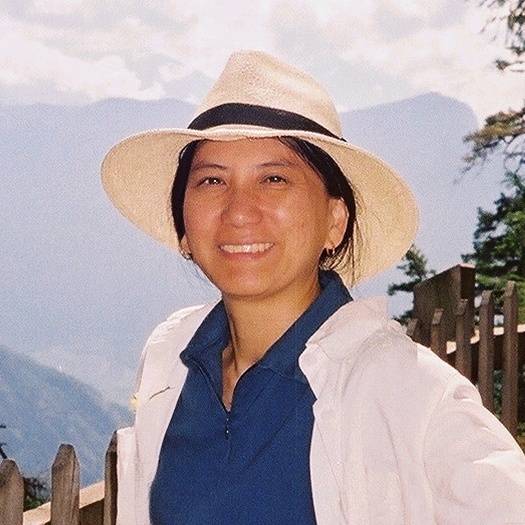 Patricia Jue
Laboratory Instructor in the Department of Chemistry
BS (chemistry with high honors) The College of William and Mary in Virginia, 1983
BS (physics) The College of William and Mary in Virginia, 1983
MS, (physical polymer chemistry) Carnegie-Mellon University, 1985
PhD, (physical chemistry) Carnegie-Mellon University, 1989
Material science and chemistry of artistic materials
Organic chemistry
Foodways and the Chemistry of Food
Patricia Kay Jue teaches the majority of the organic chemistry lab sections.   As coordinator, she develops experiments for the CHEM 263 and CHEM 264 (organic chemistry I & II) courses.   Contributions include aspects of microscale synthesis and green chemistry, and facilitating student use of research-quality instrumental techniques (NMR, IR, GC/MS).  Her most recent major contribution was the renovation of the organic chemistry teaching laboratories, from conception with the SWBR architectural firm to final move in. Pictures of the space appear throughout the Colgate University's website. 
Dr. Jue teaches "The Story of Colorants," a course in the scientific perspectives component of the Liberal Arts Core Curriculum.  The course is an elective in Colgate's interdisciplinary minor in Museum Studies.  She helped design and build archival storage boxes for the Picker Art Gallery's collect of Coptic limestone sculptures, and contributed to the "Converging Perspectives" (2016) exhibit, and Teagle Tsunami scroll project.
She is a member of Colgate University's NASC liaison group, which provides mentorship, motivation and support to traditionally under-represented students interested in the sciences. 
Other activities and interests
Foodways: culture and identity as expressed though food
The science of food
lay preacher
Metal smithing and enameling
Classical ballet: Dr. Jue studied with the Maryland Youth Ballet,  the National Capital Ballet School (Australia) and Pittsburgh Ballet Theatre