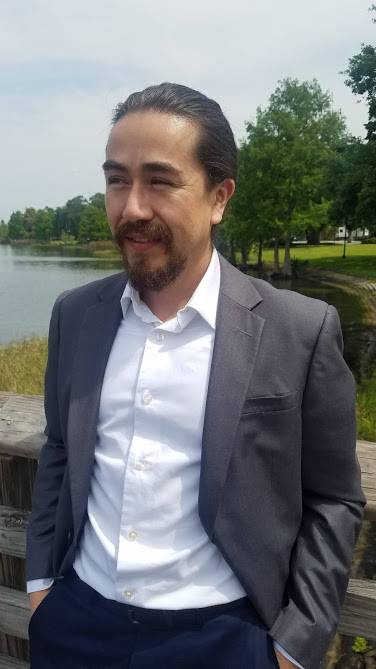 Osvaldo Sandoval Leon
Assistant Professor of Spanish
Department/Office Information
Romance Languages
TR

12:30pm - 2:00pm

(213 Lawrence Hall)
PhD. Hispanic Cultural Studies, Michigan State University (2019)
MA. Spanish, California State University, Fullerton (2011)
"(Pos)dictadura: estrategias contestatarias y disidentes en la dramaturgia de Susana Torres Molina." El giro performativo: perspectivas sobre el teatro latinoamericano contemporáneo. Cuadernos del CILHA: Centro de Literatura Hispanoamericana. (Forthcoming).
"Dramaturgas: dinámicas de agresión y resistencia en la (pos)dictadura del Cono Sur." Entre Caníbales. Revista de literatura. 4.12 (2021) 111-132.
"La tortura silenciada: la violencia sexual en el teatro posdictadura del Cono Sur." Journal of Gender and Sexuality Studies / Revista De Estudios De Género y Sexualidades. 46.1-2 (2020): 151–172.
(Book Review) Boffone, Trevor, Teresa Marrero, and Chantal Rodriguez, editors. Encuentro: Latinx Performance for the New American Theater. Northwestern University Press, 2019. In Text and Presentation 2019. The Comparative Drama Conference Series, McFarland. 16 (2020): 193-197.
"La posdictadura en Chile: alternativas a la enseñanza del género dramático." Contextos. Estudios de Humanidades y Ciencias Sociales. Universidad Metropolitana de Ciencias de la Educación, Santiago de Chile. 45 (2019).
"Del texto a la representación teatral: Espacios alegóricos de la inmigración en La puerta estrecha (2000) de Eusebio Calonge." Spanish and Portuguese Review. 4 (2018): 83-100.
"Hacia una retórica de la presencia en el exilio en la dramaturgia de Jorge Díaz y Jerónimo López Mozo." Revista Chilena de Literatura. 97 (2018): 297-316.
"Lo irrepresentable en escena: los olvidados en la dramaturgia de posdictadura en el Cono Sur latinoamericano." Religación. Revista de Ciencias Sociales y Humanidades. 2.7 (2017): 127-142.
"Spanish-American Theater: Performing Community, (Rebuilding) Relations." 93rd South Atlantic Modern Language Association (SAMLA). Virtual Conference. November 4-6, 2021. (Session Chair)
"Democracy in Rupture: Secrets, Foundations, and Resistance in the Southern Cone Postdictatorship Dramaturgy." 2020 Lake Erie Latin American Cultural Studies Symposium (LELACS). Hobart and William Smith Colleges, New York. Virtual Conference. April 7-9, 2021. 
"Teatro didáctico: el escándalo social de la transición a la democracia en Chile." 92nd South Atlantic Modern Language Association (SAMLA). Virtual Conference. November, 13-15, 2020. 
"Trasgrediendo la realidad de la violencia sexual sistematizada a través del acto performático en el teatro chileno posdictadura." 25th Annual Pedagogy and Theatre of the Oppressed. Loyola University Chicago. May 28-31, 2020. (Postponed).
"Escenas de la (des)ilusión: representaciones del encierro en el teatro contemporáneo latinoamericano." 8th Latin American / Latinx / Theater / Performance Today Conference and Festival (LATT). The University of Kansas. Lawrence, Kansas. April 1-4, 2020. (Session Chair) (Postponed)
"Staging the Archive: Unmasking the Hidden Truth of the Disappeared in NN12 (2010) by Gracia Morales." American Society for Theatre Research (ASTR) 2019 Annual Conference. Arlington, Virginia. November 7-10, 2019.  
"Teatro del insilio: víctimas y cómplices en La complicidad de la inocencia (Terror y miseria de la clase media argentina)." LASA 2019: Nuestra América: Justice and Inclusion. Boston, Massachusetts. May 24-27, 2019.
"Staging Inner Exile: Fear, Misery, and Complicity of a Mutilated Argentinian Society during the Dictatorship." 43rd Comparative Drama Conference. Orlando, Florida. April 4-6, 2019.
"Del texto a la representación teatral: vidas y cuerpos vulnerables en La puerta estrecha (2000) de Eusebio Calonge." New Harmony Contemporary Spanish Theater Conference. Stages of Utopia, Dystopia, and Myopia. University of Southern Indiana. New Harmony, Indiana. October 10-12, 2018.
"El desplazamiento en su función de desarraigo y multiarraigo en Nuestra Señora de las Nubes (1998) y Canción de cuna para un anarquista (2002)." Third Annual Latin American, Latino/a, & Iberian Studies Association of the Pacific Northwest Conference (LALISA). Lewis & Clark College, Portland, Oregon. April 6-7, 2018.
Colgate University (2019 - Present)
Latin American Women Dramatists
Posdictatorial Transatlantic Theater
Latin American Dictatorship Theater
Latin America Literature: Illusion, Fantasy, Magical Realism
CORE Communities and Identities: Mexico
Advanced Composition and Stylistics
Intermediate Spanish, Language and Literature 
Michigan State University (2014 - 2019)
Introduction to Hispanic Literatures
Cultural Reading and Composition
Second-Year Spanish I and II
Elementary Spanish II
Review of Elementary Spanish