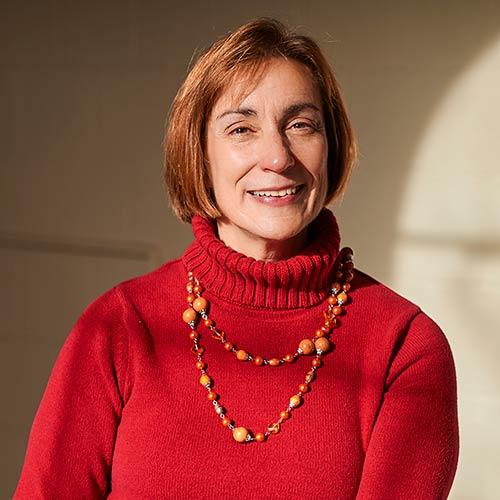 Mary Moran
Professor of Anthropology and Africana & Latin American Studies
BA Mt. Holyoke College 1979
MA Brown University 1981
PhD Brown University 1985
W.V.S. Tubman College of Technology (Liberia); Brown University; Rhode Island College
I teach Anthropology and African Studies at all levels of the curriculum, from introductory courses to capstone seminars. I particularly enjoy introducing students to the process of doing anthropology in my ethnographic field methods course (SOAN 211). Among my specialized upper level courses are Political Anthropology (SOAN 362), Gender and Society in Africa (SOAN 371) and Gender and Society (SOAN 315). One of my very favorites is a half-credit course tied to the National Model African Union simulation, sponsored each year in February by Howard University in Washington DC. For the first five weeks of the spring semester, I work with students to help them learn about a multinational organization, prepare position papers and resolutions for action on particular issues, and practice the rules of parliamentary procedure and diplomatic language. We then travel together to Washington to participate in the simulation, in which students from nearly thirty US colleges and universities take on the roles of African diplomats from the 53 member states of the African Union. In my opinion, there is no better way of teaching (and learning!) about contemporary African politics!
Political Anthropology, Comparative Democracy, Gender, Conflict and Post-Conflict Reconstruction, West Africa (specifically, Liberia), Ethnographic Field Methods, Contemporary theories of power and the state, Regional integration organizations (the African Union)
I am fascinated by the interaction between personal identity and group identities; how they mutually shape and constitute each other. My early research in Liberia focused on the intersection of gender and class/status identities among women who saw themselves as "modern" or "civilized." Currently, I am working with non-combatant men who are seeking to redefine masculinity in a post-conflict society. Small countries like Liberia which have gone through disastrous civil wars have found themselves inundated by humanitarian organizations seeking to "help" them rebuild by restructuring basic categories of identity and affiliation. I have written extensively about the the multiple ways gender and kinship constructions are transformed during periods of extreme social upheaval and civil conflict.
Civilized Women: Gender and Prestige in Southeastern Liberia. Cornell University Press, 1990

Liberia: The Violence of Democracy. University of Pennsylvania Press, 2006

"Warriors or Soldiers? Masculinity and Ritual Transvestism in the Liberian Civil War" in Feminism, Nationalism, and Militarism, ed. by Constance R. Sutton. American Anthropological Association, 1995.

"Uneasy Images: Contested Representations of Gender, Modernity, and Nationalism in pre-war Liberia" in Gender Ironies of Nationalism: Sexing the Nation, ed. by Tamar Mayer. Routledge, 2000

"Barbarism, Old and New: Denaturalizing the Rhetoric of Warfare" in Complexities: Beyond Nature and Nurture, ed. by Susan McKinnon and Sydel Silverman. University of Chicago Press, 2005

Mary Moran and Anne Pitcher, "The 'Basket Case' and the 'Poster Child:' Explaining the End of Civil Conflicts in Liberia and Mozambique" Third World Quarterly, 25:501-520, 2004

"Time and Place in the Anthropology of Events: A Diaspora Perspective on the Liberian Transition" Anthropology Quarterly 78:445-52. 2005

"Clothing Difference: Commodities and Consumption in Southeastern Liberia" in The Gender of Globalization: Women Navigating Cultural and Economic Marginality, ed. by Nandini Gunewardena and Ann Kingsolver. School for Advanced Research Press, 2007

Anne Pitcher, Mary Moran, and Michael Johnston, "Rethinking Patrimonialism and Neopatrimonialism in Africa" African Studies Review 52:125-56. 2009

"Gender, Militarism, and Peace-Building: Projects of the Post-Conflict Moment" Annual Review of Anthropology 39:261-74. 2010

Sharon Abramowitz and Mary Moran, "The Problem of Culture: International Human Rights, Gender Based Violence, and Local Discourses of Abuse in Post Conflict Liberia" African Studies Review, forthcoming, 2012.
Chair, Association for Feminist Anthropology 1993-95; executive board, American Anthropological Association 1993-95
Research
I have conducted ethnographic field work in the West African nation of Liberia since 1982. My first research focused on a small, isolated region of the southeast inhabited by the Grebo people. During the long years of internal conflict when it was impossible for me to physically travel to Liberia (1989-2003), I conducted interviews with Liberian exiles in the United States; people who had been involved in political opposition movements like student leaders and labor organizers. Since 2006, I have returned to Liberia for three periods of field work, interviewing men who did not fight in the civil war. The international media has given a great deal of attention to African child soldiers and other ex-combatants, but has been almost completely silent about the experience of men who did not take up arms, loot, rape, or commit violence of any kind. My current research project will consider the larger process of gender transformation going on in Liberia through their stories.
University Experience
I have served on and off as the coordinator for African Studies since I came to Colgate in 1985: currently I continue to administer that component as part of my joint appointment with Africana and Latin American Studies. I have served as the chair of the department of Sociology and Anthropology for two terms, and as chair of the Core Cultures (now Communities and Identities) component of the Core Curriculum.
In my capacity as chair of the Graduate Fellowships Committee, I enjoy working with some of the very best students at Colgate as they prepare applications and proposals for the most competitive national fellowships, like the Rhodes, Watson, and Fulbright awards. I have served on most of the committees within the faculty governance structure at Colgate, and have been elected President of the Association for Feminist Anthropology by my disciplinary colleagues. I have served on the national executive boards of the American Anthropological Association, the American Ethnological Society, and on the Distinguished Africanist selection committee of the African Studies Association. Since 2003, I have been Secretary/Treasurer of the Liberian Studies Association.