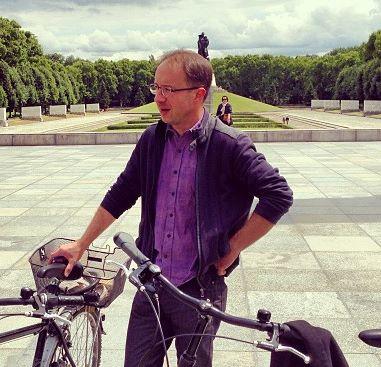 Matthew Miller
Associate Professor of German
Department/Office Information
German
MW

10:00am - 11:00am

(110A Lawrence Hall)

MW

3:15pm - 4:00pm

(110A Lawrence Hall)
Having taught at Colgate for nearly a decade, my research and teaching have coalesced around two main avenues of inquiry. The first takes shape in the context of Critical European Cultural Studies and concerns the recasting of European cultural history in multinational terms. To advance inquiry into the intertwined histories and futures of central Europe's diverse peoples, this part of my work has frequently taken recourse to a "hydrocentric" reimagining of European cultural geography by focusing on watersheds and rivers—e.g. the Danube, the Rhine, and the Baltic Sea—as entities that not only divide, but also connect people across linguistic, national and other kinds of borders. In so doing, I have found that framing human interconnectedness in terms of processes in flux helps to facilitate an understanding of culture as an open, dynamic, and also contentious phenomenon. A recent dimension of this work featured a study trip with Colgate students of French and German to the French-German-Swiss borderlands along the Rhine, which you can read about here.
The second main framework of my research pertains to twentieth and twenty-first German literary history and theory, with an emphasis on the political and social contexts of the literary imagination. My first book focused on the German Epic in the Cold War, exploring three remarkable and unwieldy works by Peter Weiss, Uwe Johnson, and Alexander Kluge respectively. Of these, the works of Peter Weiss, both the epic Ästhetik des Widerstands as well as his plays from the 1960s, continue to fascinate me and remain especially timely today, not least due to Weiss' extraction, from out of the Ästhetik's antifascist narrative, of a formidable transhistorical model of resistance, whereas Uwe Johnson's remarkable Jahrestage, newly and impressively translated in full into English by Damion Searls, should continue to interest readers in the U.S., not least because of the epic's New York City setting and Johnson's deft navigation of social, racialized and political challenges therein during the tumultuous time-frame of 1967-68. Currently, I am working out a new project, "Dreaming through Endtimes: The First Austrian Republic and the Modernist Multinational," which explores the unique and still underrepresented period of interwar "Red" Vienna as a beleaguered bastion of progressive cultural and political experimentation under siege. While the book's tentative title evokes the urgent question of the whole character, shape and direction of historical time, I am examining political and literary discourses of the first Austrian republic from 1919-1934 with regard to their ability to mediate and manage modernity against looming fascism and dehumanization.  
While my pedagogy is not governed by an attempt to teach my scholarship directly, such research pursuits very much inform and serve as a basis for curricular innovation in the German courses I offer. For example, in anticipation of the Fall 2020 semester, I found myself drawn back to theater as the artistic medium that that turns entirely on the purposive assembly of people with one another and responds to a deep human need acutely felt during lockdown deprivation. While redesigning the syllabus for the German Drama seminar, abysmal events from the implosion of U.S. society, its institutions and practices, drew newly focused attention to longstanding trajectories of racism and state violence. These compelled me to cast a still broader net in sifting through relevant materials from the canon of theatrical works from, in or related to Germanophone Europe. While German theatrical practice has always fascinated me in its ability to work up historical and contemporary dramatic literature into gripping performances that frame the present as a space of interaction and responsibility, my review of materials yielded some new suggestive pairings as, for example, the combination of Peter Weiss's 1967 anti-colonialist play Gesang vom lusitanischen Popanz with We Are Proud to Present a Presentation About the Herero of Namibia, Formerly Known as South West Africa, From the German Südwestafrika, Between the Years 1884-1915, a 2012 U.S. play by Jackie Sibblies Drury. In these and other finds, it has been exhilarating to probe the resources of imaginative and critical culture to help us navigate the challenges of deeply troubled times.
Books
"Dreaming through Endtimes: The First Austrian Republic and the Modernist Multinational": this work in progress is being supported by the Austrian Bundesministerium für Bildung, Wissenschaft und Forschung (BMBWF) and the Österreichische Austauschdienst-GmbH (Austrian Agency for International Cooperation in Education and Research, OeAD) in the form of a Franz Werfel-Scholarship, facilitating research in Vienna in 2020 (deferred to 2021).
The German Epic in the Cold War: Peter Weiss, Uwe Johnson, and Alexander Kluge. Evanston, IL: Northwestern University Press, 2018.

Book Interview: The German Epic in the Cold War at New Books Network: New Books in German Studies, with Craig Sorvillo, April 2020 
Reviews

Martin Brady, Monatshefte, 112, no. 2 (2020): 360-362.
Mareike Gronich, Johnson-Jahrbuch, 26 (2019): 217-225.
Xan Holt, Germanic Review, 95, no. 1 (2020): 72-75.
Christoph Schmitz, Alexander Kluge-Jahrbuch: The Poetic Power of Theory, edited by Richard Langston et al., 6 (2019): 425-430.
Nicole Thesz, German Studies Review, 43, no. 1 (2020): 208-210.
J. O. Wipplinger, CHOICE: Current Reviews for Academic Libraries, 56, no. 8 (2019): 1003. 

Co-edited volume (with Marijeta Bozovic): Watersheds: The Poetics and Politics of the Danube River. Boston: Academic Studies Press, 2016.
Articles and Book Chapters
"Inner Periphery? The Rhine from Borderland to Interzone," Perspectives on Europe: Centers, Margins, Boundaries, edited by Kathryn Everly, Stefano Giannini, and Karina von Tippelskirch (under construction)
"Aesthetics' Volume II: With Peter Weiss on Géricault's Raft and Beyond," New German Critique: Special Issue on Peter Weiss (under review)
"Europe Fluvial: Multilingual Cultural Studies on Site," Die Unterrichtspraxis / Teaching German (forthcoming)
"Shedding Waters: Cinematic Mediations of European Multiculture," EuropeNow: Special Feature on United in Diversity 26 (2019).
"Divided Berlin and Cold War Aesthetics: Mediating the Wall in Literature and Film." Seminar: A Journal of Germanic Studies 55, no. 3 (2019): 266-295. 
"An Epic's Hydropoetics: On the Waters of Uwe Johnson's Jahrestage." Germanic Review 93, no. 2 (2018): 109-129.
"Bottled Messages for Europe's Future? The Danube in Contemporary Transnational Cinema." In Crossing Central Europe: Continuities and Transformations, 1900–2000

, edited by 

Helga Mitterbauer and Carrie Smith-Prei, 312-348.

 Toronto: University of Toronto Press, 2017.

"Atlantic Transfers of Critical Theory: Alexander Kluge and the U.S. in Fiction." In 

Different Germanies--New Transatlantic Perspectives

, edited by Konrad H. Jarausch, Harald Wenzel, and Karin Goihl, 278-297. New York: Berghahn Books, 2017.

"Uwe Johnson, Peter Weiss, und die Möglichkeiten des modernen Epos." Johnson-Jahrbuch 23 (2016): 183-206.

"

Eigensinn in Transit: Reexamining a Concept for the Twenty-First Century." Glass Shards: Alexander Kluge-Jahrbuch

 2 (2015): 83-102. 

"Zu einem Europa der Flüsse: Die Donau im transnationalen Film der Gegenwart." In 

Europa? Zur Kulturgeschichte einer Idee

, edited by Tomislav Zelic, Zaneta Sambunjakm and Anita Pavic, 265-284. Würzburg: Königshausen & Neumann, 2015.

"Facts of Migration, Demands on Identity: Christian Petzold's

Yella

and

Jerichow

in Comparison."

The German Quarterly: Special Issue: German Film Studies

85, no. 1 (2012): 55-76.

"Critical Storytelling and Diabolical Dialectics: Alexander Kluge and the Devil's Blind Spots."

Germanic Review

85, no. 4 (2010): 318-339.

"Literarische Zwischenöffentlichkeit: Alexander Kluges Erzählerische Reaktionen auf die deutsche Wendezeit." In

SUBversionen: Zum Verhältnis von Politik und Ästhetik in der Gegenwart

, edited by Thomas Ernst, Patricia Gozalbez Cantó, Sebastian Richter, Nadja Sennewald and Julia Tieke, 129-146. Bielefeld: transcript Verlag, 2008.

"Der Auftrag des Chiasmus im Revolutionsdrama: Heiner Müller mit Georg Büchner Lesen."

Theater der Zeit: "Theaterwissenschaftliche Beiträge 2006"

– Beilage zum Heft 5 (2006): 8-11.
Book Reviews
Julia Hell: The Conquest of Ruins: The Third Reich and the Fall of Rome. Chicago: The University of Chicago Press, 2019. The Germanic Review 95, no. 1 (2020): 65-69.
Leslie A. Adelson: Cosmic Miniatures and the Future Sense: Alexander Kluge's 21st-Century Literary Experiments in German Culture and Narrative Form. De Gruyter, 2017. The German Quarterly 92, no. 2 (2019): 305-308. 
Matt Cornish: Performing Unification: History and Nation in German Theater after 1989. Ann Arbor: University of Michigan Press, 2017. Symposium: A Quarterly Journal in Modern Literatures 73, no. 1 (2019): 68-70.

Friederike Eigler:

Heimat, Space, Narrative: Toward a Transnational Approach to Flight and Expulsion

. Rochester, NY: Camden House, 2014. 

Symposium: A Quarterly Journal in Modern Literatures

 70, no. 4 (2016): 219-221.

Elisabeth Herrmann, Carrie Smith-Prei, Stuart Taberner, eds.: Transnationalism in Contemporary German-Language Literature. Rochester, NY: Camden House, 2015. Modern Language Review 111, no. 3 (2016): 907-908.

Kefei Qian:

Die Donau von 1740 bis 1875. Eine kulturwissenschaftliche Untersuchung

. Berlin: Logos Verlag für wissenschaftliche Publikationen, 2014. 

The German Quarterly

 88, no. 1 (2015): 139-141.

Amir Eshel:

Futurity: Contemporary Literature and the Quest for the Past

. Chicago: University of Chicago Press, 2013. 

The German Quarterly

86, no. 4 (2013): 513-515.
FSEM 159: Transnational Culture in Europe Today
Core 151: Legacies of the Ancient World
Core 152: Challenges of Modernity
Core 184: Communities and Identities: The Danube
German 121 and 122: Beginning German I and II
German 201 and 202: Intermediate German I and II
German 325: Transnationalism in Contemporary German Culture
German 341: Advanced Conversation and Composition
German 351: Introduction to German Literary Studies
German 352: Crisis and Critique in Germanophone Europe
German 353: Proseminar in German Studies: Borderlands of European Multiculture 
German 457: German Literature and Culture on Site: The Freiburg Seminar
German 477: Literature at the Turn of the Century: Legacies of Central European Modernity
German 479: 20th Century Literature: Modernity and Migration in Germanophone Europe
German 485: German Drama: History, Theory, Practice
Adviser to independent studies and honors theses in German
Freiburg Study Group director
Visiting Assistant Professor of German, Bowdoin College, 2009-10
Postdoctoral Teaching Fellow, Columbia University, 2007-2009
PhD, Columbia University, 2007, Dissertation: "Literary Forms of Dialectics in the Works of Alexander Kluge and Heiner Müller" 
BA, Swarthmore College, 1997