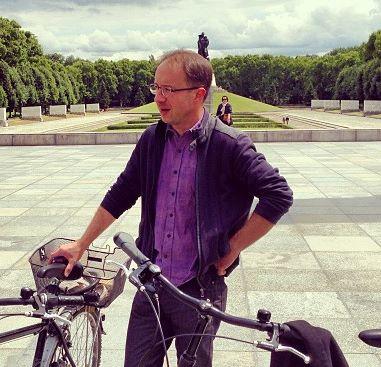 Matthew Miller
Associate Professor of German
Department/Office Information
German
Books
"Dreaming through Endtimes: The First Austrian Republic and the Modernist Multinational": this work in progress is being supported by the Austrian Bundesministerium für Bildung, Wissenschaft und Forschung (BMBWF) and the Österreichische Austauschdienst-GmbH (Austrian Agency for International Cooperation in Education and Research, OeAD) in the form of a Franz Werfel-Scholarship, facilitating research in Vienna in 2020 (deferred to 2021).
The German Epic in the Cold War: Peter Weiss, Uwe Johnson, and Alexander Kluge. Evanston, IL: Northwestern University Press, 2018.

Book Interview: The German Epic in the Cold War at New Books Network: New Books in German Studies, with Craig Sorvillo, April 2020 
Reviews

Martin Brady, Monatshefte, 112, no. 2 (2020): 360-362.
Mareike Gronich, Johnson-Jahrbuch, 26 (2019): 217-225.
Xan Holt, Germanic Review, 95, no. 1 (2020): 72-75.
Christoph Schmitz, Alexander Kluge-Jahrbuch: The Poetic Power of Theory, edited by Richard Langston et al., 6 (2019): 425-430.
Nicole Thesz, German Studies Review, 43, no. 1 (2020): 208-210.
J. O. Wipplinger, CHOICE: Current Reviews for Academic Libraries, 56, no. 8 (2019): 1003. 

Co-edited volume (with Marijeta Bozovic): Watersheds: The Poetics and Politics of the Danube River. Boston: Academic Studies Press, 2016.
Articles and Book Chapters
"Inner Periphery? The Rhine from Borderland to Interzone," Perspectives on Europe: Centers, Margins, Boundaries, edited by Kathryn Everly, Stefano Giannini, and Karina von Tippelskirch (under review)
"Renewing Resistance at Sea and on Isles: Peter Weiss' Aesthetics' Volume II for the Twenty-First Century," New German Critique: Special Issue on Peter Weiss (under review)
"Europe Fluvial: Multilingual Cultural Studies on Site," Die Unterrichtspraxis / Teaching German 53, no. 2 (2020).
"Shedding Waters: Cinematic Mediations of European Multiculture," EuropeNow: Special Feature on United in Diversity 26 (2019).
"Divided Berlin and Cold War Aesthetics: Mediating the Wall in Literature and Film." Seminar: A Journal of Germanic Studies 55, no. 3 (2019): 266-295. 
"An Epic's Hydropoetics: On the Waters of Uwe Johnson's Jahrestage." Germanic Review 93, no. 2 (2018): 109-129.
"Bottled Messages for Europe's Future? The Danube in Contemporary Transnational Cinema." In Crossing Central Europe: Continuities and Transformations, 1900–2000

, edited by 

Helga Mitterbauer and Carrie Smith-Prei, 312-348.

 Toronto: University of Toronto Press, 2017.

"Atlantic Transfers of Critical Theory: Alexander Kluge and the U.S. in Fiction." In 

Different Germanies--New Transatlantic Perspectives

, edited by Konrad H. Jarausch, Harald Wenzel, and Karin Goihl, 278-297. New York: Berghahn Books, 2017.

"Uwe Johnson, Peter Weiss, und die Möglichkeiten des modernen Epos." Johnson-Jahrbuch 23 (2016): 183-206.

"

Eigensinn in Transit: Reexamining a Concept for the Twenty-First Century." Glass Shards: Alexander Kluge-Jahrbuch

 2 (2015): 83-102. 

"Zu einem Europa der Flüsse: Die Donau im transnationalen Film der Gegenwart." In 

Europa? Zur Kulturgeschichte einer Idee

, edited by Tomislav Zelic, Zaneta Sambunjakm and Anita Pavic, 265-284. Würzburg: Königshausen & Neumann, 2015.

"Facts of Migration, Demands on Identity: Christian Petzold's

Yella

and

Jerichow

in Comparison."

The German Quarterly: Special Issue: German Film Studies

85, no. 1 (2012): 55-76.

"Critical Storytelling and Diabolical Dialectics: Alexander Kluge and the Devil's Blind Spots."

Germanic Review

85, no. 4 (2010): 318-339.

"Literarische Zwischenöffentlichkeit: Alexander Kluges Erzählerische Reaktionen auf die deutsche Wendezeit." In

SUBversionen: Zum Verhältnis von Politik und Ästhetik in der Gegenwart

, edited by Thomas Ernst, Patricia Gozalbez Cantó, Sebastian Richter, Nadja Sennewald and Julia Tieke, 129-146. Bielefeld: transcript Verlag, 2008.

"Der Auftrag des Chiasmus im Revolutionsdrama: Heiner Müller mit Georg Büchner Lesen."

Theater der Zeit: "Theaterwissenschaftliche Beiträge 2006"

– Beilage zum Heft 5 (2006): 8-11.
Book Reviews
Julia Hell: The Conquest of Ruins: The Third Reich and the Fall of Rome. Chicago: The University of Chicago Press, 2019. The Germanic Review 95, no. 1 (2020): 65-69.
Leslie A. Adelson: Cosmic Miniatures and the Future Sense: Alexander Kluge's 21st-Century Literary Experiments in German Culture and Narrative Form. De Gruyter, 2017. The German Quarterly 92, no. 2 (2019): 305-308. 
Matt Cornish: Performing Unification: History and Nation in German Theater after 1989. Ann Arbor: University of Michigan Press, 2017. Symposium: A Quarterly Journal in Modern Literatures 73, no. 1 (2019): 68-70.

Friederike Eigler:

Heimat, Space, Narrative: Toward a Transnational Approach to Flight and Expulsion

. Rochester, NY: Camden House, 2014. 

Symposium: A Quarterly Journal in Modern Literatures

 70, no. 4 (2016): 219-221.

Elisabeth Herrmann, Carrie Smith-Prei, Stuart Taberner, eds.: Transnationalism in Contemporary German-Language Literature. Rochester, NY: Camden House, 2015. Modern Language Review 111, no. 3 (2016): 907-908.

Kefei Qian:

Die Donau von 1740 bis 1875. Eine kulturwissenschaftliche Untersuchung

. Berlin: Logos Verlag für wissenschaftliche Publikationen, 2014. 

The German Quarterly

 88, no. 1 (2015): 139-141.

Amir Eshel:

Futurity: Contemporary Literature and the Quest for the Past

. Chicago: University of Chicago Press, 2013. 

The German Quarterly

86, no. 4 (2013): 513-515.
FSEM 159: Transnational Culture in Europe Today
Core 151: Legacies of the Ancient World
Core 152: Challenges of Modernity
Core 184: Communities and Identities: The Danube
German 121 and 122: Beginning German I and II
German 201 and 202: Intermediate German I and II
German 325: Transnationalism in Contemporary German Culture
German 341: Advanced Conversation and Composition
German 351: Introduction to German Literary Studies
German 352: Crisis and Critique in Germanophone Europe
German 353: Proseminar in German Studies: Borderlands of European Multiculture 
German 457: German Literature and Culture on Site: The Freiburg Seminar
German 477: Literature at the Turn of the Century: Legacies of Central European Modernity
German 479: 20th Century Literature: Modernity and Migration in Germanophone Europe
German 485: German Drama: History, Theory, Practice
Adviser to independent studies and honors theses in German
Freiburg Study Group director
Visiting Assistant Professor of German, Bowdoin College, 2009-10
Postdoctoral Teaching Fellow, Columbia University, 2007-2009
PhD, Columbia University, 2007, Dissertation: "Literary Forms of Dialectics in the Works of Alexander Kluge and Heiner Müller" 
BA, Swarthmore College, 1997