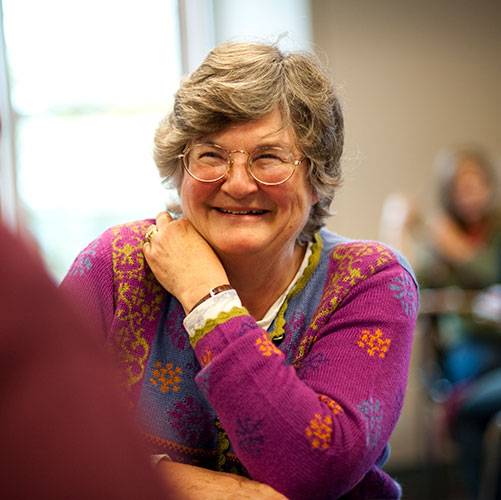 Margaret Darby
Associate Professor of Writing and Rhetoric, Emerita
In both my teaching and my scholarship, I always try to understand better the difference that language itself makes, how it mediates between intention and meaning. 
I want to teach students who feel a strong impulse to discover what they mean when they write and, further, what they really mean when they revise what they have written.
This attention to language finds more specific expression in my scholarly work on 19th-century metaphors of femininity and their relation to women's lived experience in the Victorian Age. One scholarly path is to garden history, especially metaphors of a space like the glassed-in garden conservatory, as portrayed in horticultural history, women's history, literature, and art. I follow another scholarly path of women in the life and writings of Charles Dickens. I present my work at conferences on Dickens and Victorian Studies in the United States and Britain.
BA, Smith College, 1967
MA, Stanford University, 1968
PhD, SUNY Binghamton, 1988
Rhetoric and composition
Victorian studies
Women's studies, especially language and gender
Ideologies of femininity in Victorian studies — women characters in Dickens's novels and their connections to his biography; cultural metaphors of femininity in garden history; feminist pedagogy in the composition classroom
"The Conservatory at Gad's Hill Place," Dickens Quarterly 26 (September, 2009): 137-150
"Unnatural History: Ward's Glass Cases," Victorian Literature and Culture 35 (2007): 635-647
"Joseph Paxton's Water Lily," Bourgeois and Aristocratic Cultural Encounters in Garden Art: 1550-1850. Dumbarton Oaks Colloquium on the History of Landscape Architecture XXIII. Ed. Michel Conan. Washington DC: Dumbarton Oaks, 2002. 255-283
"Dickens and Women's Stories: 1845-1848 (Part Two), Dickens Quarterly 17 (September, 2000): 127-138
"Dickens and Women's Stories: 1845-1848 (Part One), Dickens Quarterly 17 (June, 2000): 67-76. Reprinted in Dickens, Sexuality and Gender. Ed. Lillian Nayder. Ashgate, 2012. 387-397
"Listening to Estella," Dickens Quarterly 16 (December, 1999): 215-229
"The Conservatory in St. John's Wood," Seductive Surfaces: The Art of Tissot. Ed. Katharine Lochnan. London: Paul Mellon Centre for British Art and Yale UP, 1999: 161-184
"Dora and Doady," Dickens Studies Annual 22 (1993): 155-169
"Four Women in Our Mutual Friend," The Dickensian 83 (Spring, 1987): 24-39
Book Reviews for Dickens Quarterly, Victorian Studies, The Gaskell Society Journal
Fellow, Studies in Landscape Architecture, Dumbarton Oaks, Washington, D.C., September 2002-May 2003
Summer Fellow, Studies in Landscape Architecture, Dumbarton Oaks, Washington DC, 2000
Prize-winning dissertation in the Humanities, SUNY Binghamton Commencement, May 1988