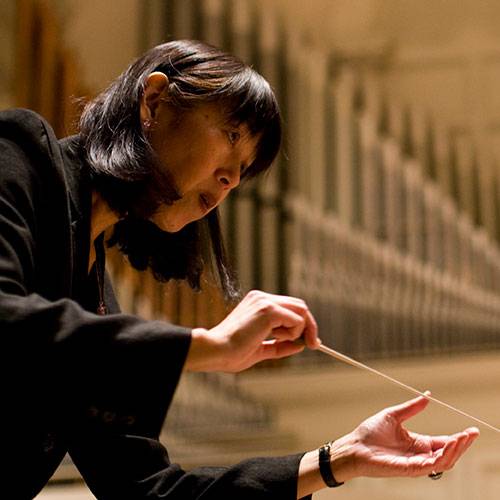 Marietta Cheng
Professor of Music and Director of the Colgate University Orchestra
Department/Office Information
Music
TR

9:25am - 9:55am

(206 Charles Dana Arts Center)

TR

11:10am - 11:55am

(206 Charles Dana Arts Center)

W

6:20pm - 6:50pm

(Chapel)
Praised as a vibrant and compelling conductor who is a born communicator, Marietta Cheng is Professor of Music and Conductor of the Colgate University Orchestra. She has been a Colgate Presidential Scholar, AAUP Professor of the Year, and recipient of the Distinguished Teaching Award given by the Colgate Alumni Board.

Cheng is Conductor Laureate of the Orchestra of the Southern Finger Lakes, a widely acclaimed professional orchestra in the southern tier of New York State. She is credited with bringing the OSFL to new artistic heights and exceptional organizational growth from 1995-2008.

She was the Music Director and Conductor of the Corning Philharmonic Orchestra and Chorus from 1986-95, a leader with "a ton of charisma". She has guest conducted the Chautauqua Symphony Orchestra of the Chautauqua Institution.

She was on the faculty at the Aspen Music Festival for three summers, teaching choral conducting. Since 2000, she has conducted an exceptional and model children's concert series in upstate New York with the Hudson Valley Philharmonic. She served as a music panelist for the New York State Council on the Arts, twice as its chair, judging music grant applications for all music organizations in the state of New York.

In 2003, she was chosen as one of 50 great women conductors worldwide, profiled in a book on women conductors by Elka Mascha Blankenburg, Europaische Alt Verlag. As one of a unique group of 100 women leaders from across the United States, she added her voice to Lifetime Television's National Summit on Women in the 21st Century.
AB, Smith College, 1974; MM, New England Conservatory of Music, 197
Haverford College; Bryn Mawr College; Aspen Music Festival; Binghamton University; New England Conservatory of Music
Conducting, women in music, Beethoven
Music director and Conductor, The Orchestra of the Southern Finger Lakes, 1995-2008
Conductor of the faculty of the Aspen Music Festival Choral Institute, 1980-83. Conducted the Aspen Chamber Choir, Bach Jesu, Meine Freude, 1983. Prepared choruses for Robert Shaw, Jorge Mester, Dennis Russell Davies, John Nelson, Fiora Contino
Conductor for the Hudson Valley Philharmonic in Bardavon Young Peoples' Concerts, 2000-15
Founder, conductor, Colgate University Chorus, 1976-84 with four European tours, a Town Hall concert, 2 recordings and 1 CD
Music director and Conductor, Syracuse Vocal Ensemble, 1977-79
Conductor of the Haverford/Bryn Mawr Chamber Orchestra and Chorus, 1981-82 as Visiting Assistant Professor of Music at Haverford College
Honored as one of 100 women leaders for Lifetime Television's Summit on Women in the 21st Century in  Washington, D.C., 1998
Piano soloist in the Beethoven Fourth Piano Concerto with the Boston Pops Orchestra, Arthur Fiedler, Conductor, 1974
Profiled as one of 50 top women conductors worldwide in Elka Mascha Blankenburg's book, Women Conductors, 2003
Chair of the Colgate University Department of Music for four terms, 1982-85, 1985-88, 2000-03, 2014- . Chair of the Arts Council, 2011-13