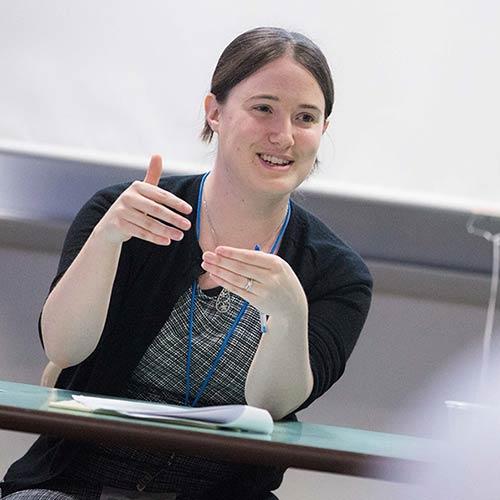 Megan Abbas
Assistant Professor of Religion
Megan Brankley Abbas studies modern Islamic intellectual history and the complex encounters between Western imperialism and Muslim communities, especially in Indonesia. Her first book Whose Islam: The Western University and Modern Islamic Thought in Indonesia (Stanford University Press, 2021) re-positions Western universities as significant spaces for producing Islamic knowledge and Muslim religious authority in the 20th and 21st centuries. By tracing the many entanglements between Western academia and Indonesian Islam, Abbas uncovers the far-reaching repercussions these networks have had on the world's most populous Muslim nation as well as on Islamic Studies as an academic discipline. 
Professor Abbas' next book project will investigate how American foreign policy officials and non-governmental organizations have sought to shape Indonesian Muslim politics since the country's independence in 1945. 
At Colgate, Professor Abbas teaches a range of Islamic Studies courses as well as classes on contemporary religion, secularism, and Indonesia. 
B.A. Williams College, 2008
Ph.D. Princeton University, 2015
RELG 102: Religion and the Contemporary World
RELG 282: Islamic Traditions
RELG 214: Muhammad and the Qur'an
RELG 262: Islam in Our Post-9/11 World
RELG 329: Modern Islamic Thought
RELG 342: Our Secular Age
Core C&I: Indonesia
Before joining the Colgate faculty in 2018, Prof. Abbas served as an Assistant Professor of Islamic World History at SUNY Geneseo for three years. She also taught in the Princeton Writing Program.
Whose Islam?: The Western University and Modern Islamic Thought in Indonesia  (Stanford University Press, 2021)
"Between Western Academia and Pakistan: Fazlur Rahman and the Fight for Fusionism," Modern Asian Studies 51.3 (May 2017): 736-768.
"Battling over the Bureaucracy: The 10 October Incident and Intra-Muslim Conflict under Sukarno's Guided Democracy," Indonesia and the Malay World 43.126 (2015): 207-225.