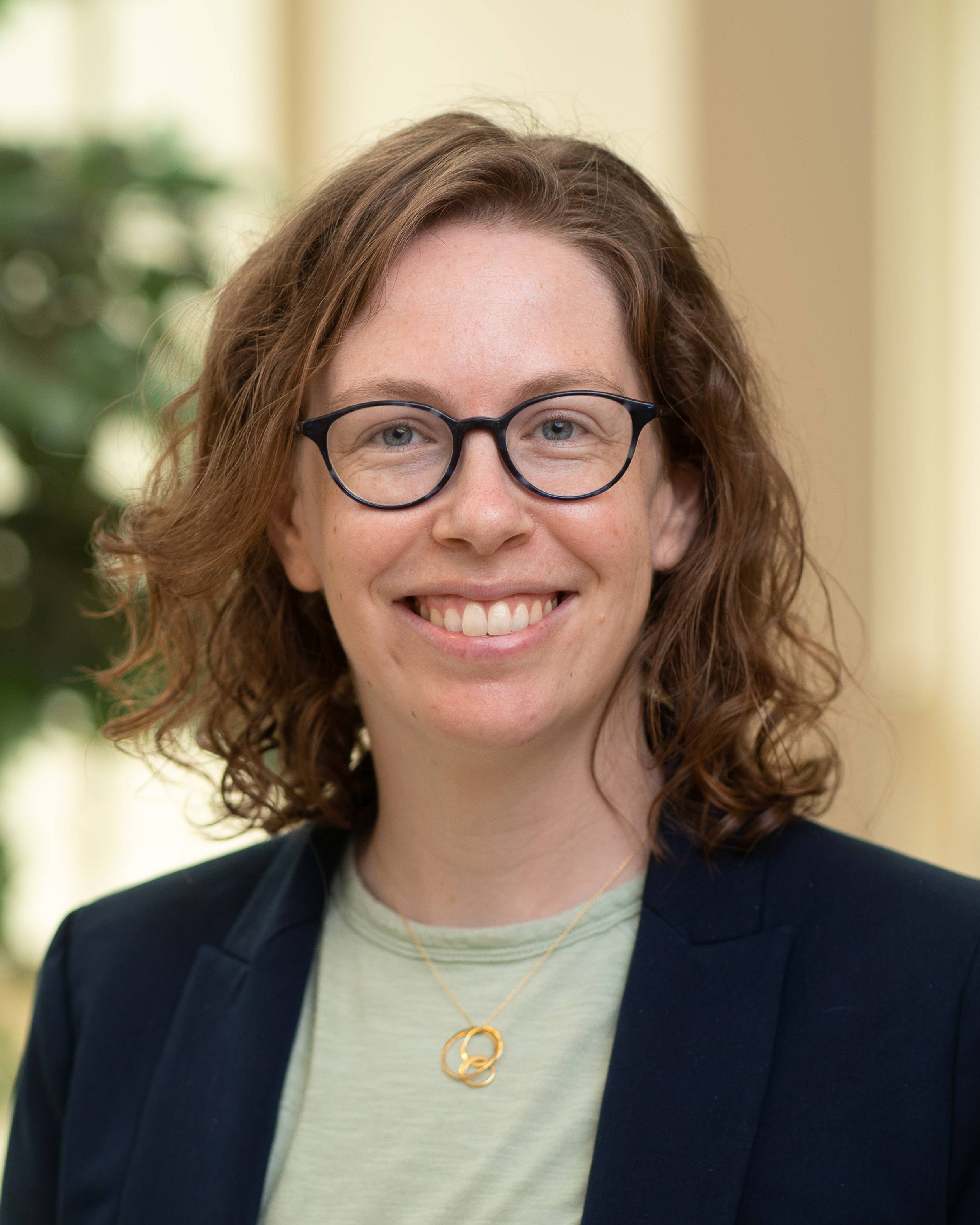 Jennifer (Jenny) Peeler
Assistant Professor of Chemistry
My educational background and research interests both lie at the intersection of chemistry and biology. Specifically, I focus on the use of chemical tools to uncover insights about biological systems.
In the Peeler Lab, we utilize a chemical tool called genetic code expansion in order to study protein function. Genetic code expansion enables cells to express proteins that contain amino acids beyond the naturally-occurring amino acids that are typically available to cells. This ability to expand the genetic code and utilize non-canonical amino acids allows us to produce proteins that are intractable to traditional molecular biology approaches. And once these proteins are expressed, we can study their biological functions.
Undergraduates in the Peeler Lab gain experience in a number of chemical biology and biochemistry techniques, including molecular cloning, tissue culture, protein expression and purification, and enzyme assays.
Colgate students who are interested in joining the lab are encouraged to contact Professor Peeler.
Boston College, NIH postdoctoral fellow (2017 – 2020)

The Rockefeller University, PhD in Chemical Biology and Signal Transduction (2017)

Franklin & Marshall College, BA in Chemistry and Biochemistry & Molecular Biology (2010)
Biochemistry; Chemical biology; Genetic code expansion; Selenoproteins; Post-translational modifications
Peeler, J.C., Falco, J.A., Kelemen, R.E., Abo, M., Chartier, B.V., Edinger, L.C., Chen, J., Chatterjee, A., and Weerapana, E. Generation of Recombinant Mammalian Selenoproteins through Genetic Code Expansion with Photocaged Selenocysteine. ACS Chemical Biology 15, 1535-1540.
Italia, J.S., Peeler, J.C., Hillenbrand, C.M., Latour, C., Weerapana, E., and Chatterjee, A. (2020) Genetically encoded protein sulfation in mammalian cells. Nature Chemical Biology 16, 379-382.
Peeler, J.C., and Weerapana, E. Chemical-biology approaches to interrogate the selenoproteome. Accounts of Chemical Research 52, 2832-2840.
Italia, J.S., Addy, P.S., Erickson, S.B., Peeler, J.C., Weerapana, E., and Chatterjee, A. (2019). Mutually Orthogonal Nonsense-Suppression Systems and Conjugation Chemistries for Precise Protein Labeling at up to Three Distinct Sites. Journal of the American Chemical Society 141, 6204–6212.
Rico, C.A., Berchiche, Y.A., Horioka, M., Peeler, J.C., Lorenzen, E., Tian,H., Kazmi,    M.A., Fürstenberg, A., Gaertner, H., Hartley, O., Sakmar, T.P, and Huber, T. (2019). High-Affinity Binding of Chemokine Analogs that Display Ligand Bias at the HIV-1 Co-receptor CCR5. Biophyical Journal 117, 903-919.
Peeler, J.C., Schedin-Weiss, S., Soula, M., Kazmi, M.A., and Sakmar, T.P (2017). Isopeptide and ester bond ubiquitination both regulate degradation of the human dopamine receptor 4. Journal of Biological Chemistry 292, 21623–21630.
Seitchik, J.L., Peeler, J.C., Taylor, M.T., Blackman, M.L., Rhoads, T.W., Cooley, R.B., Refakis, C., Fox, J.M., and Mehl, R.A. (2012). Genetically Encoded Tetrazine Amino Acid Directs Rapid Site-Specific in Vivo Bioorthogonal Ligation with trans Cyclooctenes. Journal of the American Chemical Society 134, 2898–2901.
Peeler, J.C., and Mehl, R.A. (2012). Site-specific incorporation of unnatural amino acids as probes for protein conformational changes. Methods in Molecular Biology 794, 125-134.
Peeler, J.C.*, Woodman, B.F*., Averick, S., Miyake-Stoner, S.J., Stokes, A.L., Hess, K.R., Matyjaszewski, K., and Mehl, R.A. (2010). Genetically Encoded Initiator for   Polymer Growth from Proteins. Journal of the American Chemical Society 132, 13575-13577.
         *These authors contributed equally to this work.
Stokes, A.L., Miyake-Stoner, S.J., Peeler, J.C., Nguyen, D.P., Hammer, R.P., and Mehl, R.A. (2009). Enhancing the utility of unnatural amino acid synthetases by manipulating broad substrate specificity. Molecular BioSystems 5, 1032–1038.
Miyake-Stoner, S.J., Miller, A.M., Hammill, J.T., Peeler, J.C., Hess, K.R., Mehl, R.A., and Brewer, S.H. (2009). Probing Protein Folding Using Site-Specifically Encoded Unnatural Amino Acids as FRET Donors with Tryptophan. Biochemistry 48, 5953-5962.
CHEM 101: General Chemistry I

CHEM 101L: General Chemistry I Lab

CHEM 353: Proteins and Nucleic Acids

CHEM 481/482: Advanced Chemistry Research