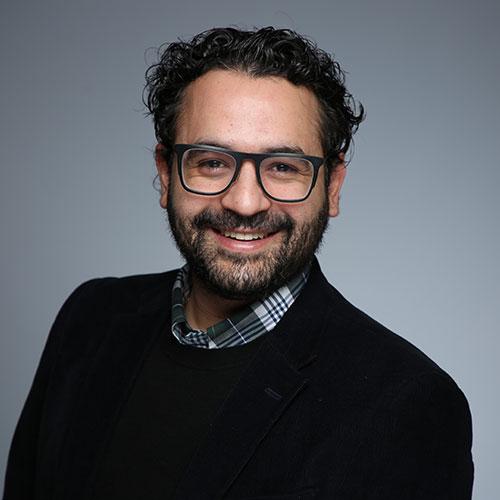 Javier Padilla Rios
Assistant Professor
Department/Office Information
English
BA Colgate University; MA, PhD Princeton University

Javier Padilla is Assistant Professor of English at Colgate University. His current research project, The Poetics of the Instant, analyzes both the aesthetic, cultural, and sociopolitical role of poetry in times of decolonization, liberation, and exclusion. It takes the idea of a "dialectical instant" from Gaston Bachelard and Walter Benjamin and it de-centers it by viewing it through the lens of the philosophy of liberation in the thought of thinkers like Enrique Dussel, Aníbal Quijano, and Franz Fanon.

His articles and translations have appeared in The Capilano Review, Literary Imagination, Revista Iberoamericana, The Journal of Modern Literature, and Cuadernos Hispanoamericanos.

His teaching specialties include global modernism(s), Irish and Latin American Studies, Translation Studies, and 20th-century poetry. Padilla's research interests include postcolonialism, modernity/coloniality, Media Studies, and Literary Theory.
Journal Articles
"Yeats's Meditative Spaces: Between Modernity and Coloniality," in The Journal of Modern Literature. Vol. 41, No. 4 (Summer 2018), pp. 107-124. Print.

"Between Politics and Exoticism: Towards a Re-Evaluation of Tropical Town and Other Poems," in Revista Iberoamericana (Forthcoming).

"CMR en el Intecna," in Cuadernos Hispanoamericanos no. 740 (Feb. 2012) pp. 51-54. Print.

"The Rhythmic Course," in The Capilano Review 3.25 (Winter 2015). Print.
Book Chapters
"The Gothic Third World: Photography and the Poetics of Exclusion," in Thinking in Constellations: Walter Benjamin in the Humanities. Newcastle upon Tyne: Cambridge Scholars Press, (forthcoming, 2017). Print.
Translations
"Poems by Carlos Martínez Rivas (1924-1998)," translated from the Spanish by Javier Padilla, in Literary Imagination doi:10.1093/litimag/imu037 (2015): pp. 1-2. Online and Print.
Encyclopedia Articles
"New Verse: British Literary Periodical," Routledge Encyclopedia of Modernisms.

"Roberto Arlt," (co-author) Routledge Encyclopedia of Modernisms.