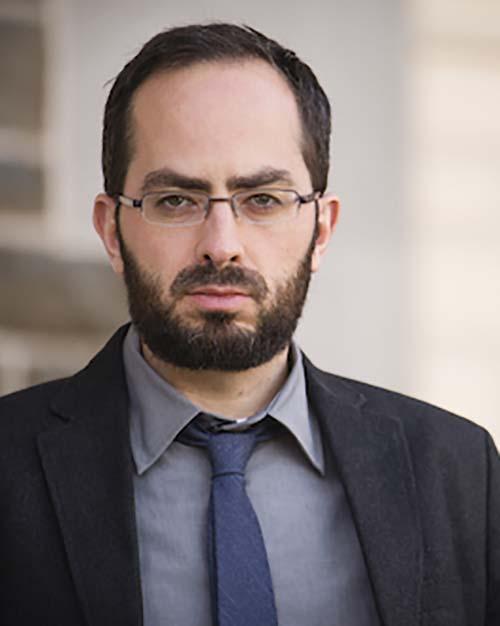 Jacob Mundy
Associate Professor of Peace and Conflict Studies and Middle Eastern and Islamic Studies
PhD, Institute of Arab and Islamic Studies, University of Exeter, 2010
M.A., Jackson School of International Studies, University of Washington, Seattle, 2004 
B.A., Philosophy, University of Washington, Seattle, 1999
Critical Security Studies, Political Economy, Northern Africa

Fieldwork: Libya (Summer 2012), Algeria (October 2007 - June 2009); Morocco, Western Sahara, and Algeria (Summer 2003 and Fall 2005)
Discussing Militia Politics in Libya
Libya. Polity Press, Series in Global Hot Spots, 2018. 

Imaginative Geographies of Algerian Violence: Conflict Science, Conflict Management, Antipolitics, Stanford University Press, Studies in Middle Eastern and Islamic Societies and Cultures, 2015

The Post-conflict Environment: Investigation and Critique, coeditor with Daniel B. Monk, University of Michigan Press, Series in Global Urban Studies, 2014. 

Western Sahara: War, Nationalism and Conflict Irresolution, coauthor with Stephen Zunes, Syracuse University Press, Series on Peace and Conflict Resolution, 2010, Second Printing 2011
"The Science, Aesthetics, and Management of Late Warfare: An Introduction." Critical Studies on Security (special issue co-edited by Stefanie Fishel and Jacob Mundy), 1(2) 2013: 143-158, http://dx.doi.org/10.1080/21624887.2013.826426 

"'Wanton and Senseless' Revisited: The Study of Warfare in Civil Conflicts and the Historiography of the Algerian Massacres," African Studies Review 56(3) December 2013: 25-55, http://dx.doi.org/10.1017/asr.2013.78 

"Deconstructing Civil War: Beyond the New Wars Debate," Security Dialogue 42(3), June 2011: 279-295, http://sdi.sagepub.com/content/42/3/279.abstract 

"Expert Intervention: Knowledge, Violence and Identity during the Algerian massacres," Cambridge Review of International Affairs 23(1), March 2010: 25-47, Special Issue on Scholarship and War: Ethics, Power and Knowledge, http://www.tandfonline.com/doi/abs/10.1080/09557570903540193 

"Performing the Nation, Prefiguring the State: The Western Saharan Refugees Thirty Years Later," Journal of Modern African Studies 45(2), June 2007: 275-297, http://dx.doi.org/10.1017/S0022278X07002546
"Libya," in The Middle East, 14th Edition, Ellen Lust (ed), CQ Press, 2016: 615-614.
"Moroccan Settlers in Western Sahara: Colonists or Fifth Column?" (coauthored with Stephen Zunes) in Settlers in Contested Lands: Territorial Disputes and Ethnic Conflicts, Oded Haklai and Neophytos Loizides (eds), Stanford University Press, 2015: 40-74. 

"Bringing the tribe back in? The Western Sahara dispute, ethno-history, and the imagineering of minority conflicts in the Arab world," in Minority Rights and Multiculturalism in the Arab World, Will Kymlicka and Eva Pföstl (eds), Oxford University Press, 2014: 127-150. 

"Western Sahara: Nonviolent Resistance as a Last Resort," coauthored with Stephen Zunes, in Civil Resistance and Conflict Transformation: Transitions from Armed to Nonviolent Struggle, Véronique Dudouet (ed), Routledge Studies in Peace and Conflict Resolution, 2014: 20-44.