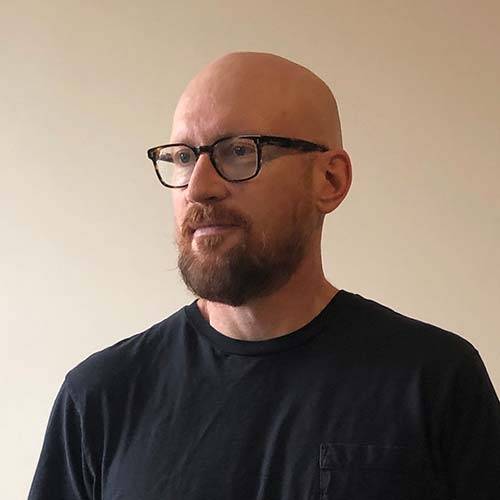 Gregory (Greg) Ames
Associate Professor of English
Department/Office Information
English
W

1:00pm - 2:00pm

(304 Lathrop Hall)

R

12:00pm - 2:00pm

(304 Lathrop Hall)
Greg Ames teaches writing and literature courses at Colgate. He is the author of two books, Buffalo Lockjaw, a novel that won a NAIBA Book of the Year Award, and Funeral Platter, a collection of twenty short stories, including "Benefactor," which was featured on NPR's Selected Shorts. His work has appeared in Best American Nonrequired Reading, Southern Review, McSweeney's, The Sun, Catapult, and North American Review, among many others. His short fiction has been cited for distinction in Best American Short Stories and the Pushcart Prize anthology. He can also be found at gregames.com.
Reviews for Buffalo Lockjaw
In this beautifully observed debut, a son wrestles with the possibility of assisted suicide for his mother, stricken with Alzheimer's. . . . A novel about hard choices and doing the right thing that is modest, moving and true. — Kirkus  (starred review)
The voice of this novel invites you right in, and Ames knows how to build up the world with a light hand while still getting to the complicated and painful ways we muddle through. Funny and fresh and generous. — Aimee Bender, author of The Girl in the Flammable Skirt
Greg Ames has written a brazen and tender book about a city and a scene, a mother and a son, and the beauty and pain of several kinds of love. — Sam Lipsyte, author of Home Land 
This brilliant first novel suggests that Greg Ames is a writer who will be heard from for many years to come. — World Literature Today 
Reviews for Funeral Platter
Greg Ames' trick, his sleight of hand, is to somehow take the absurd and make it vanish into tenderness, to pull laughter out of the particulars of cruelty, and to give each gorgeously rendered sentence a living human tongue. Every story here is its own cabinet of wonders. Funeral Platter is hands down one of the best collections I've read in years. —David Ryan, author of Animals in Motion 
Funeral Platter is a wonderful, witty collection of very funny and unusual short stories. Its singular characters, truly inventive premises, and manic, propulsive prose make for breakneck reading. Yet, without knowing how it happened, these stories become genuinely insightful about our darkest secret: our loneliness. — Dana Spiotta, author of Stone Arabia
If you think you're ready for Ames's life-changing brand of unhinged literary brilliance, first be sure that you're someplace where it's socially acceptable to lose your sh*t.— J. Robert Lennon, author of Mailman 
Vivid, witty, and surprising, Greg Ames's stories will move you in unexpected ways. — Claire Messud, author of The Emperor's Children
BA, SUNY-Buffalo State College
MA, University of London (Queen Mary & Westfield College)
MFA, Brooklyn College
PhD, Binghamton University
Twentieth-century American literature, contemporary fiction, the short story, satire, literature of the absurd, film and the novel.