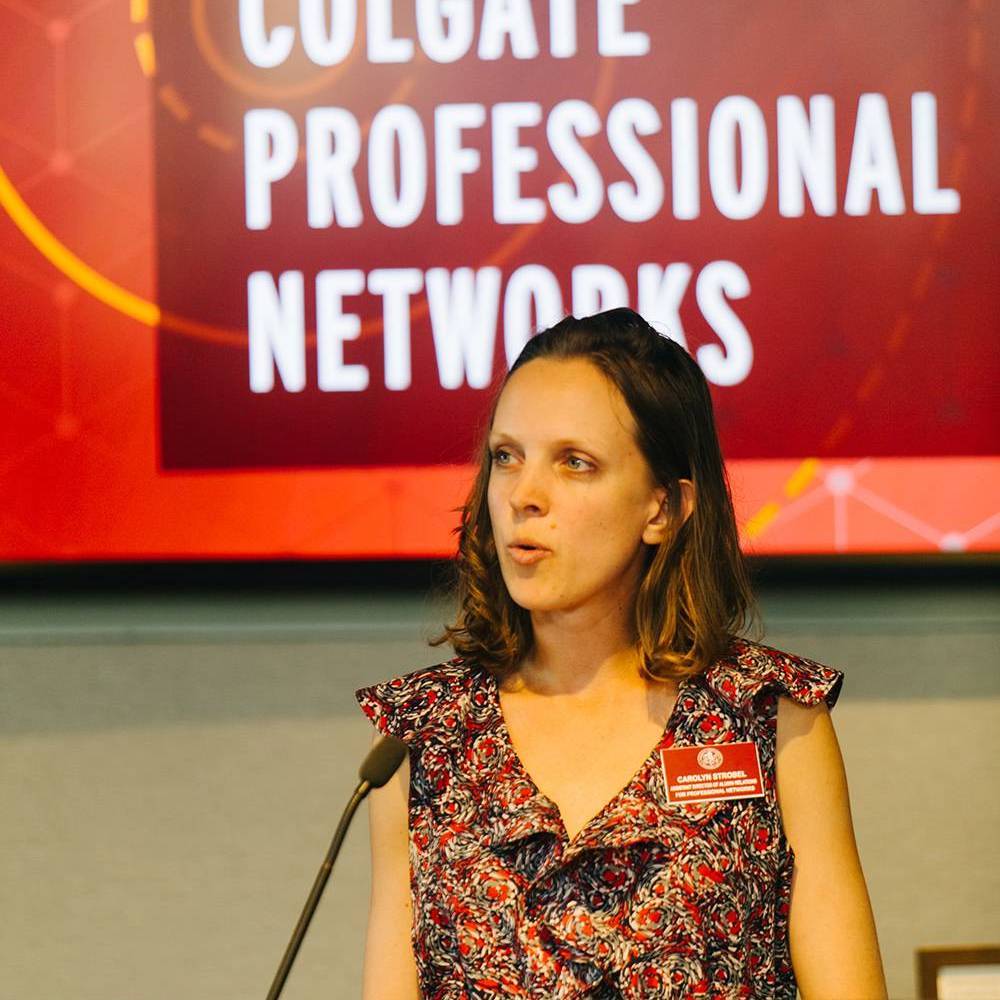 Carolyn Strobel-Larsen
Director of Entrepreneurship and Innovation Programs
Department/Office Information
Thought into Action
As director of entrepreneurship and innovation programs at Colgate University, I am responsible for developing and executing strategy for co-curricular programming focused on entrepreneurship and innovation, within the framework of Colgate's Middle Campus Initiative for Arts, Creativity, and Innovation. I am also currently serving a three-year appointment as co-director of Ciccone Commons, one of Colgate's four residential commons.
My background spans both the startup world and higher education. Prior to my current position, I spent three years in Colgate's Office of Advancement, developing and executing programming for Alumni Relations and Annual Giving to connect alumni and the university. My areas of focus included Colgate's leadership giving society, the Colgate Professional Networks, and faculty events for alumni. Before entering higher education, I spent six years in Silicon Valley at B2B tech startups Capriza and Druva and the nonprofit Anita Borg Institute for Women and Technology. I began my career with a year working in the nonprofit sector in Ireland. I hold a B.A. in history and French from Mount Holyoke College.
I am a CNY native and live in my hometown, Sherrill. Outside work, I enjoy playing trivia with friends, taking day trips, being active outdoors (hiking, downhill skiing, snowshoeing, kayaking, tennis), and spending time with my local family.
Any student is welcome to connect with me by booking office hours using the button above. I am always excited to meet students, learn about their interests, and discuss opportunities on campus related to entrepreneurship, innovation, Ciccone Commons, and more.
I also enjoy connecting with other Colgate employees. In particular, I can serve as a resource about getting to know Colgate, building connections across campus, getting involved in professional development, and getting to know the local area. If you are interested in connecting, please don't hesitate to reach out to me by email.
Ciccone Commons, co-director, June 2021–present
COVE Advisory Council, September 2021–present
Colgate Athletics Name, Image, and Likeness (NIL) Task Force, member, March 2021–present
Dana Programming Committee, member, January 2021–present
Agriculture Entrepreneurship Center Committee, Cornell Cooperative Extension of Madison County, June 2020–present
Colgate Hello, founding steering committee member, June 2019–June 2021
Staff Initiatives Group Employee Engagement Working Group, chair, February–May 2020
DoC Cares Initiative, member, March–August 2020
Colgate Debate Society, volunteer coach, spring 2020