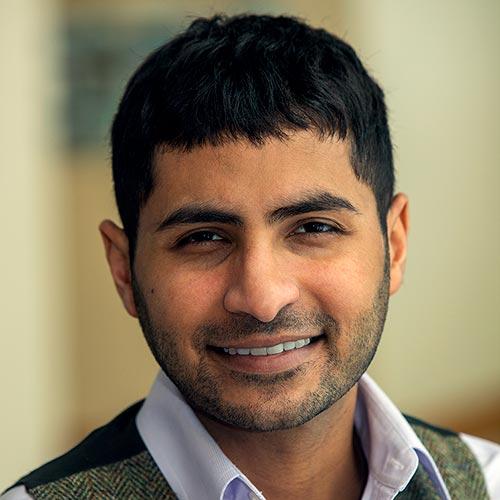 Aniruddha (Ani) Maitra
Associate Provost for Equity and Diversity; Associate Professor of Film and Media Studies
PhD, Brown University, 2013; MA, Jadavpur University, 2005; BA, Jadavpur University, 2003
Associate Professor of Global Film and Media, Colgate University, 2020-Present
Assistant Professor of Global Film and Media, Colgate University, 2014-2020
Visiting Assistant Professor of World Cinema, Hampshire College, 2012-2013
Five College Pre-doctoral Fellow, Hampshire College, 2011-2012
Global film and media; queer theory and visual cultures; psychoanalysis and cultural critique; 
Gender and sexuality studies; aesthetics and politics; theories of reading and spectatorship
Senior Seminar in Film and Media Studies
History and Theory of Cinema
Global Media: Flows and Counter-flows 
LGBTQ Cinema in a Transnational Frame 
Sexuality and Visibility 
Global Cinema 
The Documentary Impulse 
Intro to Film and Media Studies
Language, Power, and Difference: Approaches to Semiotics (Hampshire)
Introduction to World Cinema (Hampshire)
Real and Fictive Identities: Ethnicity in Migrant Literature and Cinema (Hampshire)
Sexuality and Capitalism (Hampshire)
Monograph
Identity, Mediation, and the Cunning of Capital (Northwestern University Press, 2020)
Podcast interview on the monograph with Ideas on Fire available here .
Podcast interview on the monograph with the New Books Network available here.
Articles/ Book Chapters
"What Does It Mean to 'Sound Gay'?: The Accented (Voice) as Surplus Jouissance" in Thinking with an Accent: Toward a New Object, Method, and Practice, ed. Pooja Rangan, Akshya Saxena, Ragini Tharoor Srinivasan, and Pavitra Sundar (Oakland: University of California Press, 2023), 266-280.
"Of Mimicry and Identity: A Brief Genealogy," Effects 3 (2022): 98-112. 
 "Aberrant Narcissisms in Dolto, Lacan, and Fanon: Notes on a Wounded Imaginary," differences 28, no. 3 (2017): 93-135.

"What's 'in'?: Disaggregating Asia through New Media Actants," co-authored with Rey Chow, in Routledge Handbook of New Media in Asia (New York and London: Routledge, 2016), 17-27.

"Touching Hearts: The Uncertain but Strategic Politics of the Fifth Mumbai International Queer Film Festival,"Film Quarterly 69, no. 2 (2015): 60-65. 

"In the Shadow of the Homoglobal: Queer Cosmopolitanism in Tsai Ming-liang's I Don't Want to Sleep Alone," Jindal Global Law Review 4, no. 2 (2013): 239-267. 
Reprint in New Intimacies/ Old Desires: Law, Culture and Queer Politics in Neoliberal Times, ed. Oishik Sircar and Dipika Jain (Chicago: Chicago University Press, 2017), 317-350. 

"Confessions of the (Ethnic) Narcissist: Intermedia in Diaspora," South Asian Popular Culture 8 (2010): 143-162.
Reprint in InterMedia in South Asia: The Fourth Screen, ed. Rajinder Dudrah, Amit Rai, and Anustup Basu (London and New York: Routledge, 2012), 38-57.

"Hearing Queerly: Musings on the Ethics of Disco/sexuality," Continuum: Journal of Media and Cultural Studies 25 (2011): 375-396.

"Why isn't Michelle Lopez on Judge Judy?: Citizenship and Televisuality in Hima B.'s And I Do Survive,"Camera Obscura: Feminism, Culture, and Media Studies 25 (2010): 183-195.

"The Flight of the Eunuch: Mapping Homotextualities in South Asian Diaspora Literature," Anxieties, Influences and After: Critical Responses to Postcolonialism and Neocolonialism, ed. Kaustav Bakshi and Samrat Sengupta (New Delhi: Worldview Publications, 2008), 91-113.
 
Online Articles
"Are We Also Ready to Confront the Wages of Complicity?" New Politics, June 16, 2020
"COVID-19 and the neoliberal state of exception," Al Jazeera, March 29, 2020.
"CNN in North Korea: Liberal Democracy and Ethnonationalism," Counterpunch, December 1, 2017. 
"Teaching Devdas and Mirch Masala: Indian Cinemas in the Global Cinema Classroom," The Cine-Files 9 (2015).
Other Publications 
"Documenting and Inhabiting Flux: A Conversation with Filmmaker Priya Sen," interview co-authored with Pooja Rangan and Aparna Sharma, World Records 99 (2019): 10-23.
Review of Glen M. Mimura, Ghostlife of Third Cinema: Asian American Film and Video (Minneapolis and London: U of Minnesota P, 2009) in MELUS: The Society for Multi-Ethnic Literature of the United States 36 (2011): 183-187.
Colgate Arts Council Discretionary Grant (Fall 2019) 
Research Council Major Grant (Summer 2017) 
Kallgren Teaching-Related Grant (Summer 2016) 
Colgate Arts Council Discretionary Grant (Spring 2015) 
Colgate Research Council Discretionary Grant (Fall 2014)
Colgate Arts Council Discretionary Grant (Fall 2014)
Post-doctoral Fellowship at the Institute for Cultural Inquiry, Berlin, 2013-2014 (Declined)
Five College Pre-doctoral Fellowship, Hampshire College, 2012-2013
Dissertation Completion Award, Brown University Graduate School, 2012
Brown-Wheaton Dissertation and Teaching Fellowship, Wheaton College and Brown University, 2012-2013 (Declined)
Cogut Graduate Fellowship, Cogut Center for the Humanities, Brown University, 2011-2012
International Conference Travel Award, Office of International Affairs, Brown University, 2011
Cornell School of Criticism and Theory Fellowship, Cogut Center for the Humanities, 2010
Pembroke Graduate Fellowship, Pembroke Center for Teaching and Research on Women, Brown University, 2009-2010
Brown University Graduate Fellowship, 2007-2008
Graduate Scholarship, Paul Foundation, India, 2007
CNN International Professional Program Fellowship, Atlanta, 2006