The Office of National Fellowships and Scholarships (ONFS) is pleased to announce that Linda Wang '23 has received the Boren Fellowship. As a Boren Fellow, she will spend the next year studying Arabic at the Qasid Arabic Institute in Amman, Jordan.
"I look forward to immersing myself in Jordanian culture and becoming fluent in formal and Levantine Arabic," Wang says. "I am grateful for this opportunity to further learn about the Middle East and North Africa (MENA), and I aim to connect with many individuals and cultures during my year in Jordan to become a future specialist of this region."
Wang's dedication to public service is exemplified by her previous cross-cultural collaborations and desire to help communities improve the skills, resources, and structures necessary for self-determination. Before Colgate, Wang took a bridge year and taught English in Shenzhen, China. As she got to know her students and their families, she became more conscious of the increasingly common rural-to-urban migration of Chinese workers throughout the country. 
Since arriving on campus, Wang has established herself as a driven and humble leader inside and outside the classroom. She is an Office of Undergraduate Studies scholar, Colgate Debate Society competitor, and was awarded the Joseph '63 and Carol Trimmer Award for Excellence in First-Year Personal Essay Writing. She leads from within, always focusing on building inclusive communities and supporting others in their pursuits. 
Already fluent in Cantonese and proficient in Mandarin, Wang elected to study Arabic during her sophomore year. As a result, she chose to study abroad at the American University of Sharjah during the fall of 2021. "Studying in the UAE gave me the opportunity to speak to people from MENA and to learn about the region and its cultures, my fervent goal when I started learning Arabic." Through her coursework, she continued to develop her language skills and learned about the country's stratified social structure and its impact on migrant workers in the service industry.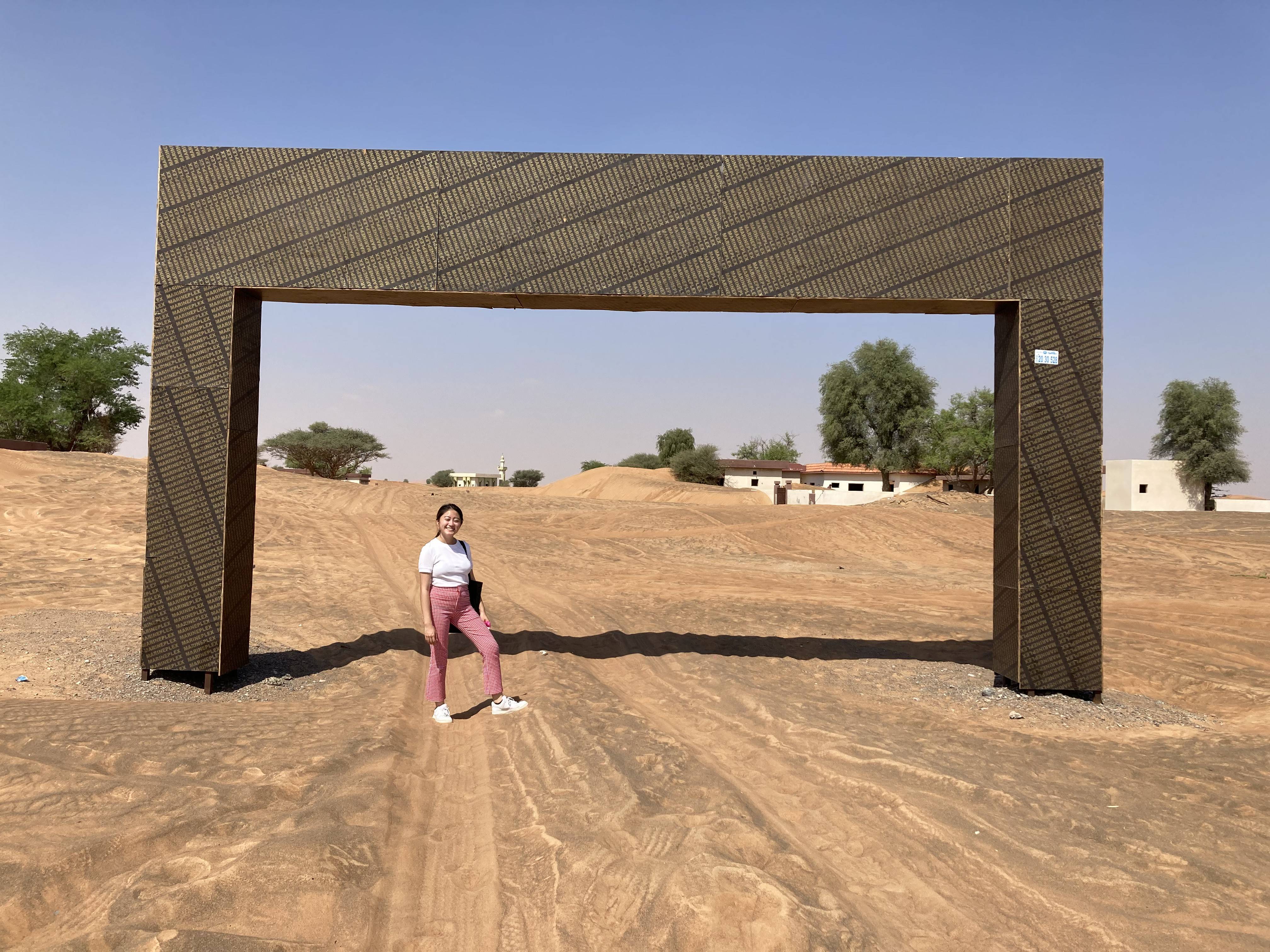 The following semester, Wang was a member of the spring 2022 Geneva Study Group, led by Associate Professor of Political Science Ed Fogarty. While in Switzerland, she worked as a research intern for IMPACT Initiatives. She was trained in quantitative analysis to help shape humanitarian policies by working on literature reviews, mapping best research practices during COVID-19, and contributing to IMPACT's 2021 Internal Report. 
As a junior, Wang also received the Public Policy and International Affairs (PPIA) Fellowship, a rigorous academic graduate-level preparation program for juniors committed to public service careers. She completed her JSI at the University of Washington in Seattle, where she took courses in public policy, economics, and leadership in community engagement. 
Currently, Wang is the Career Services director's intern and is committed to supporting all Colgate students with their career development. Throughout this year, she has organized and implemented several events, including a networking event for BIPOC/first-generation students and sessions on how to fund and thrive in graduate school. She also works as a research assistant for Associate Professor of Political Science Bruce Rutherford on his latest project examining "China's Expanding Presence in the Middle East." 
Wang's long-term goal is to join the Foreign Service as a consular officer. "Boren fits into my plans because I seek relationships with people in other cultures. These rich exchanges will enable me to represent U.S. values as a foreign service officer, deepening the ties between Americans and people around the world," she notes. Overall, Wang's experiences during her Boren year will propel her toward a robust career in federal service, complementing her existing acumen for relating to others from diverse backgrounds, appreciation for cultural and social subtleties, and commitment to helping others find their places in the world.
Boren Awards are an initiative of the U.S. Defense Language and National Security Education Office (DLNSEO) and provide funding for undergraduate and graduate students to study languages critical to U.S. interests abroad. Boren Fellows and Scholars who accept the awards also commit to working for one year in public service for the U.S. government.
For more information about Boren Awards and other opportunities, please stop by Benton 206H or contact Assistant Director Trey Spadone at tspadone@colgate.edu to schedule a meeting with the Office of National Fellowships and Scholarships.