The Office of National Fellowships and Scholarships (ONFS) is very pleased to announce that Mel Anderson '24 has received the Public Policy and International Affairs (PPIA) Junior Summer Institute (JSI) Fellowship. As a PPIA fellow, Mel will be participating in the JSI at Princeton this summer.
"I am excited to study international affairs and public policy in a rigorous environment as an undergraduate," Mel says. "PPIA will provide me with the tools I need to assess and critically think about the origin of, and potential solutions for, inequalities in education and protecting human rights. Further, the PPIA program will connect me to a network of brilliant students and scholars, and I look forward to learning from and about them." 
From a young age, Mel has been drawn to human rights issues and what she can do to help. Through growing up in Antigua and moving back to the United States at age 13, she became acutely aware of the inequalities present in both of her communities. "My abrupt move was the catalyst for my interest in public policy and international affairs, as the contrast between my life in those two places showed numerous disparities and similarities across various spheres of life, particularly in education," she says.
In her first semester, Mel took Fundamentals of International Relations, which piqued her interest in the impact of globalization and the history of intervention by the United States in countries like her own. As she delved into her coursework, she became focused on the intersection of policy and lived experiences. 
Last semester, Mel studied abroad with the fall 2022 Geneva Study Group, led by Associate Professor of Political Science Bruce Rutherford. While in Switzerland, Mel had the opportunity to work at the United Nations High Commissioner for Refugees (UNHCR). As a Global Compact on Refugees intern, she managed internal communications for the team and reported on briefings. Most memorably, Mel helped develop and implement events for the High Commissioner's Dialogue. This included a Speaker's Corner, during which refugees and experts discussed new development cooperation research and initiatives.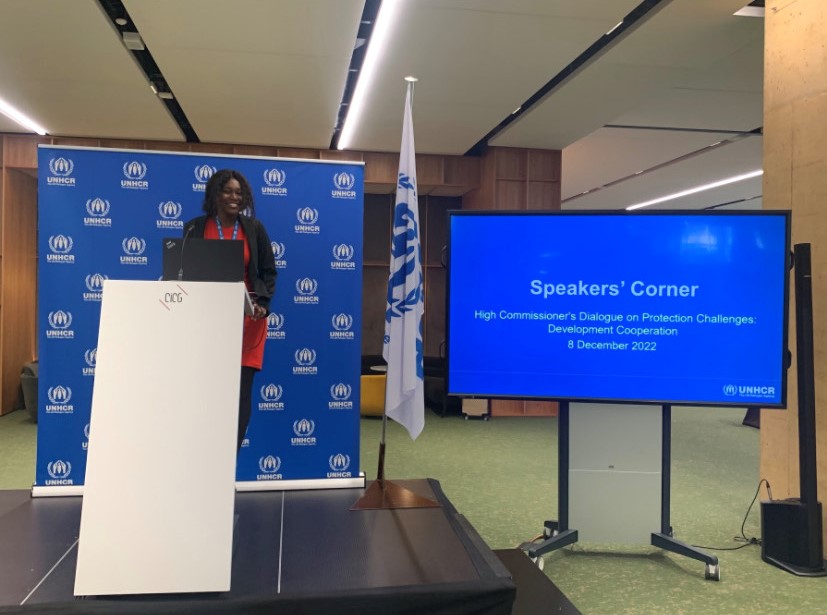 As Mel excels academically, she is also dedicated to supporting others in their educational pursuits. During her sophomore year, she worked for the Office of Undergraduate Studies program. She provided academic support for first-generation and BIPOC students to aid in their transition to college. During summer 2022, Mel served as a Bridge Coach for College and Career Bridge for All, through which she helped 300 high school students — many of whom were first-generation — attend college or pursue postsecondary careers. This experience solidified Mel's goal of supporting equity through education on a global scale.  
Currently, Mel is a consultant at the Writing and Speaking Center. Every week, she works one on one with students to provide feedback and suggestions for their written work. "Through working with students whose first language is not English, I am reminded that language remains an obstacle that hinders many from expressing themselves and contributing to political discourse. It has forced me to ponder my relationship with language and the barrier that words and languages can create," Mel notes. "My experience at the Writing Center pushed me to become conversational in Spanish and French."
After an enriching summer at Princeton, Mel will return to campus for her senior year. She looks forward to writing her thesis, serving as the secretary of the Caribbean Student Association, and applying to graduate programs and other fellowships, such as the Fulbright U.S. Student Program and the Rangel and Pickering fellowships for Foreign Service.
The PPIA JSI Fellowship Program is a rigorous academic graduate-level preparation program for juniors committed to public service careers. The program was created to address the lack of diversity across the spectrum of professional public service, including government, nonprofits, public policy institutions, and international organizations. The purpose of the fellowship is to prepare students to obtain a master's or a joint degree in public policy, public administration, international affairs, or a related field. Students who complete their JSI join a PPIA alumni network of more than 4,000 public service leaders. Further, alumni have the opportunity to receive financial support for their graduate school education if they attend one of 60+ programs in the Graduate School Consortium.
For more information about PPIA and other opportunities, please stop by Benton 206H or contact Assistant Director Trey Spadone at tspadone@colgate.edu to schedule a meeting with the Office of National Fellowships and Scholarships.