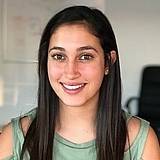 Today, everything is going digital — entertainment, retail, consumer services, banking, and even currencies. This means that businesses are also switching to digital — specifically to market their products and services online and reach a targeted, engaged audience via social media and digital advertising. A successful digital marketing strategy is central to helping businesses stay competitive. That's why my co-founder, Luke Goodwin and I decided to start Dunne Goodwin. Dunne Goodwin provides next-generation digital marketing solutions to drive business growth. Since founding the business 2 years ago, our team of 6 full-time employees and 4 student interns has executed digital marketing strategies for over 40 clients. The secret ingredient to our success has been the abundance of mentors and resources provided by Colgate University's Thought Into Action (TIA) venture incubator. A great example of how impactful the TIA community has been to Dunne Goodwin is captured by our experience with the Digital Marketing Institute (DMI), a global digital marketing professional learning and certification body with over 28,000 alumni members and partners in over 100 countries.
Recently, a TIA mentor established a partnership between DMI and TIA, and connected us with DMI to take the Certified Digital Marketing Professional course. The course enhanced our digital marketing skills and reinforced our commitment to ongoing education as digital marketing evolves. As a result, Dunne Goodwin has been able to more effectively serve our clients thanks to the work of TIA mentors and partners like DMI. We are excited to be a part of TIA during this exciting time and contribute back to the community. 
Sheila Dunne is a junior at Colgate studying computer science and economics. Prior to founding Dunne Goodwin, Sheila worked as an Instagram influencer with over 200,000 followers. In her spare time, Sheila enjoys spending time with family and friends, traveling to new places, skiing, and sailing.