On Oct. 28 and 29, panelists and keynote speakers representing a variety of health care professions and organizations gathered with students for the biannual Michael J. Wolk '60 MD Conference on Medical Education. 
The program, co-sponsored by the Michael Wolk Heart Foundation and Colgate University's Robert H.N. Ho '56 Mind, Brain, and Behavior Initiative (MBBI), centered around discussions of national and global health care experiences. Topics included neuroplasticity, critical care medicine, pediatric cardiology, the U.S. health care system, and the future of MBBI at Colgate.
In her introduction, Provost and Dean of Faculty Lesleigh Cushing explained the goal of the conference — to share first-hand accounts of collaboration and innovation in 21st-century medicine. "This conference makes my heart sing because it taps into our interdisciplinary initiative, bringing together biologists, psychologists, neurologists, and more. The panels will allow students to explore what they may want to do in the world of health care. It's a great chance for conversations and dialogue." 
The conference schedule was designed so that students could informally connect with panelists during key moments to ask questions about majors, medical school, and day-to-day work culture. These casual, exploratory conversations proved to be a beneficial networking opportunity and a chance for students to better understand how academics and extracurriculars may prepare them for prospective careers.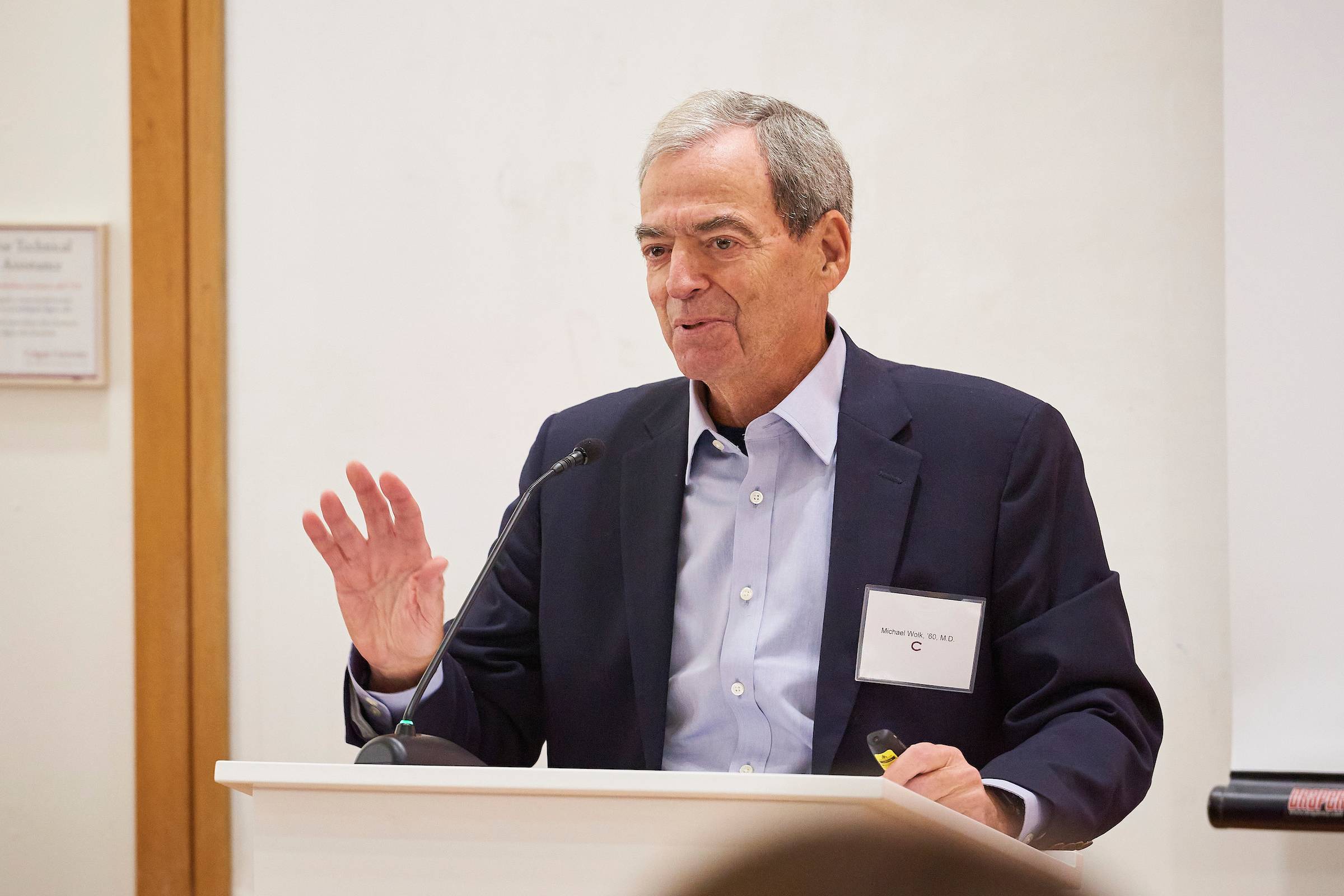 "We had a terrific group of presenters," said Health Sciences Advisory Committee Chair Julie Chanatry. "Their passion and willingness to share their knowledge and expertise with our students was inspiring." 
Keynote speaker Gerald Fischbach '60, MD, shared reflections about his time at Colgate and his career progression from Cornell Medical School to positions in research, teaching, and administration at top medical institutions. When asked about his advice for current students pursuing careers in medicine he replied, "Focus on your science and be happy."
This was echoed among Saturday's panels of experienced professionals, medical students, and residents. As alumni spoke about personal career paths, they stressed the importance of empathy and personal connection and emphasized how well-prepared they felt for the professional world by a rigorous Colgate liberal arts education. Opportunities in the field of health sciences only continue to grow at the University as it supports cutting-edge research, teaching, and programming.
"MBBI is already having an impact on campus as it facilitates collaborations and connections," said keynote speaker Prof. Ken Belanger. "The really exciting part is that we are just at the beginning."