A time-honored rite of passage for all new students, Founders' Day Convocation is the moment when the Colgate University faculty officially welcomes the incoming class into the academy. 
This time, they welcomed the first class of Colgate's third century.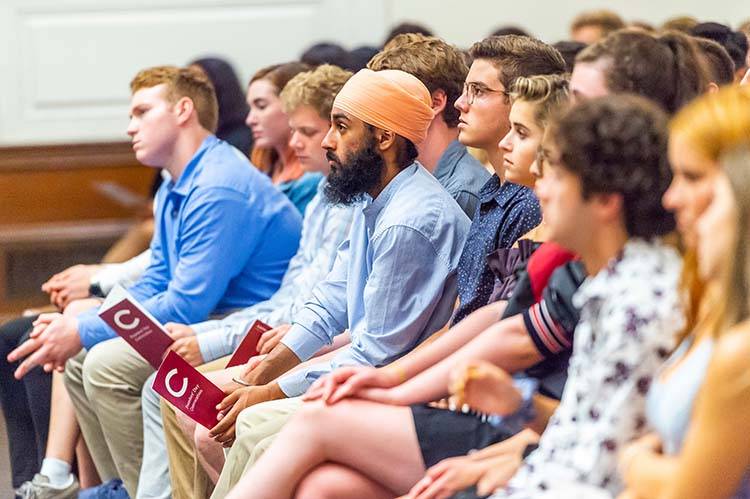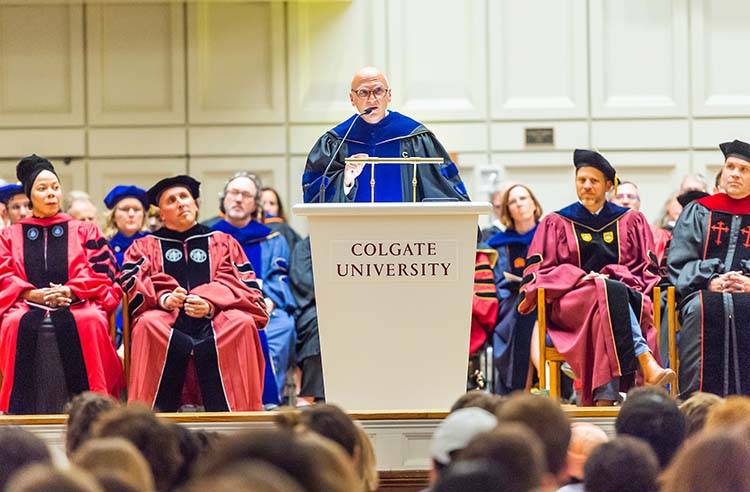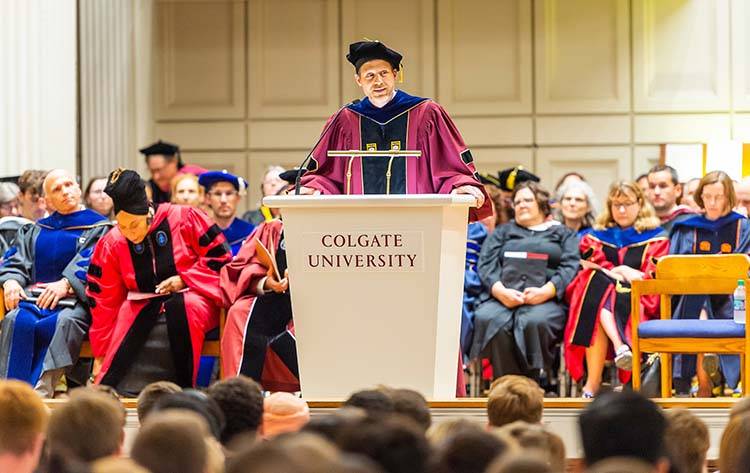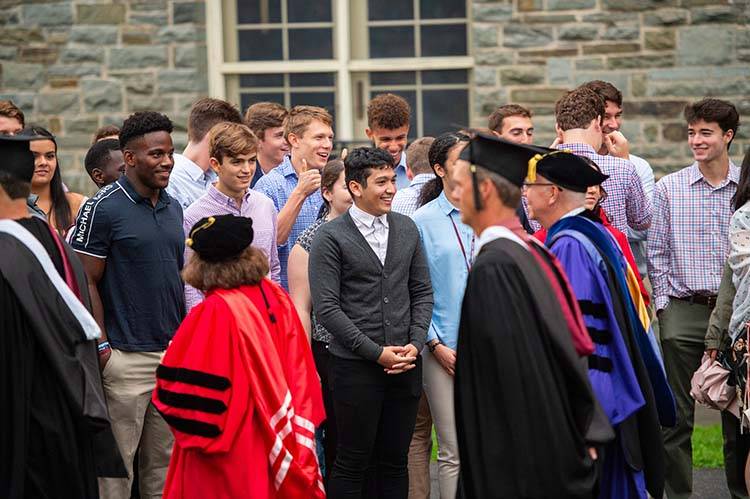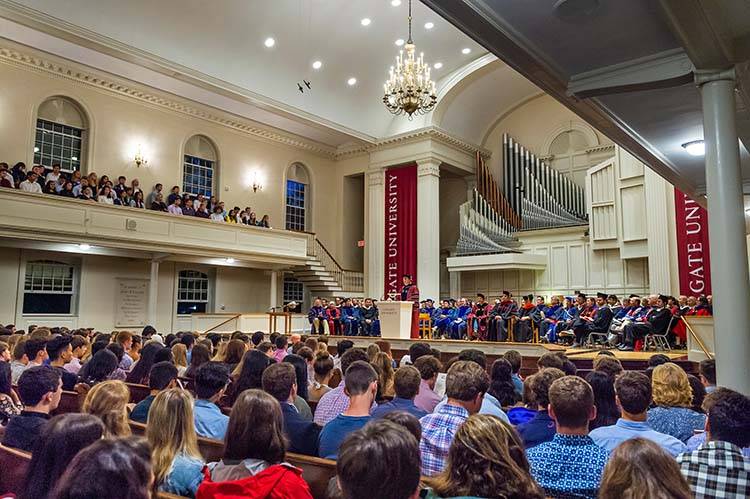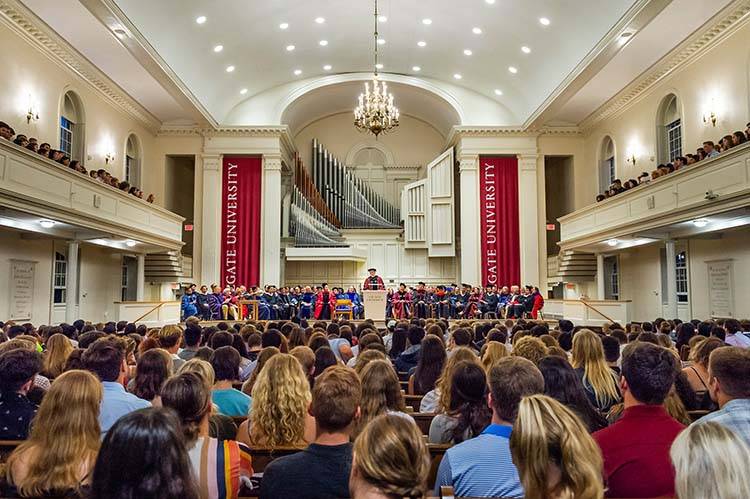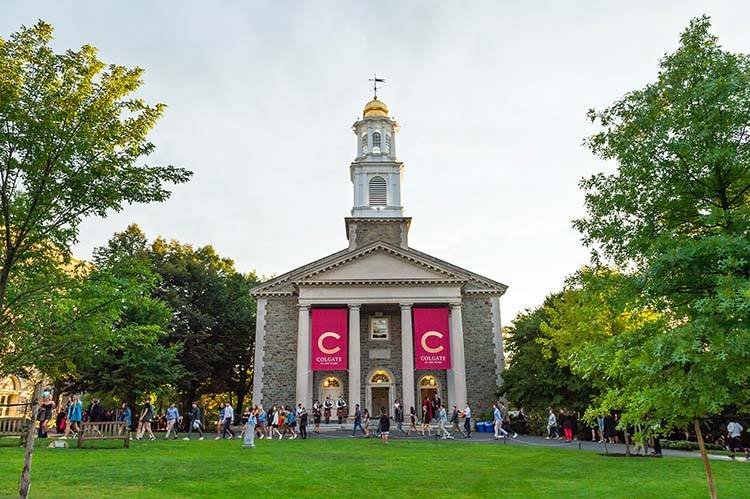 "This convocation ceremony honors Colgate's 13 founders and their devotion to learning. It honors our 200-year history, the students who have matriculated to this university, and it is a visible and important reminder of our commitment to rituals, tradition, and pride," said Vice President and Dean of the College Paul J. McLoughlin II. "Founders' Day Convocation also marks the beginning of the academic year and your academic careers."
President Brian W. Casey told the nearly 790 members of the Class of 2023, gathered at the Colgate Memorial Chapel, that there are few moments on campus that are as energizing for the faculty than to welcome a new class to campus.
You are here at Colgate at a very important moment in history.
You are entering college at a moment of great national and international distress. There are trade wars and border wars. Cherished institutions — the press, the courts, the universities — are under duress. The world order seems unstable. Inequity increases and tears at those things that once joined us. The world grows too hot. The Amazon is on fire. 
...At such a time, how can one think of poetry? The seas are rising. In such a time, how can one sit in a quiet room and read? Our political leaders are blaring at each other on Twitter. In such a time, how can you work on a problem set? There's an increasing tide of nationalism and militarism across the planet. How can you read when the world is on fire? Here is why you can and should. Because the world needs you to. The world you enter into needs those who read poetry. It needs those who have been awed by beauty. Whether that beauty comes in the form of an elegant mathematical equation, a line of computer code, an understanding of the natural world, or a piece of modern dance. It needs people of discernment and judgment. It needs those with habits of mind that lets them see what is true.
Casey read from the poem "September 1, 1939." Written in a New York City bar by the poet W.H. Auden after learning that Germany had invaded Poland and world war loomed:
Defenseless under the night
Our world in stupor lies;
Yet, dotted everywhere,
Ironic points of light
Flash out wherever the Just
Exchange their messages:
May I, composed like them
Of Eros and of dust,
Beleaguered by the same
Negation and despair,
Show an affirming flame.
Casey offered the hope that students would show their own affirming flame, adding that soon this new class will settle into a routine of studies and classwork. 
"Some days that work will feel hard. Some days it will just feel routine. Some days, though, that work will feel like a door opening. Go through that door," Casey said. "That's how one day you become a scholar. That's how one day you enter congress. That's how you get to Wall Street — and change it. It's how you become a community leader. It's how you sit in a bar and write a poem that will be read nearly a century later on a hill on a campus at night. It's how you put out the fires in the Amazon."
Faculty speaker Associate Professor of Physics and Astronomy and Co-director of the Coleman B. Brown Commons Jeff Bary was introduced by Provost and Dean of the Faculty Tracey Hucks. Bary shared two main points of wisdom with the class: Build large and inclusive friend groups while avoiding stereotypes by dispensing with preconceptions when encountering classmates from different backgrounds, identities, faiths, and geographic locations, and to embrace Colgate's sense of place.
"At Colgate, [sense of place] is influenced by hills, and one hill in particular that you're going to come to know very well. it is also influenced by the trees, by the animals, the clean air, the snow, and even the darkness of the night sky," Bary said. "Here's a piece of advice. Take advantage of the mountains, the rivers, the lakes, the trees, the silence, and the dark nights that this place so generously and effortlessly provides."
Bary also encouraged students to follow the wisdom of the Brown Commons' namesake, Professor Coleman Brown.
"Coleman would often say that in every crowd there are 'Seekers, Believers, and Doubters,'" Bary said. "...To my mind, a Seeker is one who courageously, passionately, and persistently searches for truth and meaning, justice and moral clarity, inspiration, and hope. If you are or choose to become a Seeker, you are going to find Colgate to be an incredible frontier for your explorations."