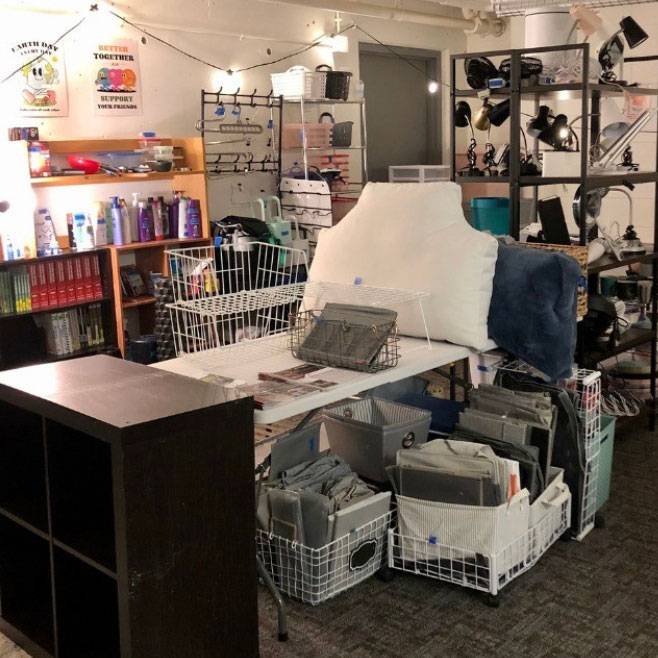 Mini-fridges, clothes, lamps, you name it — at the Office of Sustainability's Free Store, students can take home a variety of goods, free of charge. The store, which operates out of the Drake Hall tunnel on Tuesdays and Fridays, is committed to reducing landfill waste and promoting equity among the student community. In its first three days of operation, it sold 1,524 pounds of donated goods.
The idea to open a Free Store was proposed by a team of sustainability interns in the summer of 2022 (Robyn Landes '24, Boyana He '25, Becca Kornblau '23, Brenna McConnell '24, and Rachel Plasky '25) and later implemented by the summer 2023 cohort (Kate Maxwell '25, Charlie Tourbaf '25, Jack Hyams '25, Ella Cook '25, and Owen Fahey '25). To prepare for the opening, the team made a list of policies, gathered donations from the COVE's salvage program, and created an inventory.
"We began researching other universities that were running similar programs to work out the kinks before we opened the store," says Tourbaf, who led the planning process. "We had to think about what would work for Colgate, specifically."
To meet these ends, Tourbaf and his team created a list of store policies. To ensure fairness and ease of access, the store welcomes all Colgate students. Five may enter at a time. 
"We wanted to create a judgment-free environment where people would feel comfortable taking items they need," says Hyams, a member of the summer 2023 team. But the Free Store, Tourbaf contends, also urges students to rethink consumerism and fast fashion.
 "It is also here for students who just want to save some money," says Tourbaf. "At the end of the day, there are many students who buy stuff just to throw it out at the end of the year." 
Before the store's grand opening on Aug. 25, Tourbaf and his team offered OUS and international students early access. The store has also fostered partnerships with the ALANA Cultural Center and First@Colgate. A new cohort of sustainability interns and student volunteers, overseen by Assistant Director of Sustainability Julia Sparks, compose the staff.  
"I think that with the thoughtfulness and consideration that the interns have already put into the Free Store, it's set up to be a really robust program," says Sparks.