As the Class of 2017 prepares to depart Colgate, one senior has ensured that future generations of students can always find their way through some of the university's most scenic terrain.
Environmental geography major Jenna Lilly '17, of Miami Shores, Fla., has created a new map and signage system for the Harry Lang Cross Country, Fitness, and Hiking Trails, in an effort to help Colgate and the surrounding community to utilize the trails to their fullest potential.
A few years ago, Lilly and her academic advisor, Professor of Geography and Department Chair Peter Klepeis, were searching for a project that would allow Lilly to use her geography training to benefit the community.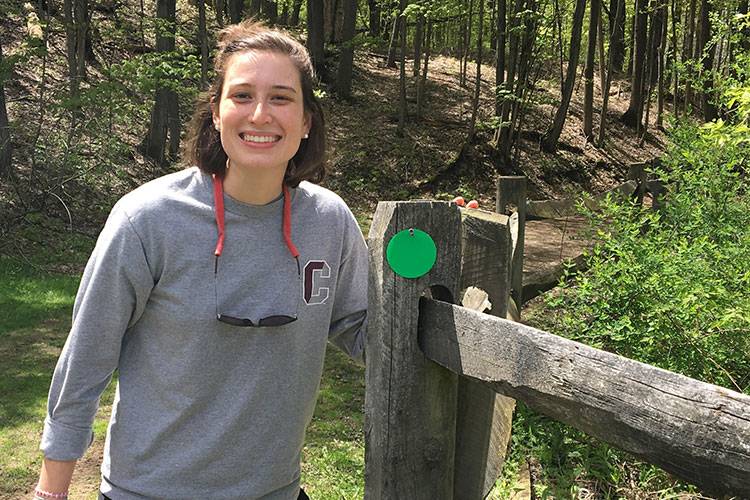 "We started talking about the trails, since we both like to walk on them, and Professor Klepeis said that some of the first years in his first-semester seminar had gotten lost up there," Lilly remembered. "We thought, well if there was a better map, maybe people wouldn't get lost, so I should make one!"
The project began with research into existing maps and signage. Weather had damaged maps posted outdoors, and maps online only displayed portions of the trail network. Additionally, trails themselves weren't marked with a universal signage method.
To remedy these problems, Lilly created an updated map using Colgate's Geographic Information Systems (GIS) computer lab. The new map contains all of the trails in the network, and is color coded. Data for the map came from a previous student's work and a GPS device Lilly carried as she walked the paths. Additionally, Lilly researched trail signage methods and developed a recommendation for clear and systematized markings along the Harry Lang Trails.
Lilly's project has received support and funding from departments across Colgate, including outdoor education, the Shaw Wellness Institute, the Office of Sustainability, physical education and recreation, and the Student Government Association. The updated map is now live on the Colgate website, and will be posted at various trail heads.
The Harry Lang Trails play host to a number of visitors, including runners, hikers, snowshoers, and anyone else who wants to enjoy Colgate's 575 acres of central New York woodland. Those wishing to access this pastoral scenery may now do so with greater ease of mind.
Klepeis expressed pride that Lilly used her experiences within the geography major to give back to Colgate and said, "Jenna has left Colgate and the Town of Hamilton with a nice gift as she graduates."