Colgate University Career Services recently introduced its innovative Job Skills Accelerator (JSA), equipping students with essential skills and experiences sought by employers in today's competitive job market.
The immersive program was offered at no cost to students and ran from May 16 to June 8 in Benton Hall. It provided 23 rising juniors with a chance to enhance their career readiness with a micro-internship, a micro-credential course, and professional and leadership development seminars — all before they headed off to pursue their individual summertime opportunities.
One of the program's highlights was the micro-internship with alumni or Hamilton-area professionals. The experience helped students better understand their chosen field, expand their professional network, and continue to refine their career goals. Each week, students shadowed their hosts, gaining insights into organizational workflow, culture, and language. They sat in on calls, attended meetings, and enjoyed conversations about industries and job functions. 
"Even with a short experience, students learn career readiness skills," explained Teresa Olsen, Milone Family AVP for career initiatives and one of the coordinators of the JSA program. "Understanding how to introduce yourself to new colleagues or to organize your thoughts, research, and questions prior to meetings — these are all real-life skills students need to grow when establishing themselves as new professionals."
One of these students, Xose Agbadan '25, came to the JSA program to explore a career in urban planning and geographic information systems (GIS). During a micro-internship with the City of Syracuse Neighborhood and Business Development (NBD) department, she shadowed data analyst Jasmin Lopez Gomez '23.
"As someone who is passionate about urban IT planning, geography, and GIS, I am so grateful to have had this opportunity to meaningfully engage in data analysis using GIS and R [a programming language] for the City of Syracuse," said Agbadan. "I now feel that I have a real sense of the work that urban planners, analysts, and others do at Syracuse NBD — and an understanding of how I could pursue a similar career myself."
In addition to the micro-internship, students were required to complete a skill-building micro-credential course related to their field of interest. Students had access to courses vetted by Career Services, focused on Excel, Python, Adobe Creative Suite, and R. The JSA program also offered Harvard Business School Online's Credential of Readiness for business thinking and Urban Land Institute's Foundations of Real Estate certification.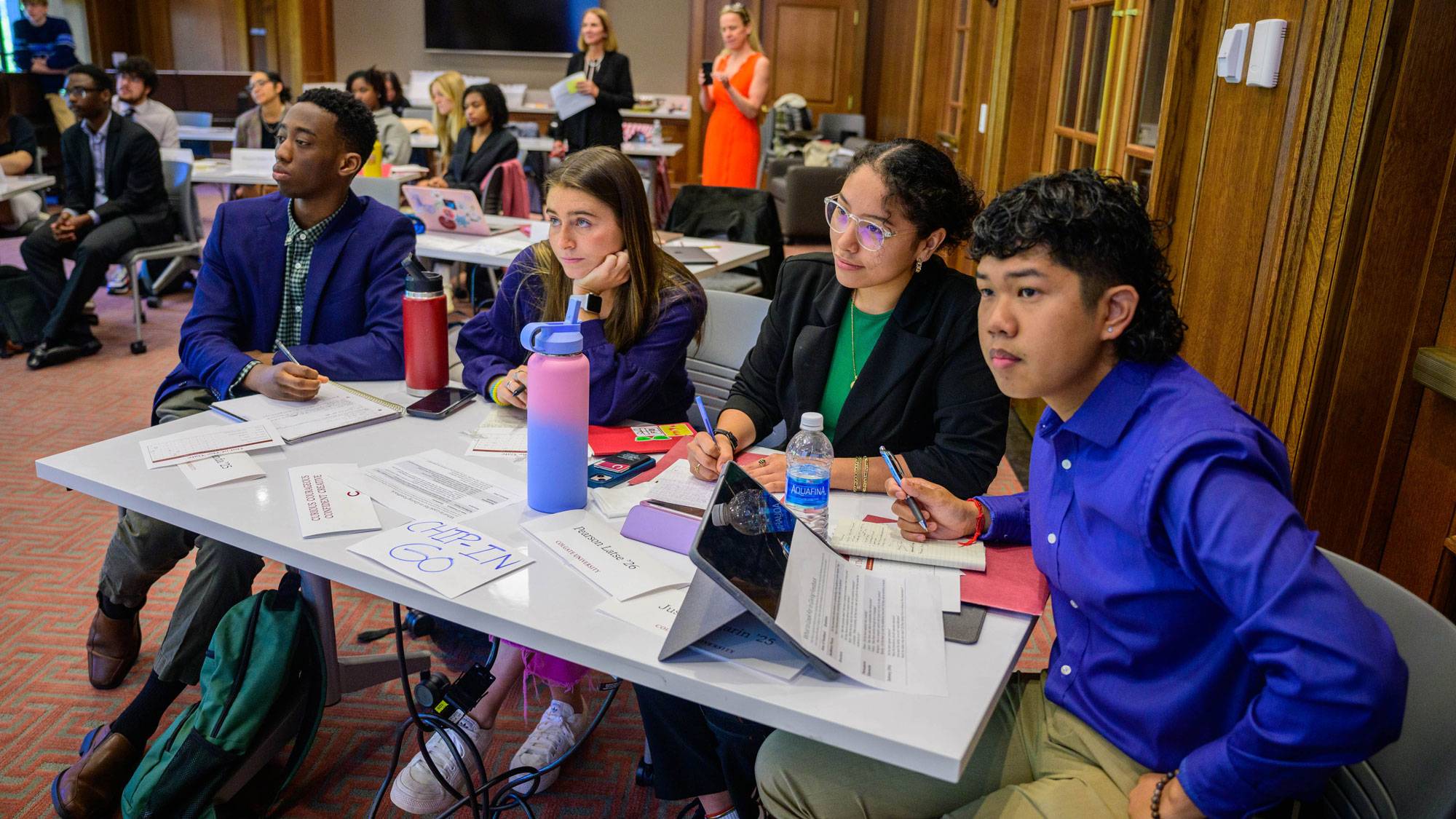 Professional and leadership development seminars were the final component of the program. These mini-courses covered topics identified by employers and alumni as valuable for success in the professional world — including financial wellness, understanding how organizations are structured, professional communication tactics, and leadership. This was layered onto a heavy dose of career development content, facilitated by the Career Services team. 
"The group dynamic helped students lean into this experience in a very different way than if they had completed this work individually," said Olsen.
Together, the students provided each other with encouragement, accountability, and a sense of belonging. They fostered an environment where they could build confidence, learn to collaborate more effectively, and simply spend time getting to know each other. 
Career Services hopes that JSA students are better positioned to compete for future internships, jobs, and graduate programs — and that they will use their knowledge to advance their campus communities. 
Anki Suri '25 participated to gain hands-on experience in the business side of various creative industries. After being placed in a micro-internship with IMAX and Hartbeat Productions, Suri emerged not only with a greater understanding of what a future career in media could look like but also a vision for how she could use her newfound understanding to positively impact her university.
"This past year, I founded a campus arts and lifestyle magazine called 13 Degrees Magazine and co-founded a platform for student artists called Muse," explained Suri. "In the future, I hope to apply what I learned about production, distribution, and marketing to how I run these platforms and thus further reach and uplift the campus community."
The JSA was made possible by support from the Alan Greene '51 Investment Studies Program and the Robert A. Fox '59 Management and Leadership Skills Program.