Summer Series: Informational Webinars for Prospective Students
Select dates; June 22 – August 3, 2021
Join Colgate faculty, staff, and students for a series of 30 minute virtual programs designed to provide students with the tools and information they need for a successful college search.
Register below
Tuesday, July 20
4 p.m. ET
Take a pre-launch tour of Colgate's application process, including information on application platforms and deadlines, supplemental materials, and ways to personalize your application.
Tuesday, July 27
4 p.m. ET
What makes learning at Colgate so exceptional is world-class academic quality at a remarkably personal level. Explore the foundation of academic excellence and tradition, Colgate's unique core curriculum
Tuesday, July 27
4 p.m. ET
Colgate's academic excellence is not bound to the walls of the classroom. Hear from faculty members and current students about Colgate's robust research programs and opportunities for off-campus study.
Tuesday, June 22
4 p.m. ET
With thousands of colleges and universities across the country, finding the right fit can be a daunting task especially in times like these. Learn some of the best ways to focus your college search from Colgate Admission Officers and a current student.
Tuesday, June 29
4 p.m. ET
Colleges offer many approaches to an undergraduate education. From a vibrant residential community, unmatched opportunities for undergraduate research,  and and off-campus study options that make the world your classroom, learn about the value of a Colgate liberal arts education from members of our community.
Tuesday, July 13
4 p.m. ET
Hear from current students about summer opportunities on-campus and experiencing Colgate's setting and the surrounding area.
Find recordings of summer series programs below the virtual tour options. Recordings are posted a few days after the live event has occurred.
Tour the Campus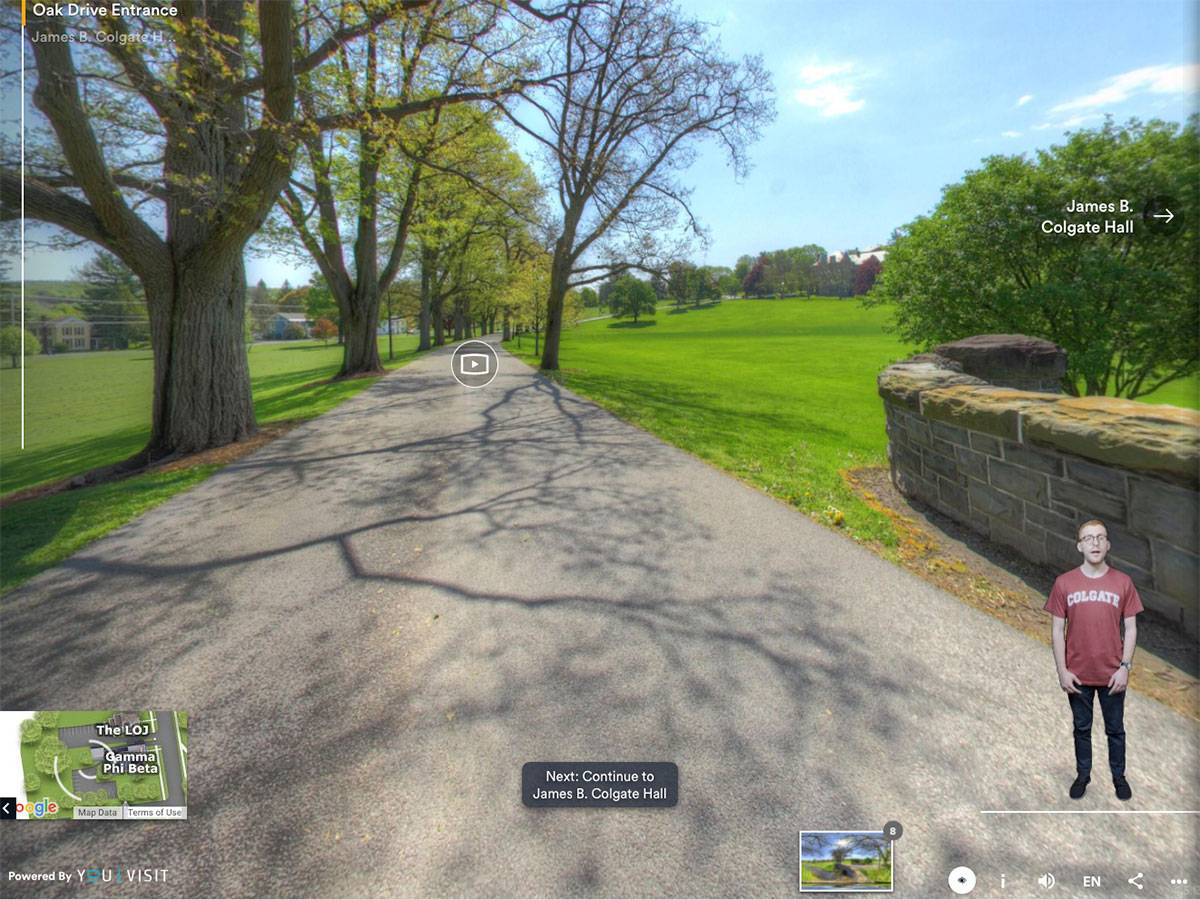 Take a guided tour of Colgate — one of the world's most beautiful campuses — from home. With stops including the Ho Science Center, career services center, ALANA Cultural Center, Class of 1965 Arena, and more, get a real feel for the home of a leading liberal arts university. As a bonus, take a tour of the local Village of Hamilton, a vital part of the Colgate student experience.
Additional Tours
Explore key areas of the campus in depth with these self-guided tours. Looking for an immersive experience? Try them with your VR headset.
Admission Webinar Recordings
Enjoy recordings of previously held webinars on your own schedule.
Starting the College Search
Starting the College Search
Stay tuned as additional programs are added throughout the summer.
A Serious and Not-So Serious Conversation about Food at Colgate
How to Navigate My College Search Process in A Pandemic
How to Polish A Personal Statement Outline
Finding Balance and Keeping Perspective Maintaining a Healthy Mindset in Times of Stress
Webinars, Zoom Meetings, How to Identify a Best Fit College
First Generation? An Inside Look at Programs and Resource
Colgate Information Session, Live in Spanish
Life as a Student of Color
Is Early Decision Right for You?
Application Workshop: Preparing for a Holistic Application Review
Like what you see? Complete Colgate's request for information form to let us know you're interested, and to learn more about Colgate and the admission process.