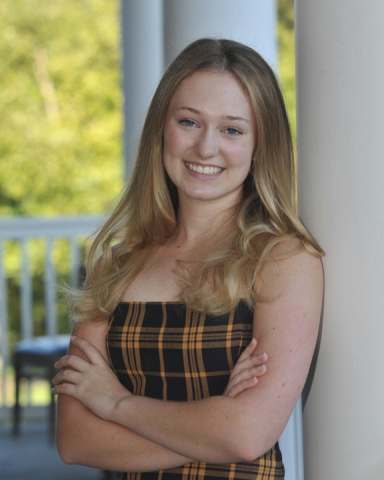 From the moment Callie Dahler '26 stepped on Colgate's campus last fall, she committed herself to environmental sustainability. Hailing from Bernardsville, N.J., Callie believes her passion for sustainability stems from her love of nature, which she nurtures through tending to copious houseplants in her dorm room. When asked how she got into sustainability, she recalled that, "during summers in New Jersey, I worked as an intern at a conservation garden, where I removed invasive plants, planted native ones, harvested vegetables, turned compost, and removed invasive insects. In my high school, I led the Sustainability Club, where we strived to make our school more sustainable." Because of these formative experiences, Callie kept her momentum going once she arrived at Colgate.
Callie joined a group of like-minded first-year and transfer students by becoming a sustainability representative (s-rep).  S-reps promote sustainability at Colgate by hosting events and participating in professional development programs to hone their leadership skills. 
In the fall semester, the s-reps were in charge of leading the Eco Challenge, a campuswide behavior-change competition. In conjunction with her work with the s-reps, Callie also attended the Student Sustainability Council Summit in January to discuss new ideas for student-led projects with sustainability representatives from varsity athletics, Greek life organizations, and the Student Government Association. 
Currently, Callie is involved in planning events for the annual 13 Days of Green, which is set to take place over the 13 days leading up to Earth Day (April 10–22). Throughout the two weeks, the Office of Sustainability and campus partners host a variety of events, talks, and competitions to engage community members with sustainability at Colgate. This 13 Days of Green will begin with our kick-off event on April 10 at 4 p.m. on the academic quad.
As further evidence of Callie's commitment to sustainability at Colgate, she completed Climate Conversations, the Office of Sustainability's five-week physical education course covering the basics of climate change, sustainable food systems, waste reduction, environmental justice, and sustainability at Colgate. This seminar-style, discussion-based course brings students together from various backgrounds and past knowledge of sustainability. As a result of Climate Conversations, Callie has been further motivated to take action beyond the classroom and feels better equipped to understand the complexity of problems we face as an institution and as a nation.
Finally, Callie participated in one of our Climate Resilience Focus Group sessions, which gather student perspectives on the local impacts of climate change, Colgate's preparedness for environmental hazards, and what steps we need to take to become a more climate resilient campus. Akin to Climate Conversations, this opportunity gave her the awareness and understanding to see a more complete picture of sustainability at Colgate.
Although Callie has not been at Colgate long, she has demonstrated impressive dedication to advancing sustainability on campus. When asked to say a few words about her involvement so far, Callie exclaimed, "everyone I have met in the Sustainability Office is so kind and passionate about their work. I have loved my time in sustainability at Colgate so far, and I am very excited to continue!"