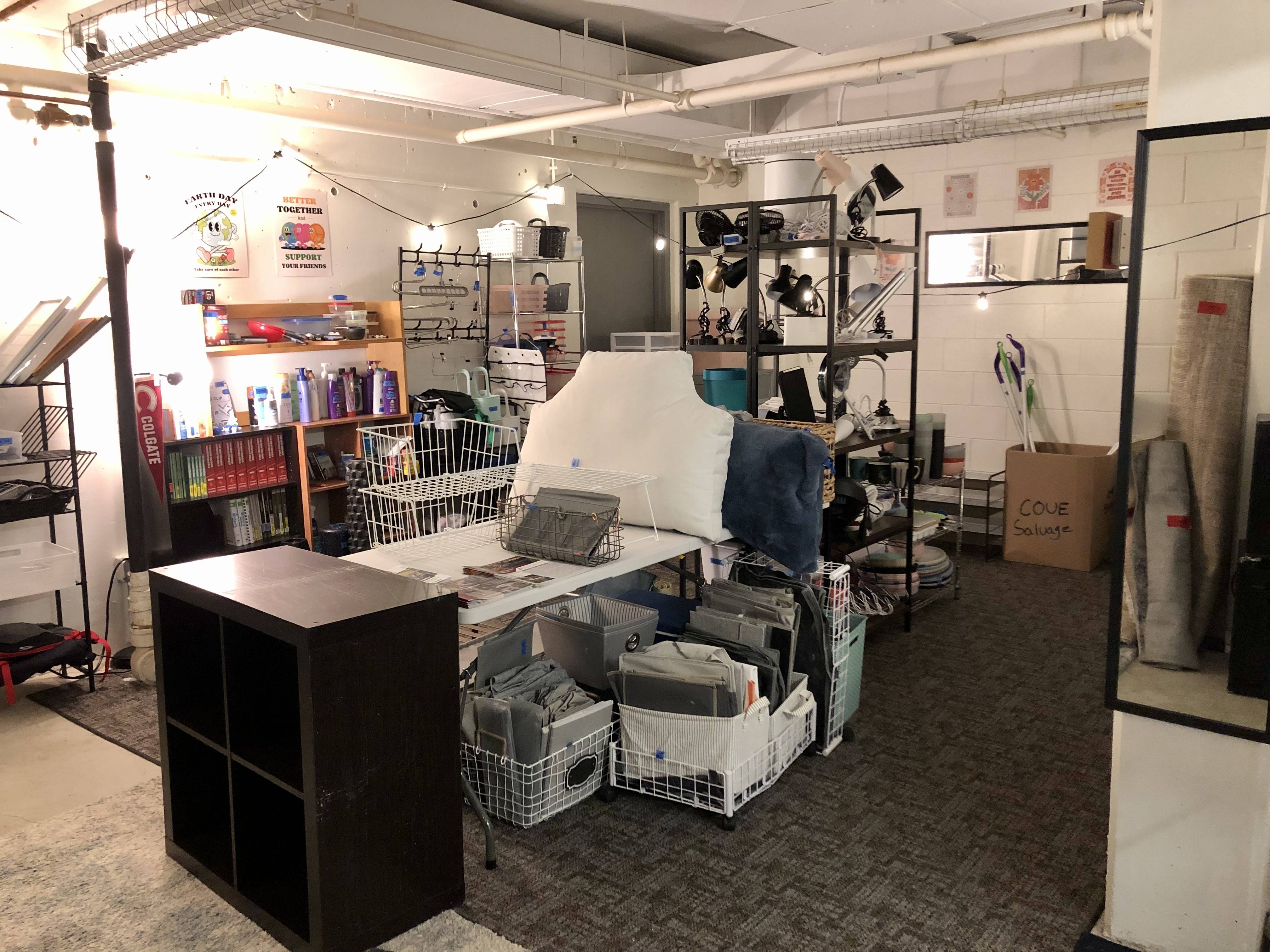 The Office of Sustainability is thrilled to bring the Colgate Free Store to life after over a year of research, planning, and development. The Free Store accepts donations of clean, usable goods that are then offered back to the student body for free. Not only does this initiative reduce unnecessary landfill waste, but it also increases equitable access to supplies students need.
The initial stock from the Free Store was supplied through the end-of-year salvage program run by the Max A. Shacknai Center for Outreach, Volunteerism, and Education (COVE). The donations were then cleaned, weighed, and inventoried by the 2023 summer sustainability interns (Charlie Tourbaf '25, Jack Hyams '25, Kate Maxwell '25, Owen Fahey '25, and Ella Cook '25). In the first three sale dates, more than 1,500 pounds of goods were recirculated back to students. The Free Store will be open year-round for donations and sales when class is in session.

Donating
To donate, please see our accepted items below and bring your clean, usable items during open store hours only. Do not leave donations outside of the Free Store during closed hours. Items left outside are in violation of the fire code and will immediately be put in the trash.
Accepted Items:
Clothing, Shoes, Hangers
Bedding, Towels
School Supplies
Kitchen Supplies
Small Functional Electronics
Lamps, Fans, Mirrors
Laundry Hampers, Shower Caddies
Small Furniture
Mini-fridges and Microwaves
Not Accepted Items:
Damaged or Stained Clothing
Broken or Overused Items
Large Furniture 
Any Food (take it to the on-campus food pantries instead!) 
Mattress Toppers
Used Makeup and Medications
Undergarments and Socks
Shopping
All Colgate students are invited to shop and donate.
All items are completely free.
Only five people are permitted in the Free Store at a time.
Only take five items per person, per day. Only one of the five items can be a red-tagged (high-value).
We are not able to put holds on any items.
Check out with Free Store staff before leaving! We only take the item number to track our inventory and do not collect any personal information.
Be excited that you are preventing landfill waste on campus!
Hours and Location:
Tuesdays, 3:30–6:00 PM
Fridays, 2:30–5:00 PM
Weekly hours can also be found on the Colgate Events Page. Closures will be announced on Instagram @Colgatesust and will be posted on the outside door to the Free Store.
Location: Under the Drake Hall Tunnel
Contact:
Email us at sustainability@colgate.edu with any questions or volunteer inquiries.