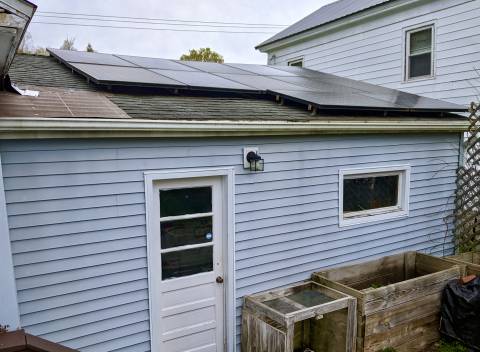 On December 18, 2017, I had solar panels installed on my garage roof. This is one of the best investments I've made for both my personal finances and for the environment. Federal and New York State rebates and tax credits helped to offset the initial cost of installation and I took out a loan to pay for the rest. Because my electricity bill was slashed to a few dollars a month, I used those savings to pay back the loan. Five years later, the loan is paid off and I don't have an electricity bill now or into the future.
It's nice knowing that I don't have to worry about rising electricity prices. Producing and using zero-emissions electricity also aligns with my values. Going solar reduces my personal carbon footprint while producing local, clean, and domestic energy. It feels good knowing that I'm doing my small part to help fight climate change and increase energy independence.
My solar panels produce more electricity in the summer than I use. My utility company (NYSEG) credits me for the access electricity that I produce throughout the summer. I use those credits throughout the winter when my panels are not producing as much. This is known as net-metering and all New York State homeowners receive the same benefit.
Solar has worked for me and it may work for you. If you are interested to learn more but unsure where to start, I encourage you to check out EnergySage, a free service that makes it easy for homeowners and renters to go solar. Originally supported by the Department of Energy, EnergySage provides helpful resources, calculators, and information so you can learn more about solar from a trusted source at your own pace. Most importantly, EnergySage offers a robust rooftop solar marketplace where solar companies compete for your project, thus helping you save an average of 20–30% compared to going it alone. Every installer on the EnergySage marketplace has been pre-vetted for quality and past performance. When you are ready to receive personalized quotes, they are presented to you in a consistent easy-to-read format that allows apples-to-apples comparisons from potential installers. Through EnergySage's marketplace, you will not receive any sales calls or unsolicited emails until you are ready to share your information with a potential installer. Additionally, EnergySage has a team of energy advisers who provide unbiased information and assistance every step of the way.
Lastly, if you rent your home or can't install solar panels, EnergySage also lets you search for nearby community solar farms accepting new subscribers. You can save up to 15% on your electricity bills each year by subscribing to a community solar farm. No rooftop panels are needed and it's easy to sign up.
Exploring EnergySage is risk-free and is a good place to start as you consider home solar. Of course, the Office of Sustainability is also here to help. Contact us anytime with questions or feedback.