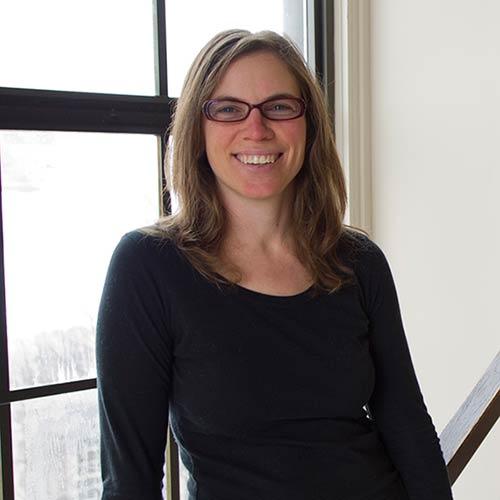 Meika Loe
Professor of Sociology and Women's Studies; Director, Women's Studies Program
Meika Loe is Professor of Sociology and Women's Studies at Colgate University in New York, where she teaches courses on aging, gender, culture and medicine. She is the author of The Rise of Viagra: How the Little Blue Pill Changed Sex in America and Aging our Way: Lessons for Living from 85 and Beyond.
Professor Loe has been featured on National Public Radio (NPR), O Magazine, BBC, The Washington Post, London Sunday Times, Psychology Today, Journal of American Medical Association (JAMA), The New England Journal of Medicine, and Mother Jones.
She has been a featured speaker at international sociology conferences, community meetings on aging, continuing education forums, and on various college campuses.
To write Aging our Way, Professor Loe spent three years following and interviewing 30 individuals aged 85-102 who were living in rural, suburban, and urban Upstate New York. The 13 lessons she learned from these inspirational elders provide the framework for her book.
BA, University of California, San Diego 1995
MA, University of California, Santa Barbara 1998
PhD, University of California, Santa Barbara 2002
Introduction to women's studies; introduction to sociology; sociology of gender and sexuality; women, health, and medicine; ethnography and participant action research; sociology of aging and the life course
Books
Aging Our Way: Lessons for Living from 85 and Beyond (Oxford University Press), October  2011.
Technogenarians: Studying Health and Illness Through an Aging, Science, and Technology Lens, Edited by Kelly Joyce and Meika Loe, Blackwell 2010.
The Rise of Viagra: How The Little Blue Pill Changed Sex in America, New York University Press 2004.
Articles
"Community-Based Learning in Sociology of the Life Course" in Gerontology & Geriatrics Education, forthcoming in 2013.
"Lisbeth Salander: A Grown-Up Pippi Longstocking," in Feminist Perspectives on the Stieg Larsson Millennium Trilogy, Eds Carrie Smith and Donna King, July, 2012, pp 170-180.
"Alice Hastings Murphy: Managing a Remarkable Life with Grace, to the End," Capital Commons Quarterly: The Dynamics of Aging and Our Community, 1:6 April 2012, pp 7-10.
"Pleasure in Old Age" in Sex For Life: From Virginity to Viagra, How Sexuality Changes Throughout Our Lives, Eds. Laura Carpenter and John DeLamater, NYU Press, February 2012, pp 278-298.
"Aging and Sexuality: Pleasure in Old Age" Our Bodies Ourselves (40th anniversary edition), Simon and Schuster, October 2011, p 561.
"From Nursing Home to Green House: Changing Contexts and Outcomes of Elder Care in the U.S." with Crystal Dea Moore, Journal of Applied Gerontology, March 2011.
"Doing it My Way: Aging, Technology and Wellbeing," in Technogenarians: Studying Health and Illness Through an Aging, Science, and Technology Lens, Special Issue of Sociology of Health and Illness, Eds Kelly Joyce and Meika Loe, Blackwell 2010. 
"The New View in Action: College Students Discuss 21st Century Sexuality," Feminism & Psychology 18 (4), 2008, pages 495-504.
"The Prescription of a New Generation," Contexts 7 (2), 2008, pages 46-9.
"Grappling with the Medicated Self: The Case of ADHD College Students," co-authored with Leigh Cuttino, Symbolic Interaction, 31(3): 303-323.
"Sexuality and Women: The Experts Speak," with A. Katz, B. Davis, C. Fogel, B. Johnson, S. Kellog-Spadt, and L. Martinez). Nursing for Women's Health, 11(1), 2007, pages 38-43.

"Sex and the Senior Woman," in

Introducing the New Sexuality Studies, Eds. Steven Seidman, Chet Meeks, and Nancy Fraser, Routledge, 2006, pages 96-101.

"Sociology of Viagra"

Blackwell Encyclopedia of Sociology, George Ritzer, Editor, Blackwell, 2006, pages 5188-9.

"The Viagra Blues: Embracing or Resisting the Viagra Body," in

Medicalized Masculinities, eds. Dana Rosenfeld and Christopher Faircloth, Temple University Press, 2005, pages 21-44.
"Sex and the Senior Woman: Pleasure and Danger in the Viagra Era," Sexualities, August 2004, volume 7, number 3, pages 303-326.

"A New View of Women's Sexual Problems: Why New? Why Now

? (with L. Alperstein, C. Ellison, JR Fishman, M. Hall, L. Handwerker, H. Hartley, E. Kaschak, P. Kleinplatz, L. Mamo, C. Tavris, and L. Tiefer) in Journal of Sex Research, 38, 2001, pages 89-96.

"Fixing Broken Masculinity: Viagra and the Production of Gender and Sexuality"

Sexuality & Culture, Summer 2001, volume 5, no. 3, pages 97-125.

Reprinted in

Sex Matters: The Sexuality and Society Reader, 2nd Edition, Stombler, Mindy, Dawn M. Baunach, Elisabeth O. Burgess, Denise Donnelly, and Wendy Simonds. Pearson Education, Inc., 2007, chapter 26.
Reprinted in Men's Lives 7th Edition, Eds Michael Kimmel and Michael Messner. Forthcoming from Allyn & Bacon, 2006, Part VII.
"Feminism For Sale: Case Study of a Pro-Sex Feminist Business," Gender & Society, December 1999, volume 13, no. 3, 705-732.
"The Feminist Classroom as Community: A Discussion of Pedagogy," (published with Panagakos, A. et.al.), Voices, June 1999, volume 3, no. 1, pages 1-5.
"Dildos In Our Toolboxes: The Production of Sexuality at a Pro-Sex Feminist Sex Toy Store," Berkeley Journal of Sociology, 1998-9, Volume 43, pages 97-133.
"Working for Men-At the Intersection of Power, Gender, and Sexuality," Sociological Inquiry, Fall 1996, volume 66, no. 4, pages 399-421
Reprinted in Mapping the Social Landscape. Ed. Susan Ferguson., Fifth Edition, McGraw-Hill, 2007, chapter 30.
Reprinted in Readings in Sexuality, Gender and Society. Eds. Christine Williams and Arlene Stein. Blackwell Publishers. November, 2001, pages 221-238.