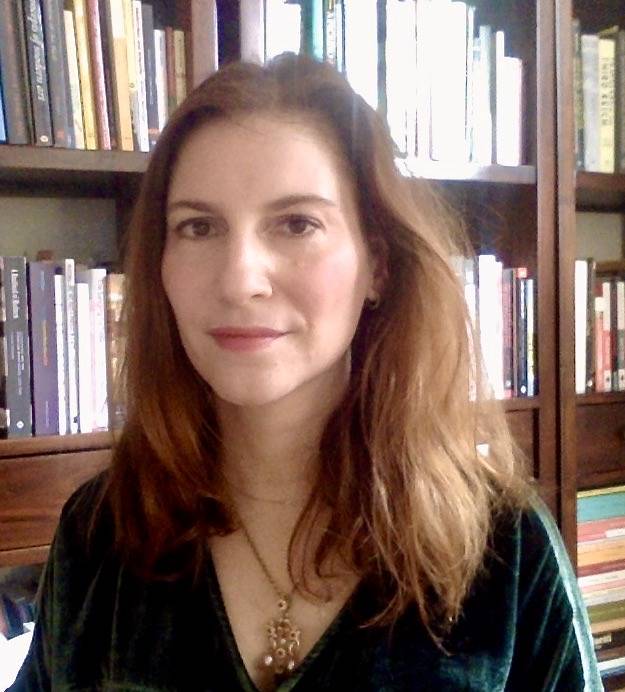 Laura Moure Cecchini
Assistant Professor of Art and Art History
Department/Office Information
Art and Art History
TR

4:00pm - 5:30pm

(311 Little Hall)

W

4:00pm - 5:00pm

(Zoom )
PhD, Art, Art History, and Visual Studies, Duke University (Durham, North Carolina), 2016.
MPhil, Philosophy, Universidad Nacional Autónoma de México (Mexico City), 2009
BA, Philosophy, Universidad Iberoamericana (Mexico City), 2007
Transatlantic Avant-Gardes, Global Modernisms, Italian Art of the 19th and 20th centuries, Mexican Modernism, Visual Culture of Fascism, Art and Nationalism, Exhibition History, History and Theory of Photography, Historiography of Art History.
My research investigates how transnational networks and the internationalization of artistic forms have shaped the avant-garde and modernist canons, focusing on Italy and Mexico as case studies. Addressing cultural, historical, and geographical difference, I study modernism as a cosmopolitan but diverse phenomenon with multiple temporalities and geographic manifestations. Through an analysis of art practices and criticism, collections and exhibitions, I study modern visual culture in relation to the social and political upheavals that marked the nineteenth and twentieth centuries. 
I am currently writing a book titled Baroquemania: the Allure of the Baroque in Italian Modern Visual Culture, 1898-1945, which charts how from the fin-de-siècle to the fall of the fascist regime prominent artists, writers, philosophers, and ideologues — such as Gabriele D'Annunzio, Roberto Longhi, Giorgio de Chirico, Benedetto Croce, and Lucio Fontana, among others— reimagined the Baroque as a catalyst to the reshaping of modern identity and visual culture in Italy. 
My next book investigates how interwar Latin American artists, cultural promoters, and art critics responded to Italian fascist art and architecture, as well as the role of Latin America in Italian fascist cultural diplomacy. The book, tentatively titled Latin Fascism: Italian Fascist Art in Mexico and Argentina, 1924-1946, studies a network of Mexican and Argentine artists and intellectuals for whom fascism did not challenge but actually reinforce modernist values.
I am also pursuing projects dedicated to the reception of Aztec art in avant-garde circles; the class politics of fascist urbanism; and the fraught history of Latin American art at the Venice Biennale before World War II. 
Forthcoming
2021    "Aztec Cubists Between Paris and New York: Diego Rivera, Marius de Zayas, and the Reception of Mexican Antiquities in the 1910s," Modernism/modernity, April 2021
2020    "Conspicuously Inconspicuous: Federico Baronello's EUR_Libya and the Photographic Memory of Italian Colonialism," Third Text, 166, vol 34, 5, September 2020: 1-21
2020 "The Via della Conciliazione (Road of Reconciliation): Fascist Urbanism and the De-Urbanization of the Working Class in Interwar Rome," Selva: A Journal of the History of Art, thematic issue on "Reactionary Art Histories," forthcoming.
Journal Articles
2020    "1930: Margherita Sarfatti entre Buenos Aires, Milán y Roma," MODOS-História da Arte: modos de ver, exibir e compreender, special issue on "Intersecções do exílio: redes artísticas transnacionais, associações e colaborações," 4, 1, 206-223.
2020    "Positively the only person who is really interested in the show": Romeo Toninelli collector and diplomat between Milan and New York," Italian Modern Art, 3, 1-30.
2019   "Baroque Futurism: Roberto Longhi, the Seventeenth Century, and the Avant-Garde," The Art Bulletin, June 2019, 29-53.
2016   "The "Mostra del Quarantennio" and the Canon of Modern Art at the Venice Biennale in the Interwar Period," Il Capitale Culturale, Studies on the Value of Cultural Heritage  "Museums and Exhibitions between WWI and WWII" 14: 223-252 

2016   "The Nave Italia and the Politics of Latinità: Art, Commerce, and Cultural Colonization in the Early Days of Fascism," Italian Studies 71 (November 2016)
2014   "Vincenzo Agnetti and the Poetics of Zeroing," Art and Documentation (Sztuka i Dokumentacja) 10: 39-44.
2014  "Photodynamism and Vortography: The Futurist Anti-Portraits of Anton Giulio Bragaglia and Alvin Langdon Coburn," International Yearbook of Futurism Studies: 477-503.
Book Chapters
2020    'Imitators of the Imitators?: World Impressionisms at the Venice Biennale, 1895-1948," Writing Impressionism Into Art History, ed. by Alexis Clark and Frances Fowle (Yale University Press) https://www.aaeportal.com/?id=-20010
2019    "Decadence and the Visual Arts," Cambridge Cultural Concepts-Decadence, ed. by Jane Desmarais and David Weir (London-New York: Cambridge University Press), 133-155.
2018   "A House No Longer Divided: Patronage, Pluralism and Creative Freedom In Italian Pre- And Postwar Art," Postwar Italian Art History Today: Untying 'the Knot', ed. by Sharon Hecker and Marin Sullivan (London: Bloomsbury Press), 173-188.                     
2011  "Indias pin-up: la indígena como objeto erótico en los calendarios de los años '40-'50," Los sueños de una nación. Un año después 2011 (Mexico City: Instituto Nacional de Bellas Artes:), 43-55.
Book Reviews
2020   "The Elusive Modern Baroque," Review essay on: Jane Stevenson, Baroque between the Wars: Alternative Style in the Arts, 1918-1939 (Oxford University Press, 2018), and Lucia Simonato, Bernini scultore. Il difficile dialogo con la modernità (Electa, 2018), for Art History 43, 3 (June 2020): 654-661.
2019    Review of Michael Tymkiw, Nazi Exhibition Design and Modernism (University of Minnesota Press, 2018), for Journal of Curatorial Studies 8, 2 (December 2019), 286-290
2018    Review of "International Yearbook of Futurist Studies- Vol.7: Latin America," Modernism/modernity
Digital Projects
2015-2017  "Portrait of a City- Jacopo de' Barbari's View of Venice," Nasher Museum of Art at Duke University and Minneapolis Institute of Art

2014-2017  "Venice Interactive Visual Atlas" (VIVA), Wired! Group, Duke University
2020             Lauro De Bosis Postdoctoral Fellowship, Harvard University
2019             Cesare Barbieri Endowment Grant in Modern Italian History, Trinity College
2018             Villa Medici- Académie de France in Rome, Summer Research Residency
2018             National Endowment for the Humanities, Summer Stipend
2017             Research and Publication Grant, Italian Art Society
2015             International Research Fellowship, CIMA Center for Italian Modern Art
2015             Research Fellowship, The Wolfsonian- Florida International University
2014-2015   James B. Duke International Research Fellowship, Duke University
2010             Norman Sverdlin Prize for Best Master Thesis in Philosophy, UNAM
Photography and Political Conflict
Visual Culture of Global Fascism
Challenges of Modernity – University Core Curriculum
Modernism on Display: Exhibiting Modern Art 1855-1960
Transatlantic Avantgardes 1880-1920
Introduction to Art History: What is Modern Art?
Cosmopolitan Modernisms 1920-1960
Latin American Modernism