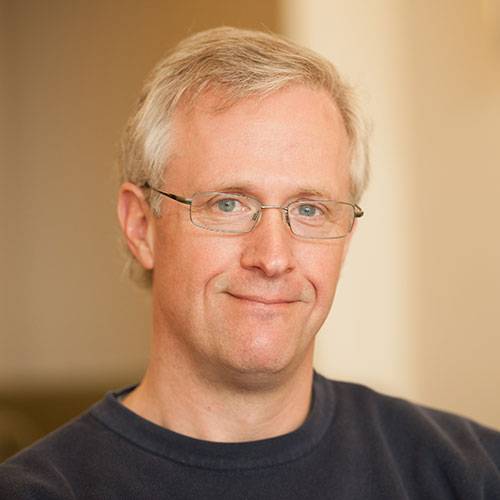 Douglas Johnson
Associate Dean of the Faculty for Curricular and Academic Affairs; William R. Kenan Jr. Professor of Psychological and Brain Sciences
Doug Johnson joined Colgate's Department of Psychology in 1996. Within the department, he teaches a variety of courses, including Introduction to Psychology, Human Cognition, Research Methods, Statistics, and Attention and Memory. Within Colgate's Core Curriculum, he teaches two Scientific Perspectives courses (one on the malleability of human memory and another on the psychology of sport and exercise). 
Professor Johnson received his BA from Washington University in St. Louis, and his MA and PhD from Johns Hopkins University. As a scholar, he studies human cognition, with an emphasis on attention, memory, and the development of expertise. He has published in a variety of professional journals, including Psychological Science, Memory and Cognition, Neuropsychopharmacology, Psychopharmacology, and The Journal of Experimental Psychology: Human Perception and Performance.
At Colgate, Professor Johnson has performed a variety of service. In addition to considerable committee work, he has served as associate dean of faculty (2007-2010; 2019-present), chair of the scientific perspectives program (2004-2007), and director of the Center for Learning, Teaching, and Research (2014-2017). He currently serves as Colgate's representative to the Patriot League Policy Committee, and has served as Colgate's NCAA faculty athletics representative (FAR).
Students performing senior research with Professor Johnson have gone on to careers in business, medicine, and law, as well as graduate school in psychology and neuroscience (including Princeton, UVA, and Cornell).

Professor Johnson is married to Mary (Molly) Treadway Johnson, PhD, and they have two children, Daniel and Sarah.
BA, Washington University in St. Louis, 1987 
MA (1990), PhD (1992), The Johns Hopkins University
Introduction to psychology
Experimental psychology
Statistics
Human cognition
Memory
Information processing
Most recent:
         Martinez, J.A., Johnson, D.N. & Jones, J.A. (2015). A cocktail of extracurricular activities
(ECAs): Different ECA combinations and their association with heavy drinking in two college cohorts.
Journal of College Student Development, 56, 392-396.
         Martinez, J.A., Roth, M.G., Johnson, D.N. & Jones, J.A. (2015). How robustly does cannabis use
associate to college grades?: Findings from two cohorts. Journal of Drug Education, 45, 56-67. PMID:
26224748
Other peer-reviewed articles appear in: Journal of Experimental Psychology: Human Perception and Performance, Psychopharmacology, Memory and Cognition, Psychological Science, and others.
Post-doctoral fellow, National Institutes of Health, 1992-1996
The Jerome Balmuth Award for Teaching, 2014
Colgate Alumni Corporation Distinguished Teaching Award, 2014
Phi Eta Sigma Colgate Professor of the Year 2001
Intramural Research Training Award, National Institutes of Health 1992-1994