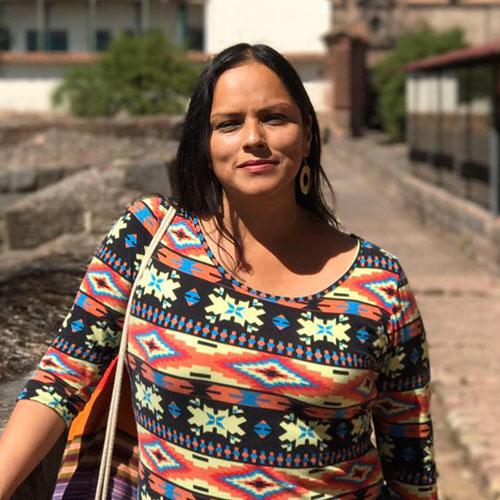 Cristina Serna
Assistant Professor of Women's Studies
I am a transborder scholar with interests in queer Chicana, Mexicana, and Latin American transborder activism and art. Through my research I examine the cultural, aesthetic, and political practices of feminist and queer artists within 20th and 21st century U.S. Latina/o and Latin American social movements. 

My specialties include Chicana/ Latina visual and performance art, U.S. Latina and Latin American feminisms, transnational gender and sexuality studies, transnational and decolonial feminisms, including Xicana indigenous feminisms.

I hold a Ph.D. and M.A. in Chicana and Chicano Studies from the University of California, Santa Barbara, a Master of Arts in Teaching and a B.A. in History from Occidental College. As a bi-nationally trained scholar, I was a UC MEXUS Fellow and Visiting Scholar in Gender Studies at the Universidad Nacional Autónoma de México (UNAM). I also completed a Specialization in Mexican Art History through UNAM's Instituto de Investigaciones Estéticas.

My interest in queer Chicana/Latina feminist art activism grows out of my work as a founding member of various queer women of color organizations in Los Angeles. While living and studying in Mexico City I became interested in documenting the transborder networks and archives that connect queer Chicana and Mexican lesbian feminist artivists across the border.
PhD, Chicana and Chicano Studies, University of California, Santa Barbara, 2014  
MA, Chicana and Chicano Studies, University of California, Santa Barbara, 2007  
Master of Arts in Teaching, Occidental College, 2000 
BA, History, Occidental College, 1998
Introduction to Women's Studies
Feminist Methodologies: Theory & Praxis
Queer Latina Visualities: Art, Theory, and Resistance
Communities & Identities: Mexico
Biography and Autobiography in Chicana/Latina Cultural Production
Women of Color: Race, Class, Ethnicity
Chicana Art and Feminism
U.S. Third World feminisms, decolonial feminisms
Feminist & queer methodologies, Chicana, Latina, & Latin American feminisms
Queer Chicana Latina  art 
Transborder cultural studies
Colgate University Research Council, Major Grant, 2017-2018
UC MEXUS Dissertation Research Grant, 2012
Humanities and Social Science Research Grant, 2012
Graduate Research Mentorship Fellowship, 2010-2011
National Science Foundation UC DIGSSS Summer Research Fellowship, 2010
Graduate Opportunity Fellowship, 2006-2007
"It's Not About the Virgins in my Life, Its About the Life in my Virgins," in Our Lady of Controversy: Alma López's Irreverent Apparition, Alicia Gaspar de Alba and Alma López, eds. University of Texas Press, Chicana Matters Series, April 2011:165-194.
"Locating A Transborder Archive of Queer Chicana Feminist and Mexican Lesbian Feminist Art," Feminist Formations, (forthcoming, 2017).
"Decolonial Aesthetics in Mexican and Xicana Fiber Art: The Art of Consuelo Jiménez Underwood and Georgina Santos," book chapter for Consuelo Jiménez Underwood: Art, Weaving and Vision, Laura E. Pérez, ed. (under review).
Deconstructing the Nation: Queer and Feminist Art in Mexican and Chicana/o Social Movements.

In my present book manuscript, Deconstructing the Nation: Queer and Feminist Art in Mexican and Chicana/o Social Movements, I use ethnography, artist interviews, archival research, and visual analyses to examine the interventions made by queer Chicana feminist and Mexican lesbian feminist artists in post-1960s social movements. In addition to analyzing visual art, performance, and literature by contemporary Mexican and Chicana artists, I examine transnational encuentros that link U.S. Latina and Latin American art and activist communities across the border. This book also investigates the artistic influence that Chicana feminist art has exerted in Mexico in order to chart the course of transborder cultural exchanges that flow in multiple directions across the border thus challenging the idea that postcolonial/decolonial cultural practices can be understood as geographically bounded and separate cultural, political and economic entities.