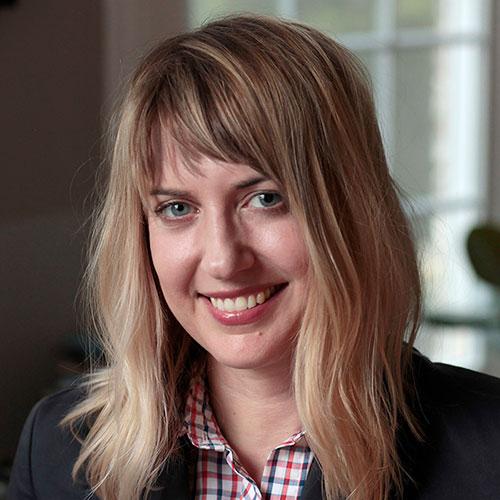 Brynn Hatton
Kindler Family Assistant Professor in Global Contemporary Art
Global contemporary art and visual culture, the Vietnam-American War, conceptual art, transnational Cold War countercultures, social movement mobilization theory, post-colonial and decolonial theory, critical race theory
My current research develops the idea of Vietnam—not Vietnam itself, but the ways in which Vietnam has functioned symbolically in the world for over a half-century—as a conceptual engine and core subject in the art and politics of the global left from the 1960s to the early 2000s. I am currently writing a book titled The Vietnam Idea which examines works of art and visual culture from North America, Oceania, the Middle East, Southeast Asia, and Latin America that share a common visual strategy of crafting an image of the political self with the idea of Vietnam principally in mind. I am also at work on a second research project about the global psychedelic movement and its aesthetic and political configurations in North America from the early 20th century to present.
My courses often take an interconnected view of disparate geographies, objects, ideas, and methods in global art and art history. In my classes, students can expect at every level to engage with the broader social and political conditions that inform major artistic developments in the modern and contemporary period.
PhD, Northwestern University, 2016
MA, Northwestern University, 2012
BA, University of California, Berkeley, 2003
Williams College, 2016-2018
Clark Art Institute Graduate Program in the History of Art, 2016-2018
Africa Modern Arts Park (experimental art school and community foundation in Bagamoyo, Tanzania), 2007
"L'idée du Vietnam comme conceptualisme résilient." Marges 27 (December 2018).

"Hold Your Gun Arm Steady to Keep the Color of the Flower: The Propeller Group and Le Brothers," Journal of Visual Culture 17:3 (December 2018).

"The Image of Difference." In Imprints of Revolution: Visual Representations of Resistance, edited by Lisa Y.B. Calvente and Guadalupe Garcia. London: Rowman & Littlefield International, 2016.
"Rising Up Angry." In The City Lost and Found: Capturing New York, Chicago, and Los Angeles,1960–1980, edited by Alison Fisher, Greg Foster-Rice, and Katherine Bussard. Chicago, IL: Art Institute of Chicago and Princeton, NJ: Princeton University Press, 2014.

"Silent Shout | Photography, Women, and the Iranian Rooftop: 1953, 1979, 2009." Al-Raida 141-142 (2014).

"Dream Sequence: The Motorbike as Allegory." MCA DNA, August 30, 2016.

"Gloria: Robert Rauschenberg & Rachel Harrison at Cleveland Museum of Art."Artforum International  54:4 (December 2015).

"Titus Kaphar at Contemporary Art Center Cincinnati." Artforum International 54:1(October 2014).
2014, Social Science Research Council International Dissertation Research Fellowship
2013, Crown Family Middle East Research Award
2013, Buffett Center for International and Comparative Studies Travel Grant
2012, U.S. Dept. of Education Foreign Language Area Studies Fellowship, Southeast Asian Studies Summer Institute, University of Wisconsin, Madison
2011, Schiff Foundation Fellowship for Critical Architectural Writing, Art Institute of Chicago
1999-2003, California Alumni Association Leadership Scholarship, University of California, Berkeley
Introduction to Global Contemporary Art
Art and Theory Since 1980
Art and Theory 1960-1990
Museum Exhibitions: Design and Rhetoric
How to Live Now: Creative Ethics and Contemporary Art
What is Protest Art? Aesthetics of Dissent in Contemporary Art and Theory
Global Conceptualism 1962-Now
Methods of Art History