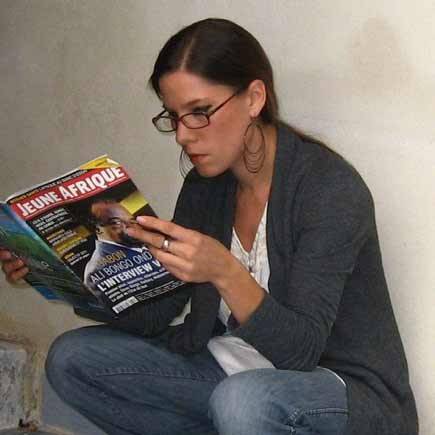 Amanda Rogers
NEH Visiting Assistant Professor of the Humanities in the Middle Eastern and Islamic Studies Program
Amanda E. Rogers (Ph.D., Emory University, 2013). She presently serves as NEH Visiting Assistant Professor of Middle Eastern & Islamic Studies at Colgate University, where she teaches a range of courses related to visual culture, politics, and media in the contemporary Middle East and North Africa. She is also a traveling expert on insurgent media for the U.S. Department of State, U.N. consultant on terrorism and media, editorial board member of the Postcolonialist, and a commentator at Muftah.org. Rogers is also a photojournalist, multi-media artist, and political commentator whose work has appeared in such forums as the Independent, Al-Jazeera, the Intercept, the New York Times, Rolling Stone, London's Frontline Club, the Smithsonian, CNN, BBC, National Public Radio, CBC Canada, and VICE News.
Her research and teaching has been supported by Fulbright, Fulbright Hays, the Jacob K. Javits foundation, National Endowment for the Humanities, the Andrew W. Mellon Foundation, the Council of American Overseas Research Centers, and the American Institute of Maghreb Studies, among others.
She is currently completing two monographs: The Semiotics of Revolution (focused on the so-called Arab Spring), and Inside the Boardroom-Battleground of so-called Islamic State.
Learn More
Rogers, Amanda E. (2019), "The death of Baghdadi: How ISIS used al-Qaeda's mistakes to grow a caliphate" Atlantic Council.
Rogers, Amanda E. (2018), State of Research Brief: "Children and Extreme Violence, Viewing Non-state Armed Groups Through a Brand Marketing Lens: A Case Study of the Islamic State," United Nations University.
Rogers, Amanda E. (2018): EvilTM — "Islamic State, conflict-capitalism, and the
Geopolitical Uncanny," Critical Studies on Security, DOI: 10.1080/21624887.2017.1407597
MIST 390 - The Endless War on Terror
MIST 391 - Indp: Nation Branding in G.C.C.
CORE 183C - The Middle East
ARTS 210 - Contemp Art & Polt in M. East
FMST 2012 - Global Media: Flows & Counterflow
MIST 220 - Media, Power & Protest
MIST 491 - Indp. Syrian Media & Russia
MIST 491 - Indp: Language in Morocco