A voluntary program, designed to complement and extend students' stand-alone courses with related language study.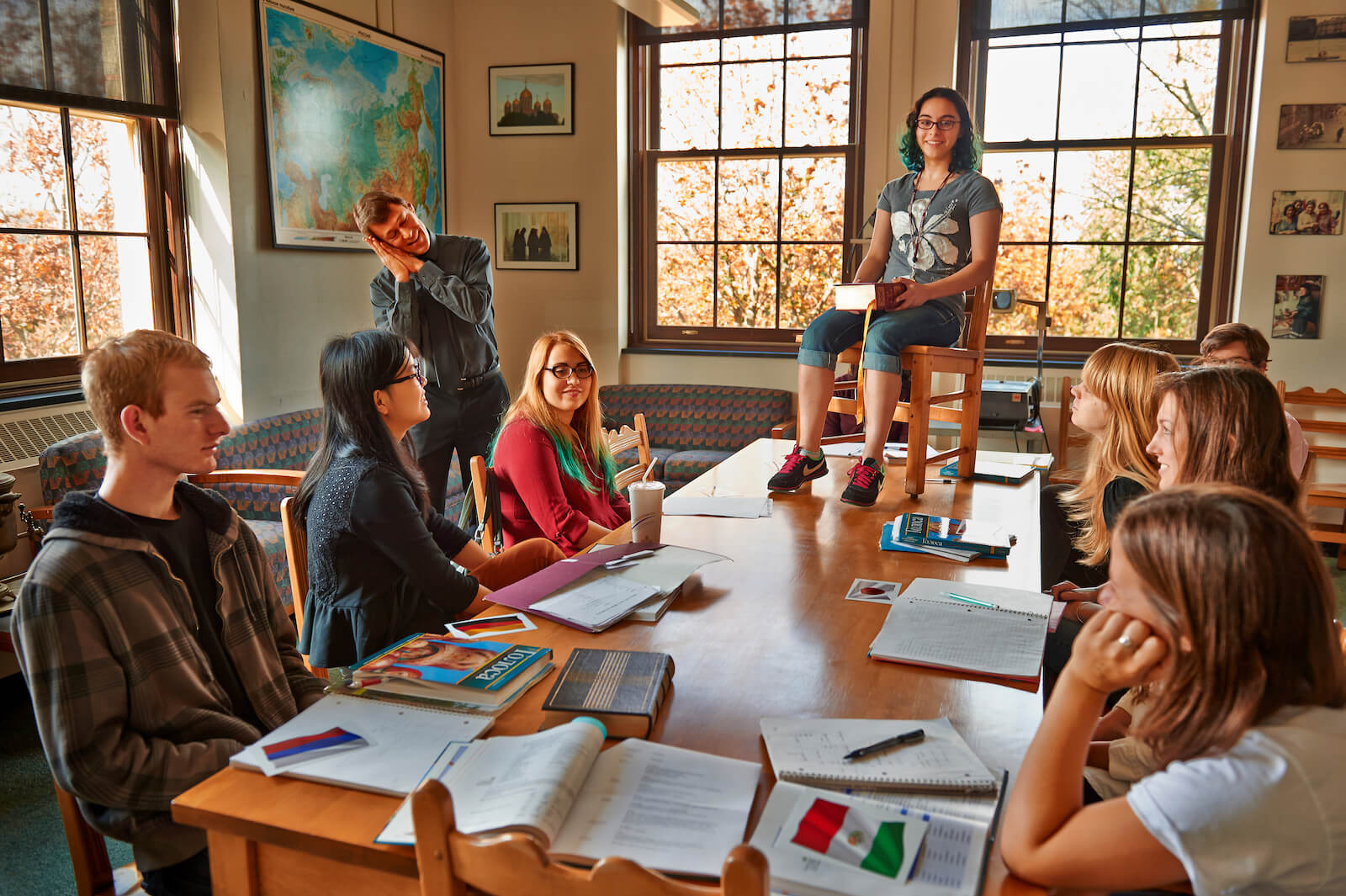 Rationale
Faculty may choose to offer a supplemental component to a particular course in which students can learn language skills studying content related to the primary course. Students who choose the FLAC component will attend an additional meeting each week to focus on foreign language course materials relevant to a specific course.
FLAC gives students the opportunity to expand their foreign language skills and/or to experiment with new languages. FLAC sections thus offer a framework for curricular initiatives that not only improve the foreign language competencies of students, but also demonstrate the necessary and critical value of foreign languages in understanding today's world.
Catalogue Description
Information about the Foreign Languages Across the Curriculum program can be found in the Colgate Course Catalogue.
The following is the official description of the program at the time of this writing (October 2014):
Colgate University seeks to create an international ethos for the liberal arts by expanding the range of curricular settings in which students and professors can develop and use foreign language skills. Beyond the foreign language departments, faculty in various departments and programs encourage the use of foreign language materials in their curricula, and certain courses – such as literature in translation – offer FLAC sections in which students can engage with the material in the relevant foreign language.
There are three types of FLAC sections:
For students interested in learning the rudiments of a new language. Such exposure to ancient and modern foreign languages expands students' awareness of cultural and linguistic diversity. In some cases, students from a FLAC section of this type subsequently enroll in language courses, as when Core 151 FLAC has motivated students to continue with Greek 121.
For students with other language competencies interested in keeping up their language skills and expanding their ability to use a wider repertoire of resources in that language. Faculty have offered a FLAC section as part of a stand-alone course (e.g., Spanish for Core: Mexico; Chinese for CHIN 222: Chinese Cinema). This option is also available for students enrolled in an upper-level course interested in guided study of relevant research materials in that language. Students returning from study abroad might also welcome this opportunity to keep up the language skills they honed while off-campus.
This type of FLAC focuses on interdisciplinary approaches to preparing students for off-campus service learning projects with a foreign-language component (e.g., teaching a foreign language in the local schools, serving in a multi-lingual setting, etc.). The level of proficiency expected will depend on the context, as some service learning contexts may lend themselves well to a FLAC course focused on rudiments of a new language to benefit Colgate students and those they serve.
Members of the Colgate teaching staff who are interested in offering a supplemental FLAC section are encouraged to consult first with their department chair, and when appropriate, the Core component/program chair. The director of the Keck Center may also coordinate the formation of FLAC sections.
The faculty member sends a request to the Associate Dean of Faculty (ADOF) overseeing FLAC. The request should include for zero-credit sections: a one-page syllabus and schedule of meetings. Credit-bearing FLAC sections require approval of the Curriculum Committee.
Once the instructor has permission from the Associate Dean, the instructor forwards names of students who have signed up for FLAC to the Registrar, who enrolls them, with a copy to the ADoF. Zero-credit courses may be enrolled shortly after the drop/add period. Zero-credit courses may also be dropped at any time without penalty and without trace on the transcript. To drop zero-credit FLAC, students notify faculty, who then notify the Registrar.
Once the roster is set the ADOF authorizes payment of stipends. Faculty teaching zero-credit sections receive stipends currently paid at the rates of $800 for 1-4 students, $1,000 for 5-10 students, and $1,500 for more than 10. Faculty teaching fractional-credit sections are compensated according to the same criteria. Normally, FLAC sections do not count towards faculty teaching load credit.
FLAC sections meet at a separate class time to be arranged by the instructor and students. Some FLAC sections form during drop-add period (or shortly thereafter). Other faculty may elect to announce FLAC sections prior to pre-registration. Students can find these courses designated in the "course offerings" portal site as a FLAC component of a regular course. For example:
 
| Course | Time | Prerequisite |
| --- | --- | --- |
| CORE 171A Mexico | MWF 10:30 | N/A |
| CORE 171AX Mexico (FLAC Spanish) | HTBA | Spanish 201 or equivalent |
More Details
FLAC sections do not fulfill "Areas of Inquiry" or Core requirements.
FLAC section are taught on top of a faculty member's normal teaching load.
A FLAC section linked to an existing course will appear on the transcript as a separate entry with the same course prefix and number, although with a separate section number.
Any service-learning and/or research-based FLAC section will have a designated divisional prefix, as determined by the Dean's Advisory Council. (E.g., AHUM 200: FLAC Language Pedagogy).
At the instructor's discretion, FLAC courses may be open to eligible students from other courses.
 Faculty stipends are based on initial enrollment numbers for the section.