Formal lodging options in Hamilton and the surrounding region. Please note that availability may be impacted due to the COVID-19 pandemic.
Colgate Inn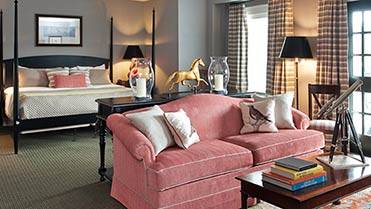 Featured Lodging
A sofa and bed in one of the rooms at the Colgate Inn brings a combination of both tradition and hospitality to guests. With 40 rooms and suites, a restaurant and an array of event spaces and services, Colgate Inn provides an unforgettable Hamilton experience.
Book online
Call: 315-824-2300
Below are options for lodging and accommodations in Hamilton and the surrounding area. Inclusion on this list does not represent an endorsement by the university.
Colgate encourages visitors to explore campus and the village of Hamilton.
Share a Lodging Option
Please submit new listing requests or corrections to information to website@colgate.edu.
Informal Local Rentals
Many local residents offer an informal bed and breakfast arrangement during major campus events.
Hamilton
Clinton
(25 minutes northeast)
Cooperstown
(1 hour southeast)
Cortland
(75 minutes southwest)
Deansboro
(20 minutes northeast)
DeRuyter
(50 minutes southeast)
Earlville
(10 minutes south)
East Syracuse
(55 minutes northwest)
Eaton
(15 minutes west)
Erieville
(20 minutes west)
Fayetteville
(45 minutes northwest)
Fort Plain
(90 minutes northeast)
Greene
(1 hour south)
Herkimer
(1 hour northeast)
Hubbardsville
(15 min. east)
Leonardsville
(25 min. east)
Madison
(10 min. north)
Morrisville
(10 min. west)
New Berlin
(35 min. southeast)
New Hartford
(30 min. northeast)
Bouckville
(10 minutes north)
Bridgewater
(20 minutes northeast)
Canastota
(40 minutes northwest)
Cazenovia
(30 minutes west)
Chittenango
(40 minutes northwest)
Cincinnatus
(50 minutes southwest)
Nelson
(20 min. northwest)
Harvey's Place Bed and Breakfast, Fairlie Firari, 315-825-1158
New Woodstock
(35 min. west)
Norwich
(35 min. south)
Oneida
(30 min. north)
Oriskany
(40 min. northeast)
Oriskany Falls
(15 min. north)
Oxford
(45 min. south)
Plymouth
(30 min. south)
Richfield Springs
(45 min. east)
Rome
(50 min. north)
Skaneateles
(80 min. west)
Sharon Springs
(70 min. east)
Sherburne
(15 min. south)
South Otselic
(20 min. southwest)
Syracuse
(1 hour northwest)
Utica
(35 min. northeast)
Vernon
(30 min. north)
Verona
(30 min. north)
Waterville
(15 min. east) 
West Winfield
(30 min. east)
Westmoreland
(25 min. northeast)