I've gained mentors and advocates who have supported me throughout my Colgate career, and I know they'll continue to cheer me on even after I graduate. I look forward to maintaining those relationships for years to come.

Josie Rozzelle '23

San Francisco, California
What is your favorite activity outside of the classroom?
There are few things I enjoy more than taking a walk around campus and the village of Hamilton. Rain, shine, or snow, Colgate's environment is breathtakingly beautiful. And it's not just the natural surroundings that make a walk around campus so enjoyable — it's the fact that, wherever you go, you'll always see a friendly face saying 'Hi.'
What would you consider your greatest accomplishment as a student at Colgate so far?
I will always be proud of the stories I wrote for the Maroon-News at the height of the pandemic. When I came back to campus as an assistant news editor in the fall of 2020, the University and students were in uncharted territory. Understandably, there were a lot of questions swirling around, and we at the Maroon made it our mission to be a trusted source of information. I wrote stories on school virus policies, campus infection rates, quarantine, and vaccinations, feeling lucky I could serve my community by getting answers. Now, two years later, I am excited to be the co-editor-in-chief of the Maroon and to help it continue its legacy of service to Colgate and the village of Hamilton.
Read Josie's work for the Maroon-News at the link below: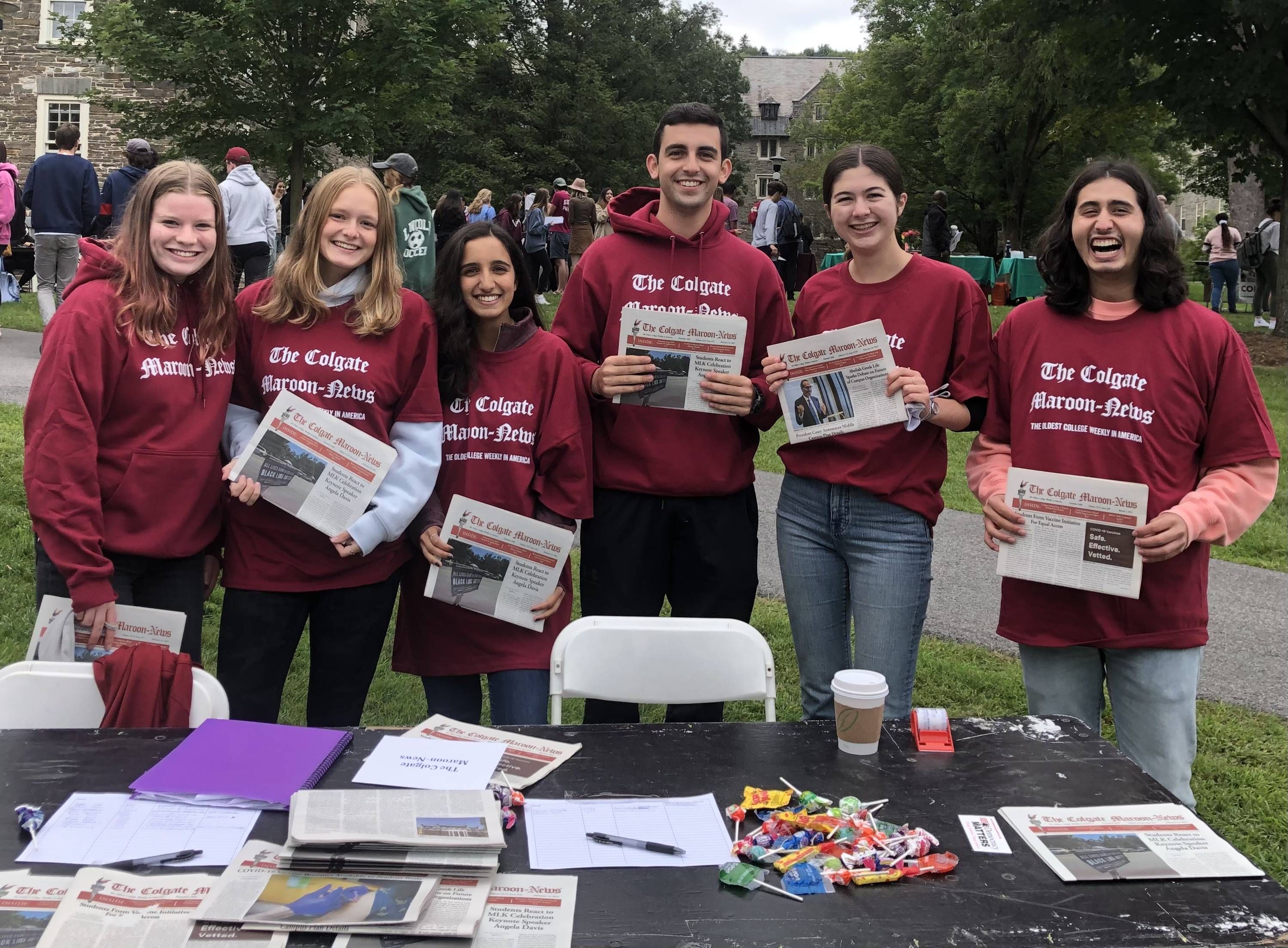 Tell us about your experience traveling abroad?
For the spring 2022 semester, I was part of Colgate's Geneva Study Group, a program that focuses on international relations. In addition to our classes on global government and French, we traveled across Europe to visit international institutions like the European Court of Justice in Luxembourg and the European Commission in Brussels — not to mention the United Nations, which was only blocks from our residence in Geneva.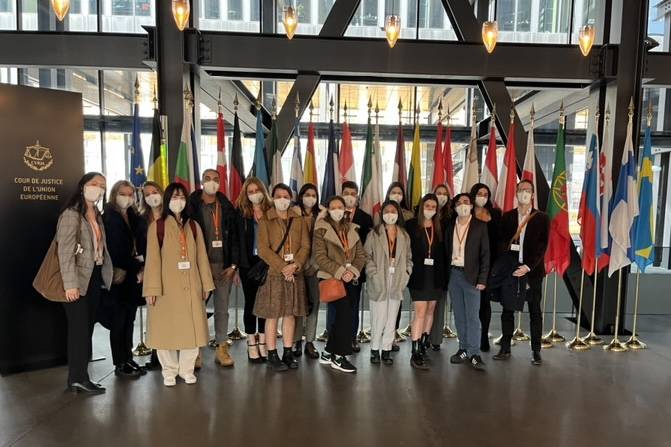 One part of the program was an internship, and I worked as a newsroom intern for The New Humanitarian, an independent nonprofit news organization that focuses on humanitarian crises. Working for TNH was one of the most enlightening and rewarding experiences of my life. My colleagues were editors based around the world, with journalists reporting from the front lines of conflicts. I attended a conference on humanitarianism and got to be one of three reporters in a briefing with the European Commissioner for International Partnerships, where I sat next to a journalist from the New York Times.
That briefing was just one of the hundreds of "pinch-me" moments I had studying abroad, others being standing in the middle of a UN meeting room, skiing in the alps, getting career advice from a diplomat in the airport customs line, looking up through one of the Louvre's glass pyramids, and having a group dinner with Arnoldas Pranckevičius, the permanent representative of Lithuania to the EU and a Colgate '02 alumnus.
With my political science major and my French minor, the Geneva Study Group allowed me to take what I'd learned in Hamilton, N.Y., and use it in the real world (even if baristas still responded to my French coffee order in English). But my experience would have been nothing without the 15 smart, curious, and passionate Colgate students I studied, lived, and traveled alongside.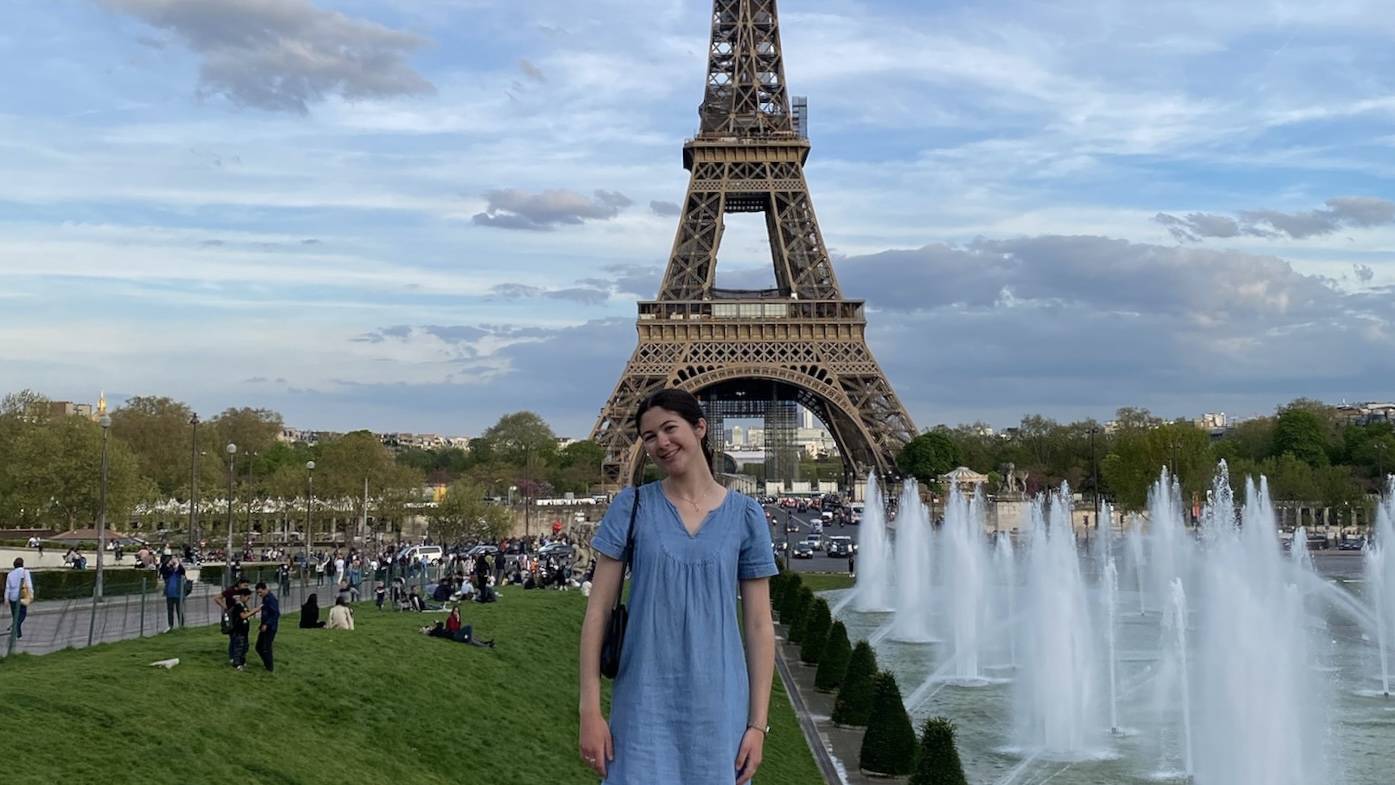 Josie in Paris for her study group's visit to UNESCO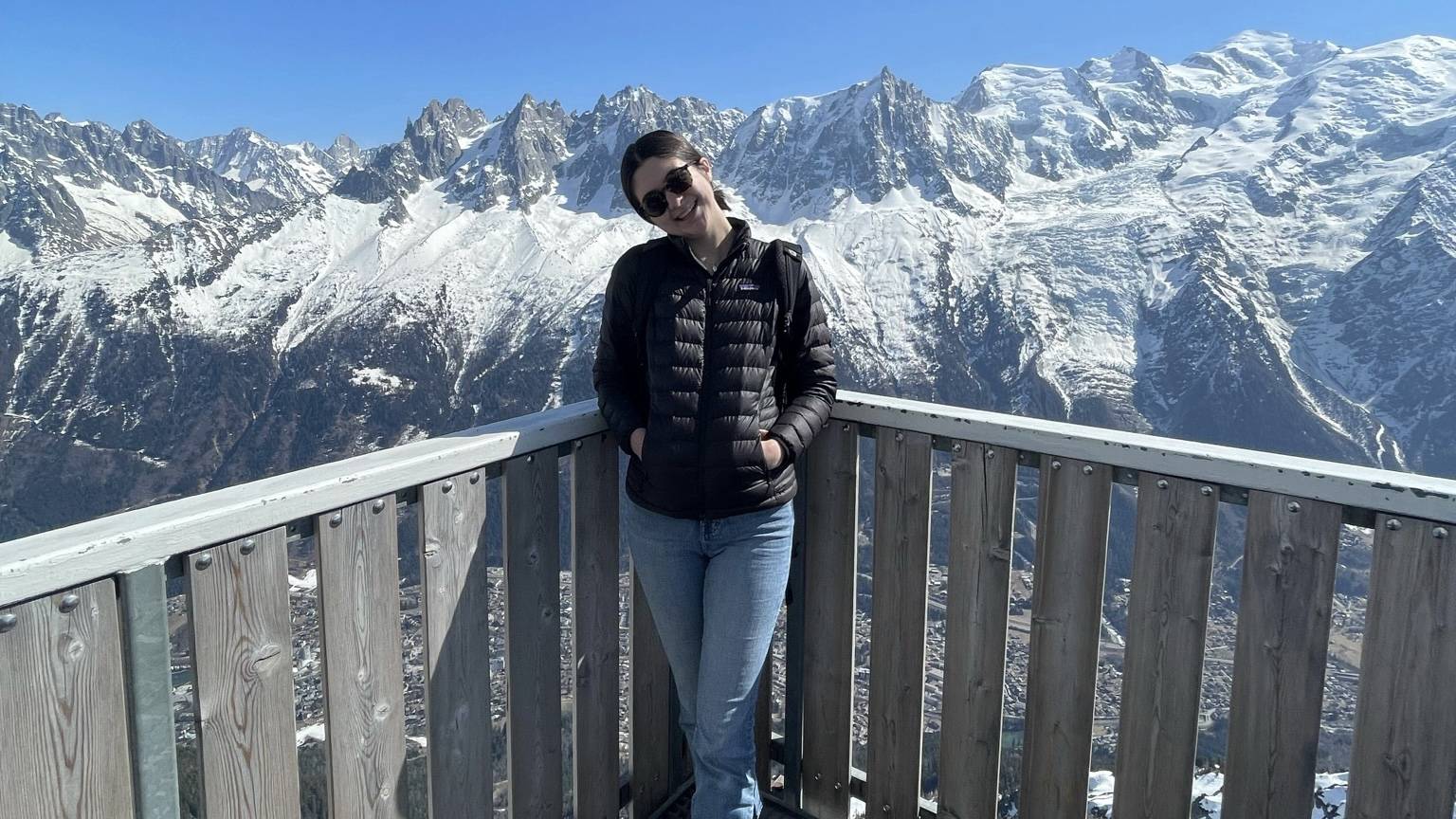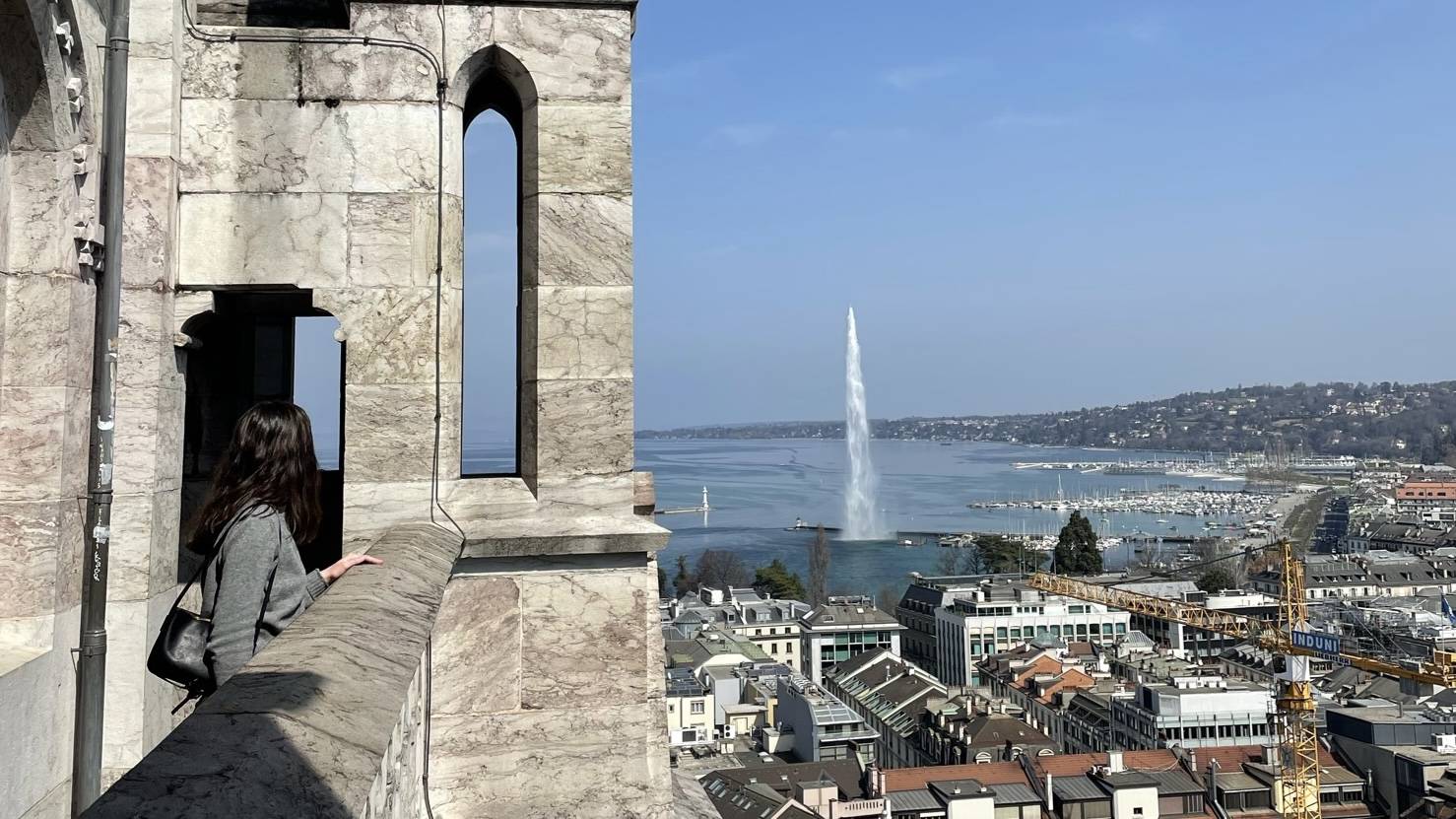 Josie on top of the St. Pierre Cathedral in Geneva, with the Jet D'Eau in the background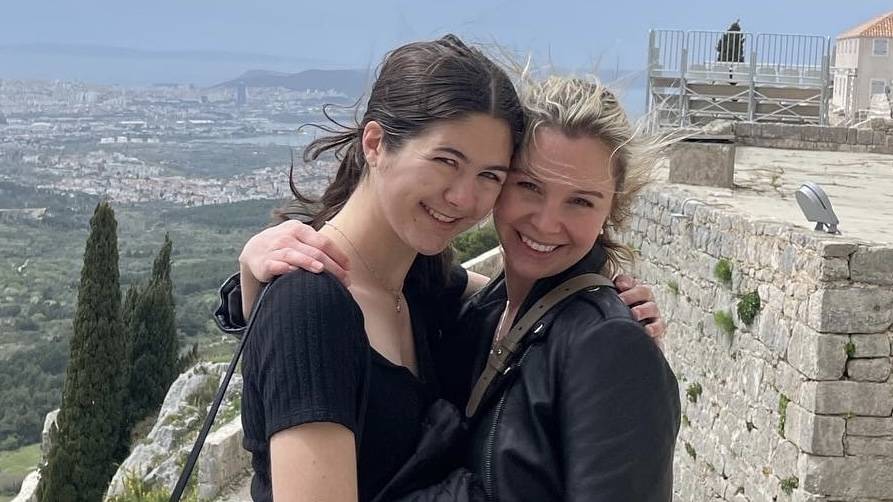 Josie and friend Emma Hubbard '23 in Split, Croatia.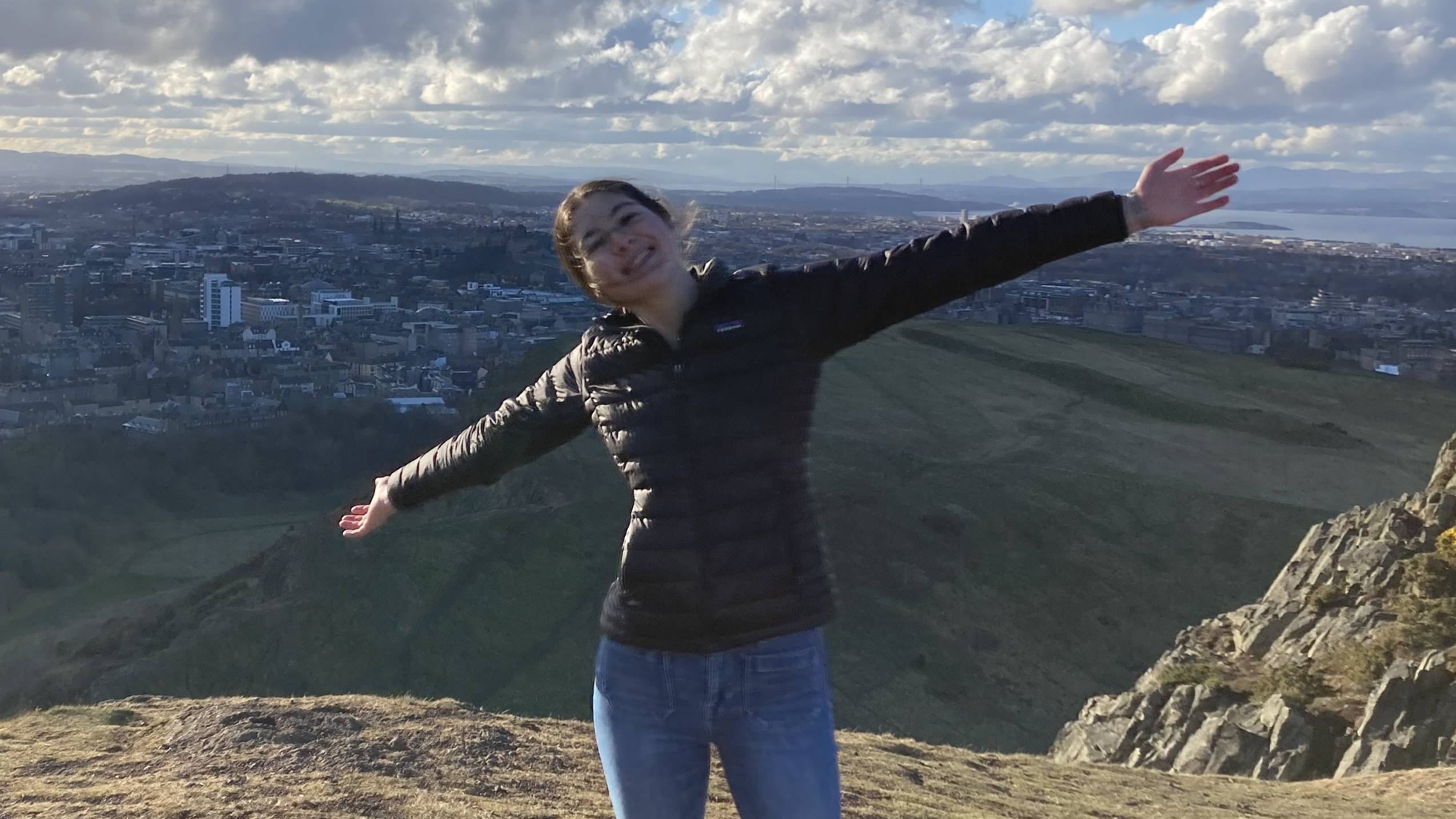 Josie in Edinburgh, Scotland, visiting a Colgate friend studying abroad at the University of St. Andrews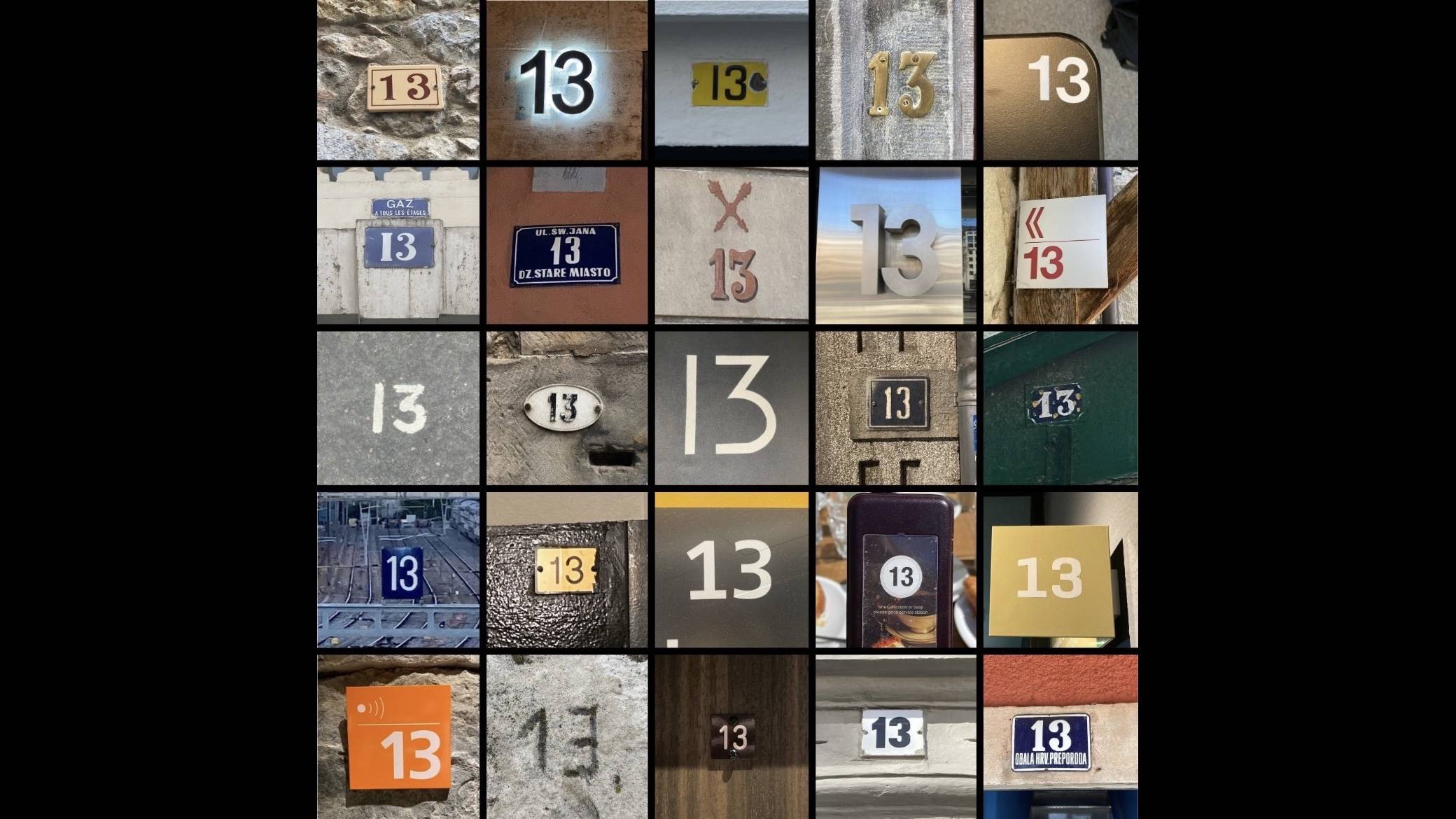 A collage of all the 13s Josie found while traveling abroad.
Have you had a pivotal moment at Colgate?
A few months into my first year at Colgate, I had a particularly packed day. In the morning, I was volunteering at a visit day for prospective students. After that, I had a meeting with the Office of Off-Campus Study to learn about study-abroad programs. Then I had office hours with Professor Ephraim Woods, my chemistry professor, whom I went to for homework questions a couple of times a week.
In the afternoon, I went to my optional French class, offered by Professor Hélène Julien for those who wanted extra language practice. After that I went to hear Thomas Edsall, a journalist for the New York Times, speak about polarization in the media in a guest lecture hosted by the Department of Political Science.
Yes, it was a busy day, but at the end of it, I realized just how much Colgate has to offer. Aside from my two classes, each of the things I did that day was optional. They were listings on the events calendar that sounded interesting or opportunities to learn more about what I could do as a Colgate student. I realized that, during my four years on this campus, I would have unlimited access to these kinds of experiences just by being a Colgate student, and more busy days like this one would be a sign that I was taking full advantage of my time here.
What is your favorite place on campus and why?
At any given time on any given day, there is a good chance I'm sitting in Chobani at the Hieber Café on the fifth floor of Case-Geyer Library. It's not just where I like to study; it's also where I get my daily iced latte and yogurt bowl and where I like to meet up with friends. The cafe is one of the hubs of student activity, and I like waving to people I know as they come in and out to get a study snack. It also doesn't hurt that the windows overlook Taylor Lake and Willow Path, making for a stunning sunset pretty much every night.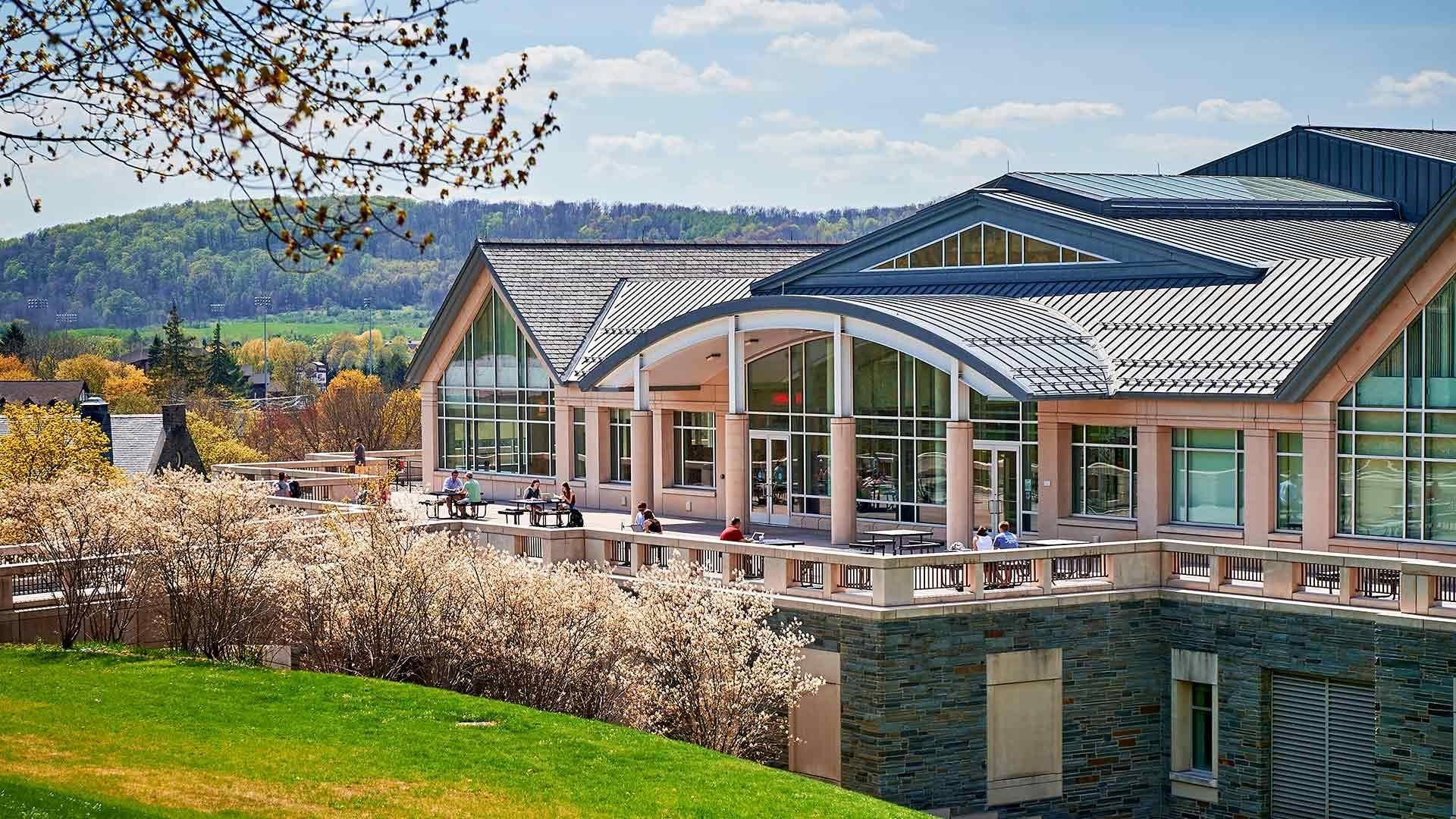 What advice would you give to future Colgate students?
Go to office hours. Even if you don't have a specific question to ask your professor, take advantage of Colgate's brilliant faculty and the chance to get to know them. Who knows: Someone who started out teaching that random class you ended up in might become your go-to person for advice. By consistently going to office hours, I've gained mentors and advocates who have supported me throughout my Colgate career, and I know they'll continue to cheer me on even after I graduate. I look forward to maintaining those relationships for years to come.
 
What are your plans for the future?
I hope to work for a news organization so I can keep developing as a journalist and reporting on the stories that are important to my community. 
Take the next step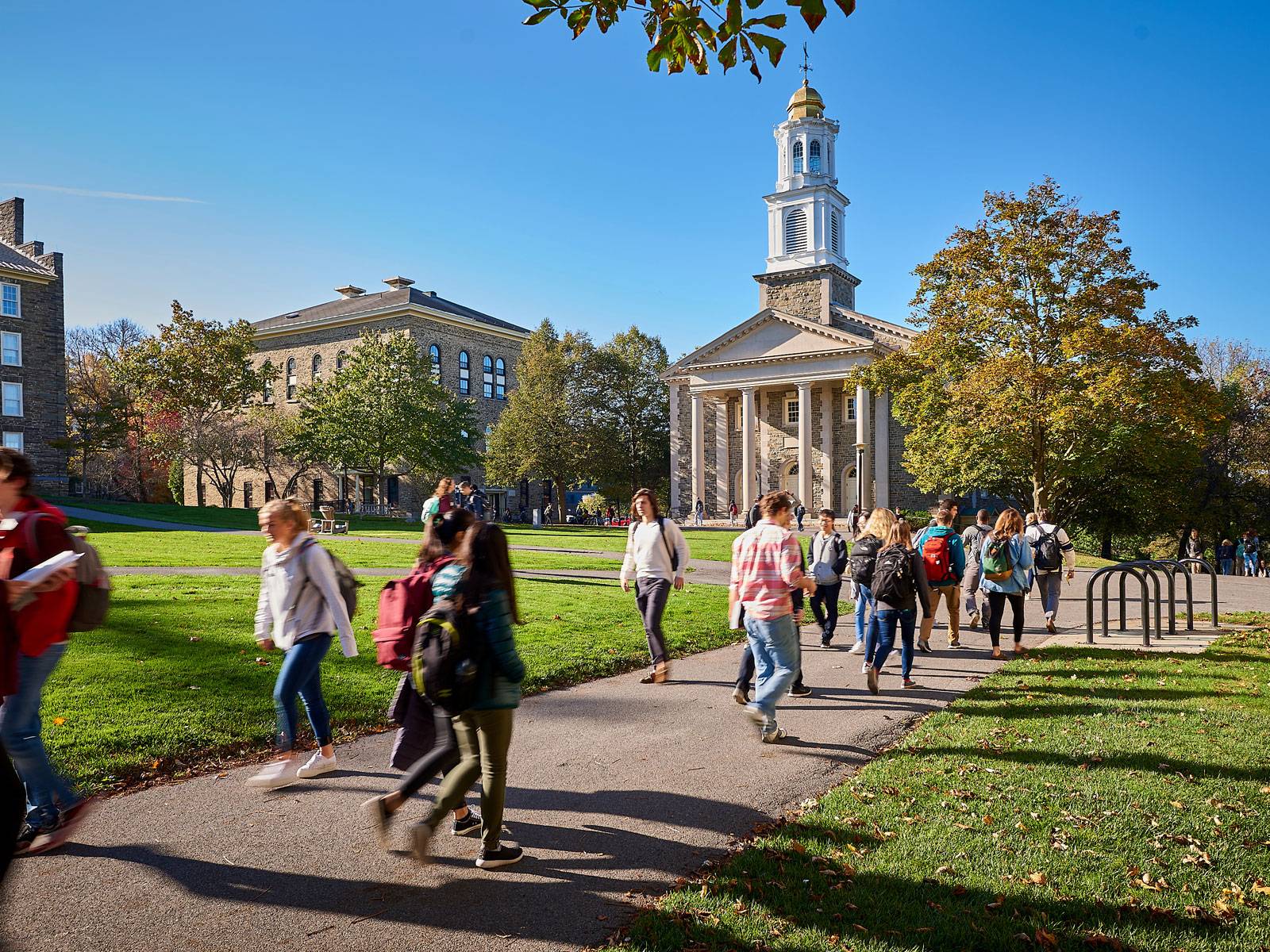 Colgate is a distinctive, vibrant, and welcoming place to learn, live, and develop into who you are. Take the next step toward joining our academic community.