The genuine kindness and support that I have found here is unlike anything I have ever encountered before, and I am proud to call Colgate my home.

Katie Maratea '25

Basking Ridge, New Jersey
What is your favorite activity outside of the classroom?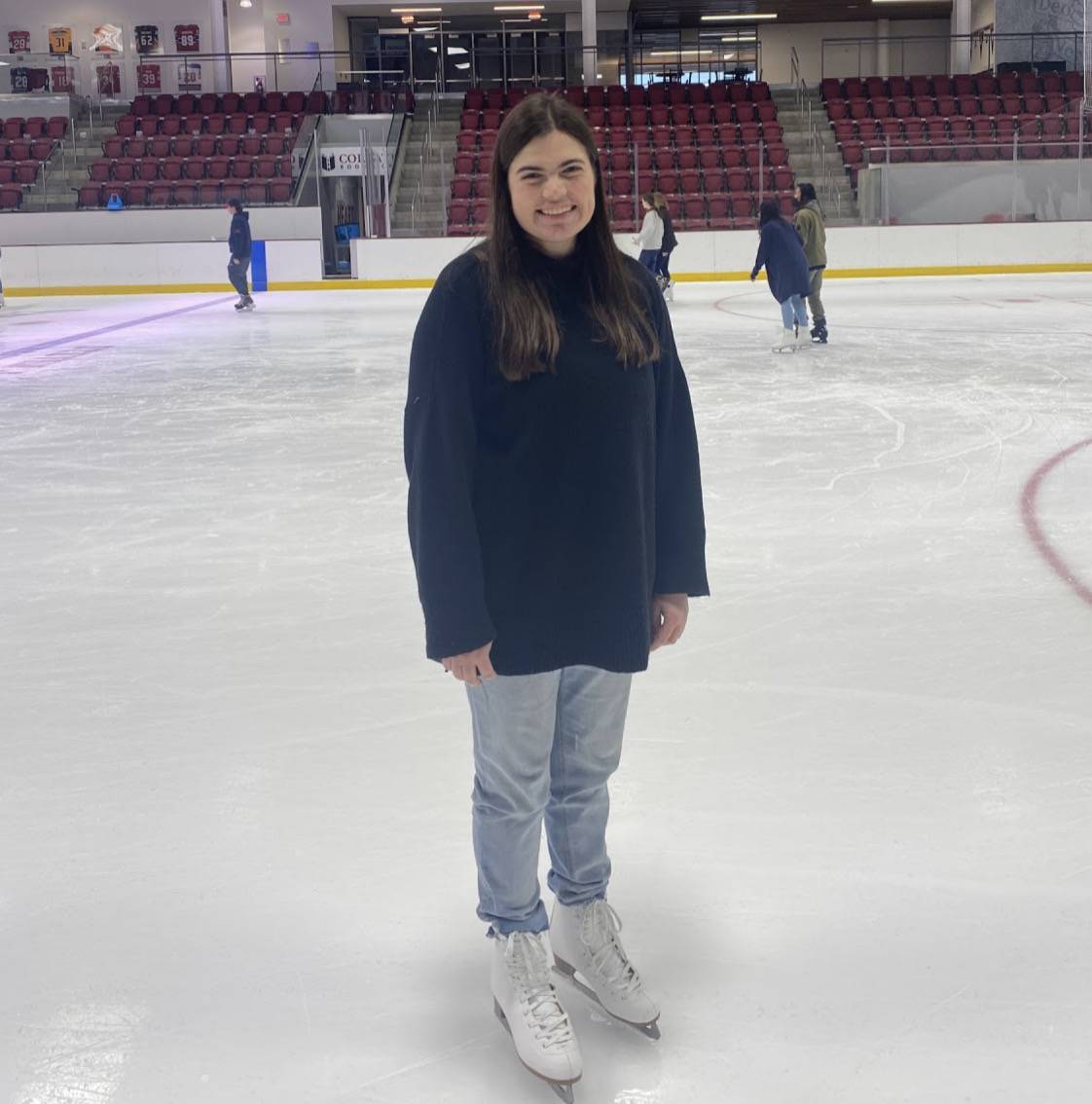 I love attending the numerous events that Colgate has to offer. From the concerts with Grammy-nominated artists to the events such as midnight movies and casino night or championship sports games, Colgate always has something to look forward to. One of my favorite events is 'Gate Skate, where the Class of '65 Arena is open for all students to ice skate. I enjoy spending time with my friends in a way that is unique to Colgate and watching people challenge themselves to learn how to ice skate. Colgate even gives ice skates to students who may not already have them on campus!  
What is the best part about being a Colgate student?
I feel so fortunate to be surrounded by the friendly student body, talented professors, and welcoming community that comprise this university that I have come to call home. Everywhere you go, someone will always smile and give you the Colgate hello! 
Often, my friends will joke that I know everyone on campus because I'll stop two or three times on my way up or down the hill to chat with someone; but really, that's just the kind of community that we have here at Colgate. The genuine kindness and support that I have found here is unlike anything I have ever encountered before, and I am proud to call Colgate my home. I am also beyond excited to be a member of Link Staff this year. As a 'Link,' I will have the opportunity to welcome new students to campus, guide them through orientation, and serve as a mentor to them throughout their first year at Colgate.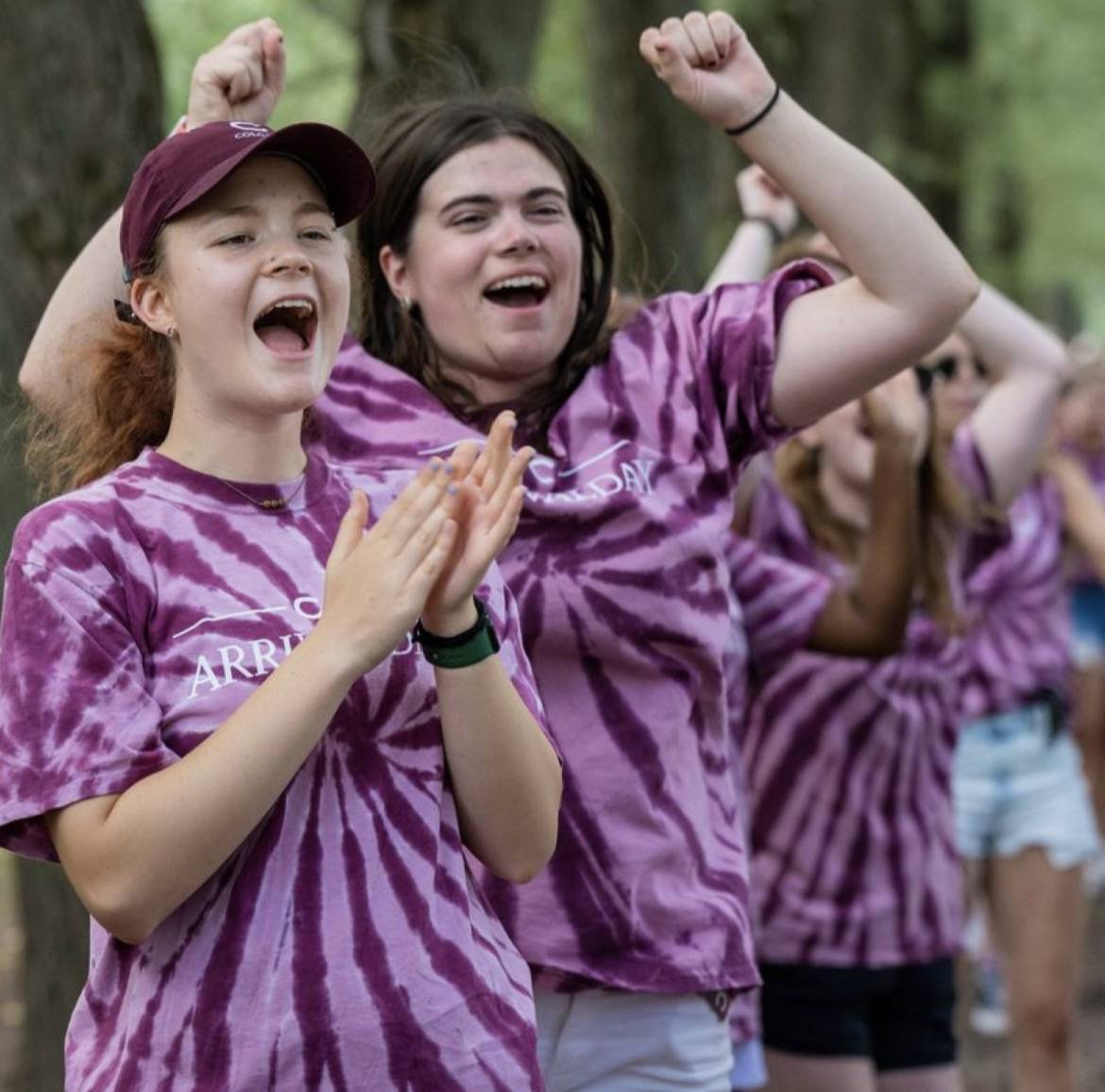 What Colgate experience has had the greatest impact on you so far? 
Colgate has opened the door to so many more opportunities than I could have ever imagined. In the short time that I have been at Colgate, I have met so many amazing people; but it has been my experiences with the French department that I have found to be the most impactful. In my very first semester on campus, I was given the opportunity to welcome, tour, and dine with a Guadeloupean film director Mariette Monpierre. 
Additionally, when I asked my French Caribbean professor how I could join French Club, she invited me to an officer's meeting, and I have since planned trips to visit French exhibits at the Metropolitan Museum of Art. After being so welcomed into the French department, I decided to declare a French major and I look forward to the next steps in my Colgate journey!
What is your favorite place on campus and why?
I love the walkway alongside Alumni Road between Persson Hall and Case-Geyer Library because you can see all of Colgate's breathtaking beauty, from the magical Willow Path to the rolling hills of the Chenango Valley. Colgate is gorgeous in every season, and my camera roll is now filled with photos of our campus in sunshine, snow, and everything in between. I've shared just a few of my favorite photos below.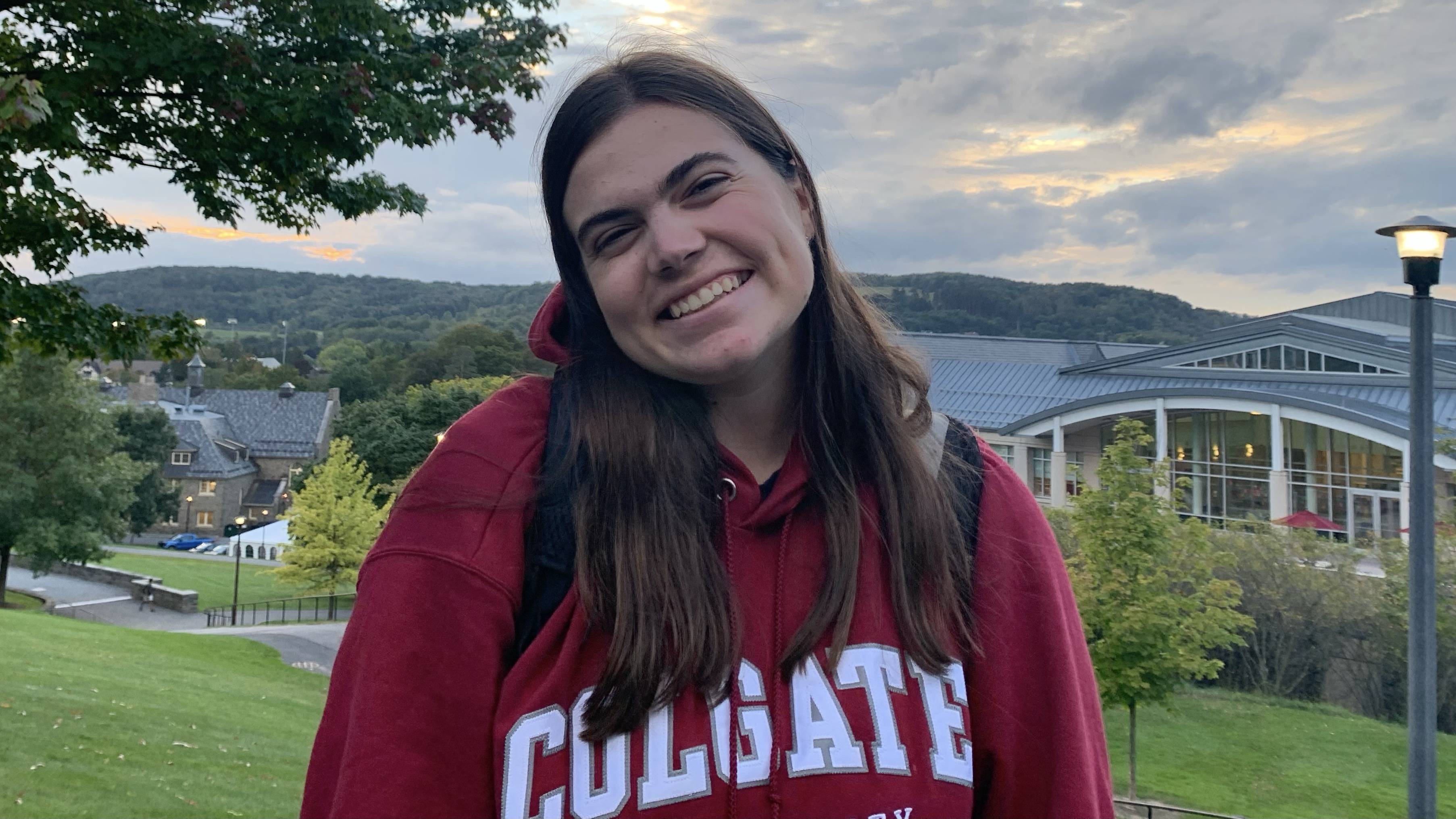 Katie at her favorite spot on campus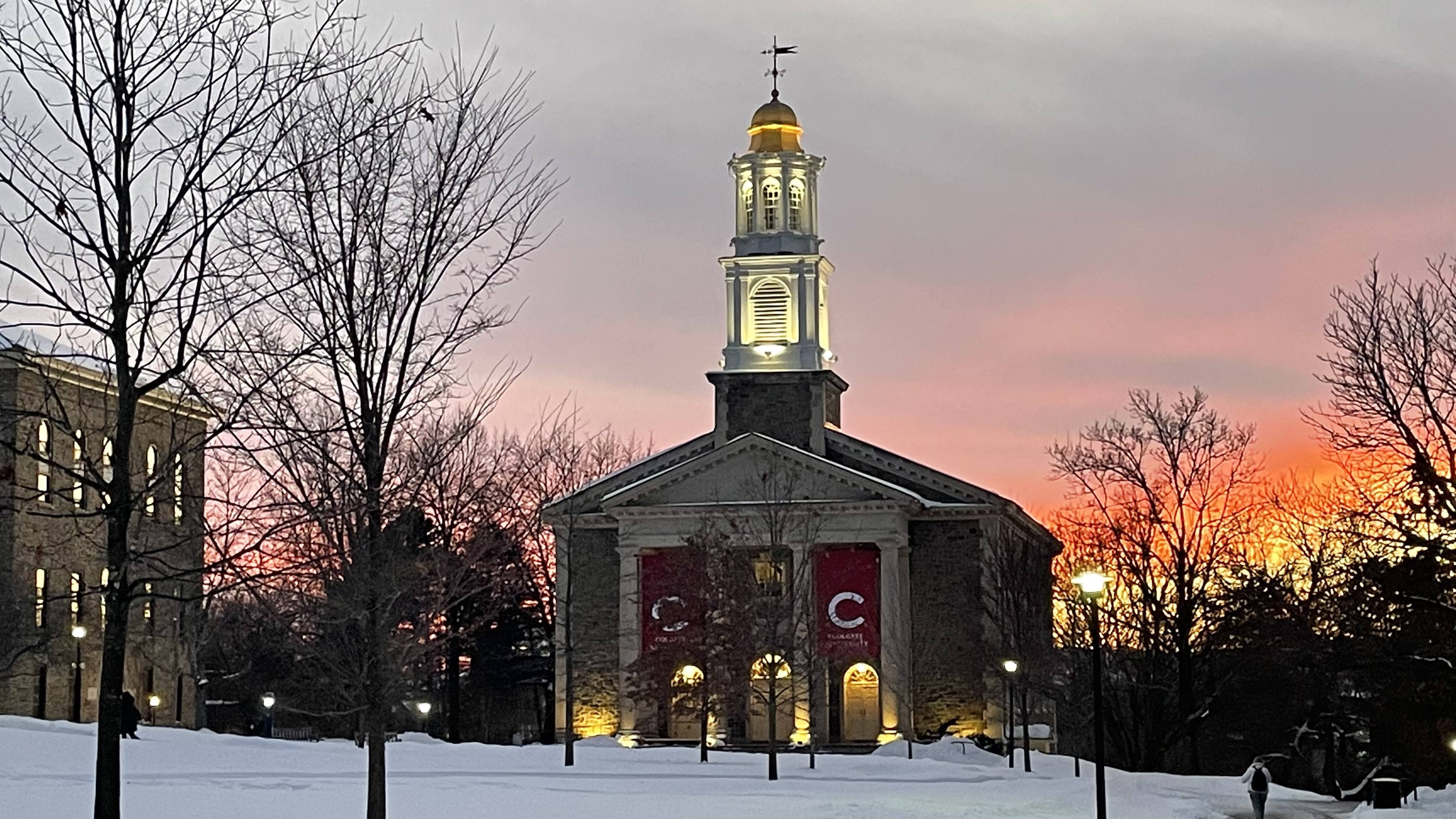 Colgate Memorial Chapel in the snow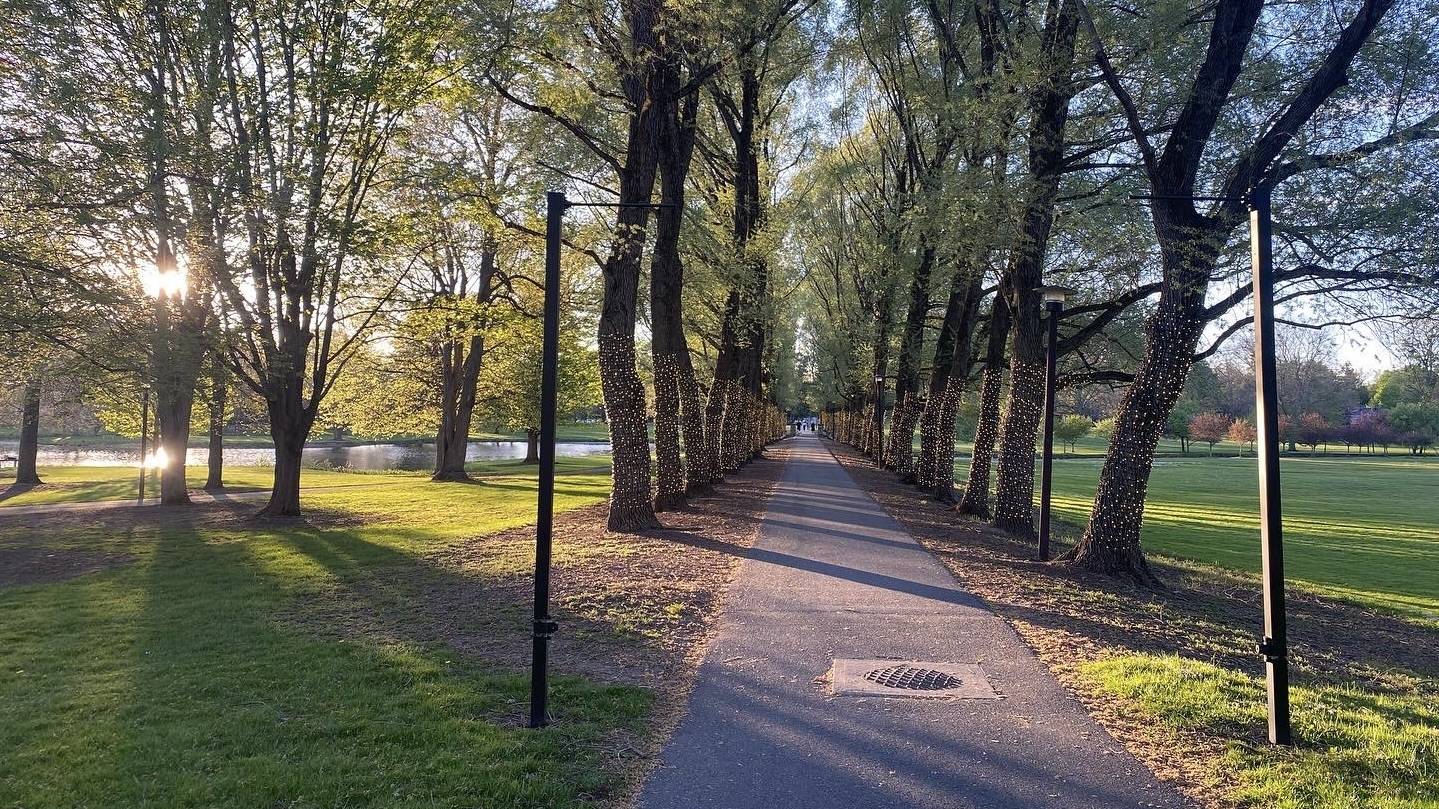 The Willow Path at golden hour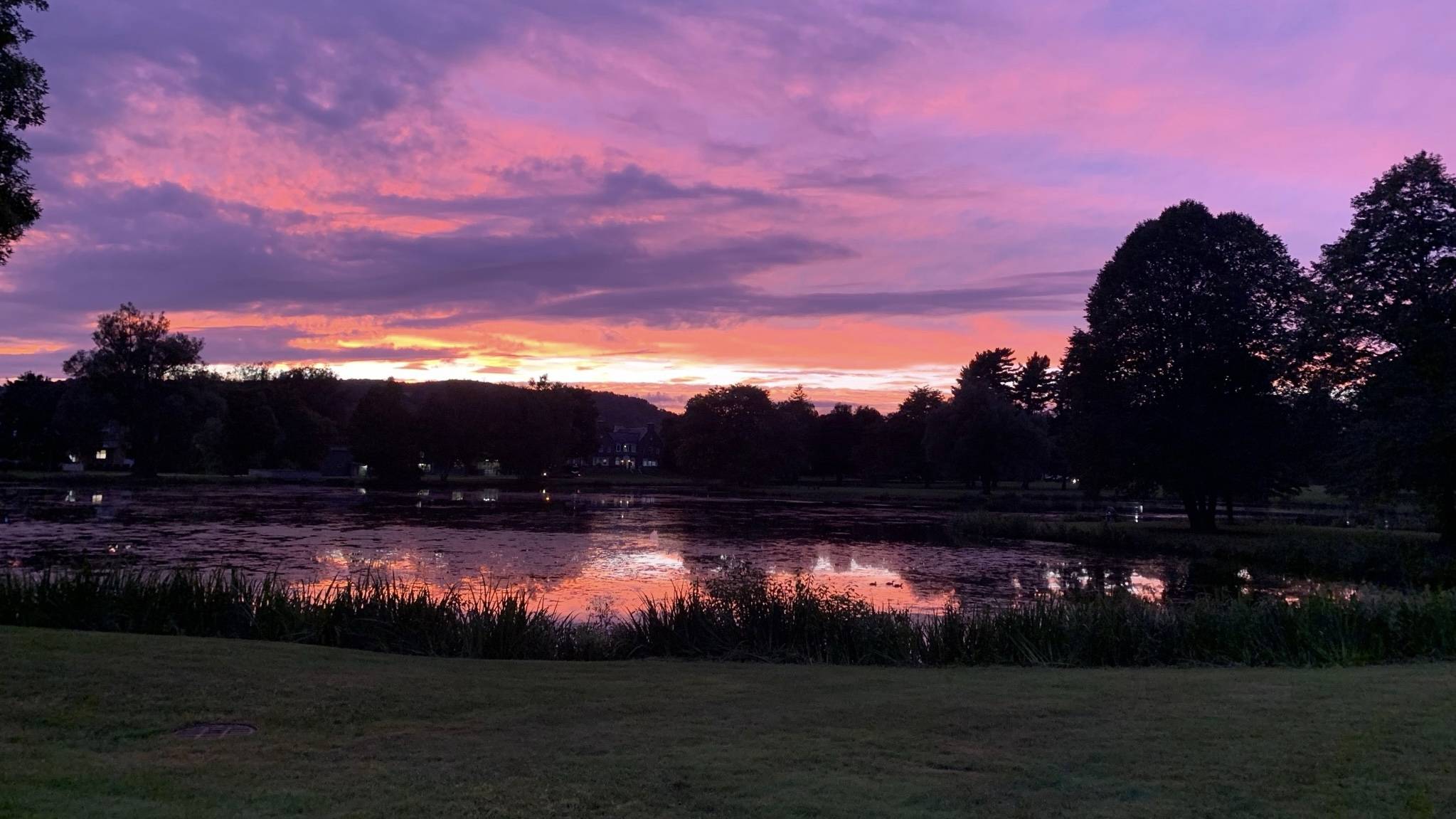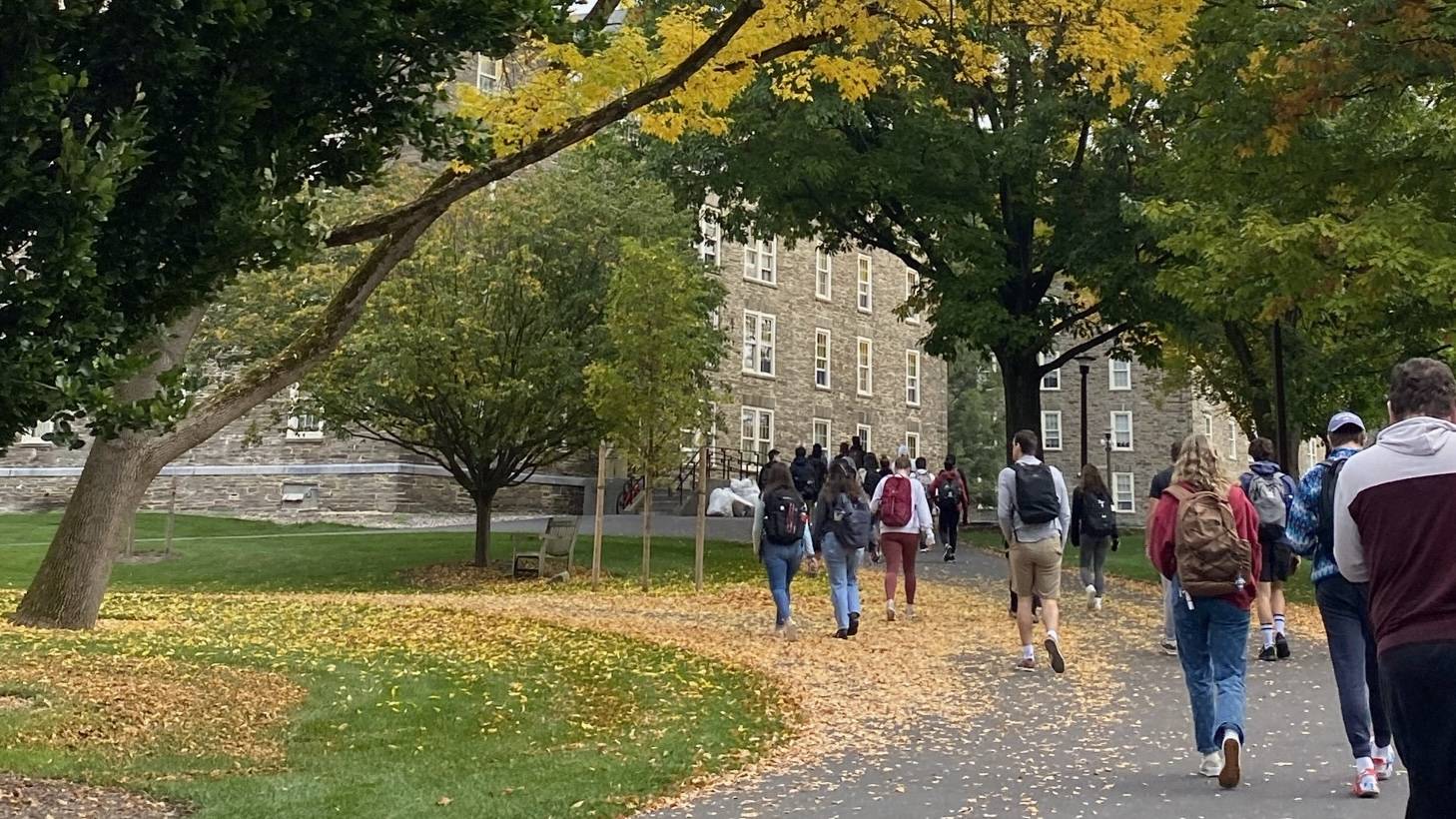 What advice would you give to future Colgate students?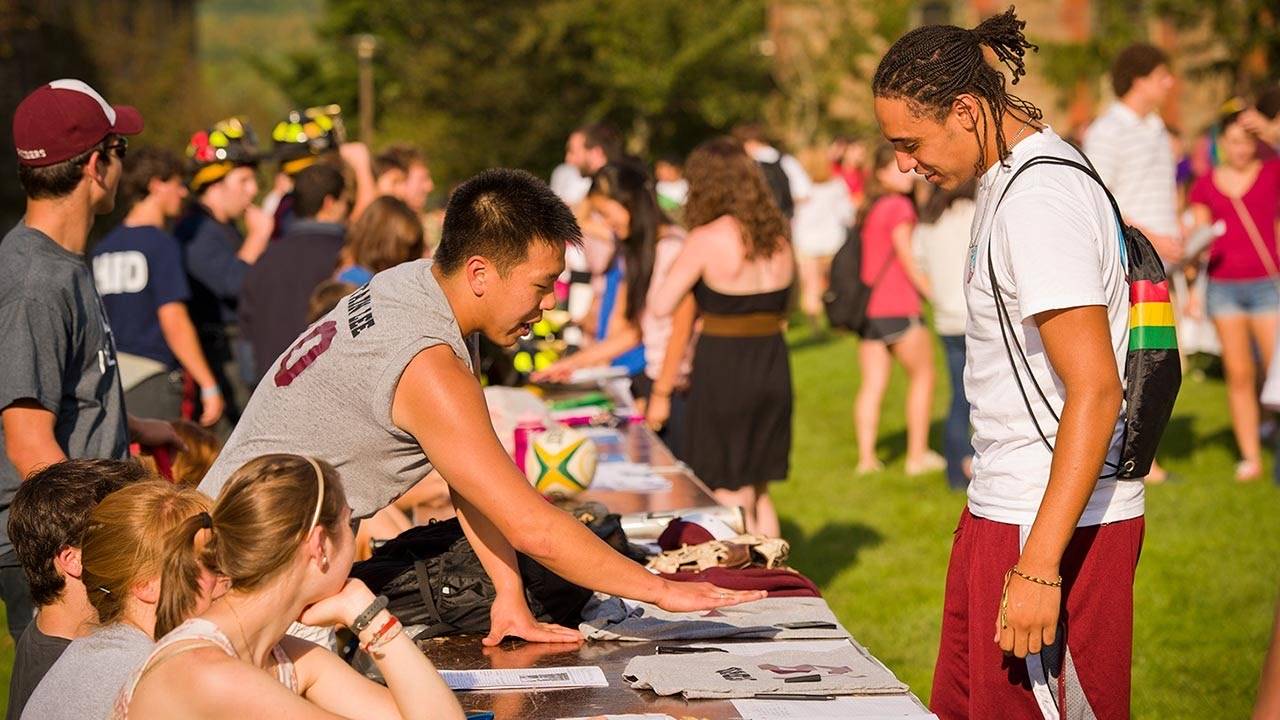 Take the opportunity to attend the Student Organization Involvement Fair or "Club Fair" at the beginning of the year and sign up for whatever interests you. Colgate is home to so many different activities that peak everyone's interests and you are sure to find something that you are passionate about. The student body is eager to participate in all sorts of activities, and you even have the option to start your own activity if you desire. At my first activities fair, I put my name down for just about every club there was. Going around to each of the club tables and chatting with the club leaders was an amazing way to meet new people, and see all of the ways that I could get involved with organizations on campus. Through the Club Fair, I discovered new activities beyond the ones that I had previously participated in and even found a passion for water polo!
What's coming up for you next year?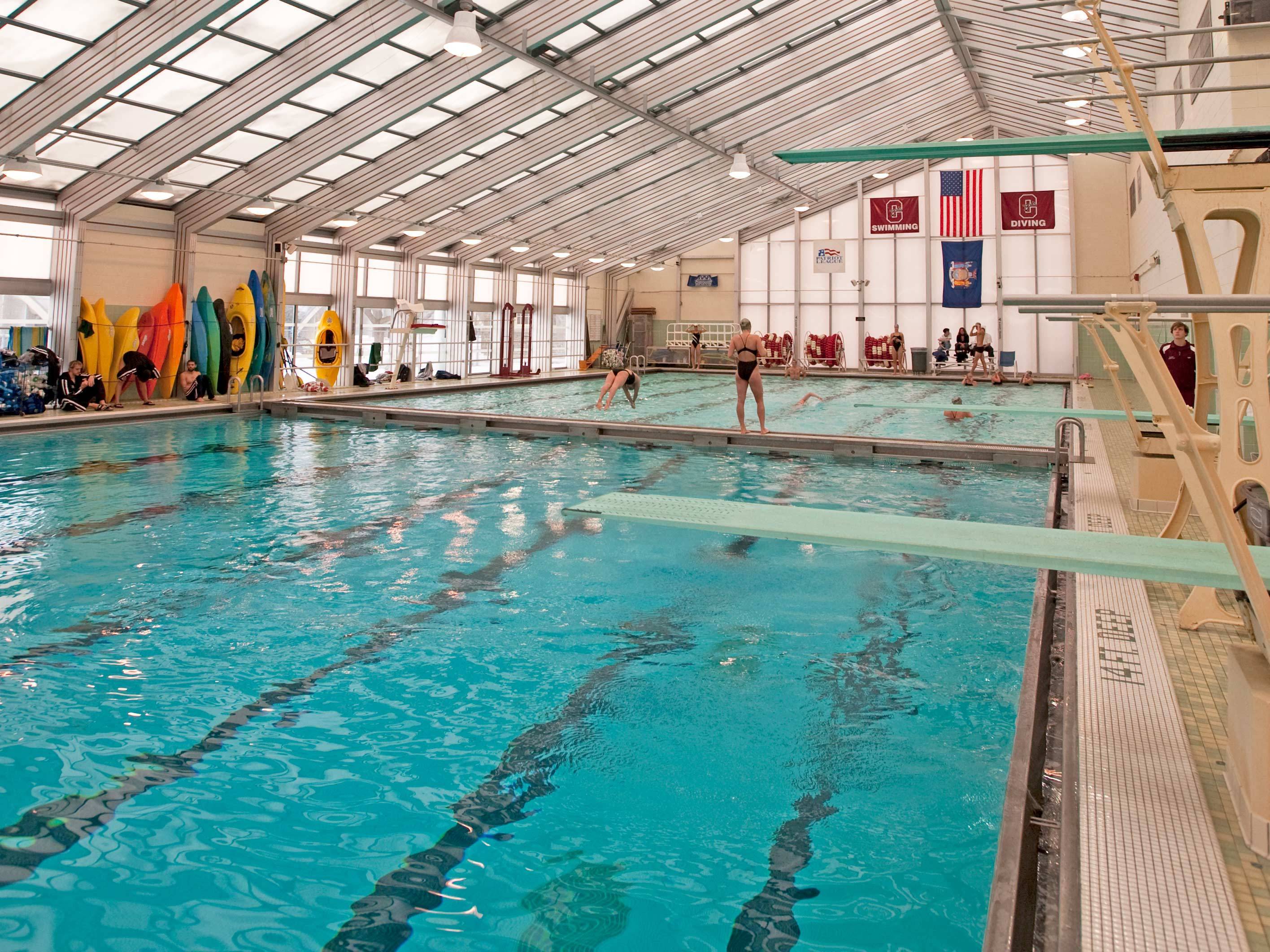 This past year, I worked with a few other students to bring back club swimming. We reached out to students to see who would be interested, created a proposal, and submitted it to the recreation department. A few weeks later, we were able to begin practices! In the semesters to come, I am excited to continue to grow our club and foster a community for swimmers of all levels at Colgate.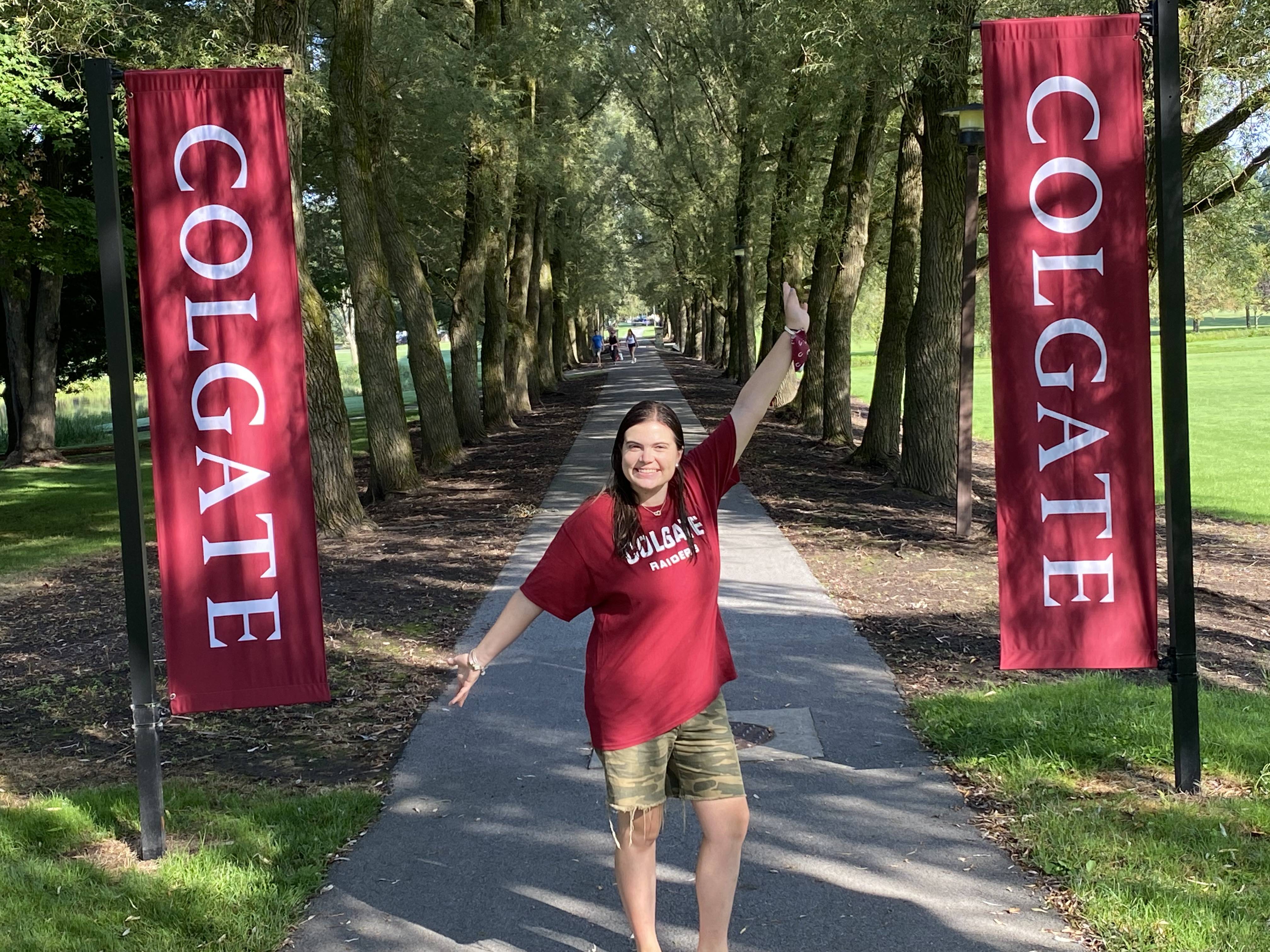 When I think about the person I was at the start of my Colgate experience and the person I am now, I feel so proud of how far I have come. Walking into my first club fair, I was awestruck by the confidence of all the club leaders and a little bit nervous. Now, just one year later, I am one of those club leaders myself, eager to welcome incoming students to Colgate and help new students discover their passions as I once did.
Take the next step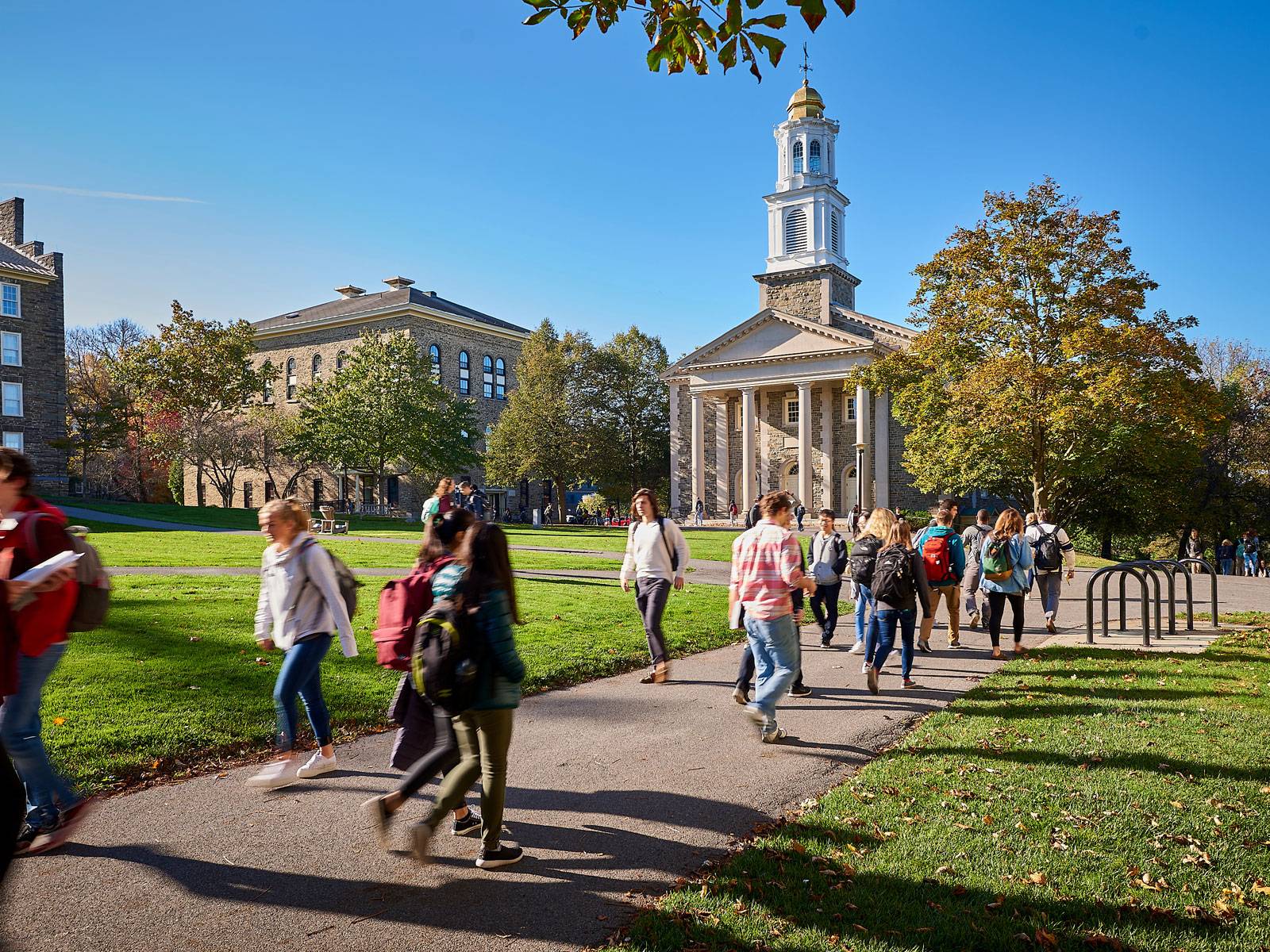 Colgate is a distinctive, vibrant, and welcoming place to learn, live, and develop into who you are. Take the next step toward joining our academic community.