Our student entrepreneurs are guided by alumni and parent mentors who have real world experience building companies and non-profits from the ground up. Student ventures range from teams beginning with an early-stage idea to full-fledged companies with clients that generate revenue.
Virtual Volunteer Opportunities, 2021–2022
We look for dedicated, enthusiastic volunteers who are excited to advise student entrepreneurs as they start their journey and navigate their venture. The ideal background and skills of mentors include:
Hands-on experience with early-stage companies, non-profits, and change-making initiatives 
Experience as a founding member of an early-stage venture, as a skilled contributor to early-stage ventures (marketing, sales, etc.), and/or as a startup advisor/funder
Expertise in product development, marketing, software engineering, sales and business development, team management, and more
Strong desire to coach and mentor inexperienced student entrepreneurs
Experience as a minority entrepreneur, non-traditional entrepreneur, and/or supporter of diverse entrepreneurs is highly desired
Experience advising early-stage ventures is welcome but not required
The Venture Mentor Experience
We seek individuals to serve as hands-on mentors to provide guidance and share your expertise with our students. Two to three mentors are paired with groups of 3-4 early-stage ventures, typically based on area of industry or expertise. Student teams are typically just starting their entrepreneurial journeys, although we also have later-stage teams who have been in the program for multiple years.
Responsibilities:
Attend a mentor orientation session.
Attend monthly group mentoring sessions from September–April.
Participate in monthly 15-minute check-in calls with each of your teams over Zoom between group mentoring sessions.
Stay engaged with your teams throughout the month on the TIA Slack workspace to answer questions and provide encouragement.
Option to volunteer at interactive workshops and pitch feedback nights.
Overall monthly time commitment: 5–10 hours
Pitch Feedback
We are looking for volunteers to attend one or more virtual pitch feedback nights and provide constructive feedback to student entrepreneurs. These will be held on Tuesday nights throughout the semester.
Workshop Presenters
We seek presenters to plan and facilitate interactive topical workshops geared for both early- and later-stage ventures. Potential topics for fall 2020 include: business model canvas; customer discovery; understanding your market; strategic planning; securing funding; and sales and business development. 
Office Hours
We are always looking for volunteers willing to host office hours with students to provide feedback on their venture related to mentors' areas of expertise. Our needs vary each semester but include topics like marketing, e-commerce, sales, business strategy, and product development.
Application Advisor
Student entrepreneurs often apply to funding opportunities and programs within and outside of Colgate. We look for advisors who have experience securing funding, applying to accelerators, and/or funding startups. This is an ad-hoc volunteer opportunity based on student needs throughout the year.
Subject Matter Expert
We are looking for volunteers who can help advise teams when they encounter specific hurdles such as incorporating, protecting intellectual property, bookkeeping, tax preparation, food licensing, and more. If you are a subject matter expert in any of those areas and would be willing to guide students through the process and connect them to additional resources, please let us know.
Contact us to learn more about becoming a mentor or advisor: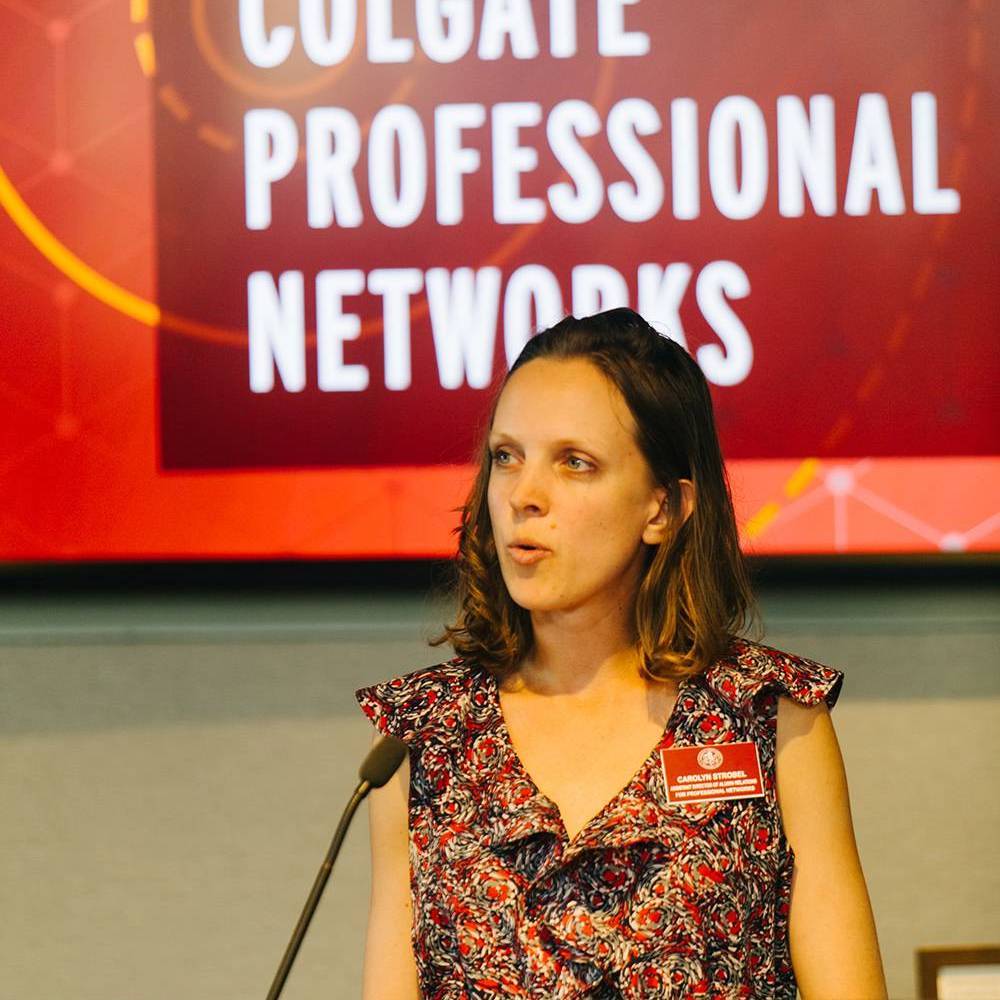 Director, Thought into Action