Are you a problem solver who enjoys using computer applications and devices? Consider exploring technology and computer science careers.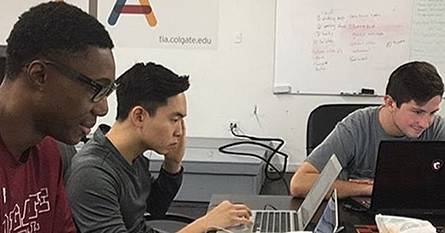 Explore Careers
Careers in technology are vast in terms of industry sectors, types of employers, and individual positions. From start-ups to tech firms, the opportunities that exist for those interested in technology are diverse and multi-dimensional.
Computers can be divided into three broad categories by operation and industry sector:
Hardware refers to the physical equipment of a computer, such as motherboards, memory chips, and microprocessors.
Software includes the programs that tell the hardware exactly what to do and how to do it.
The internet is composed of numerous global networks that are connected to each other.
For more info see the Vault.com Industry Guide on Information Technology: Log in or create an account (you will need to create an account using your Colgate e-mail address to view this content) >Industries & Professions >Information Technology >see "Related Professions" and "Related Industries" at the bottom of the page.
Due to the computer industry′s diversity, there are jobs available in a wide variety of industries. Ninety-two percent of information technology jobs are in banking, education, health care, transportation, retail, entertainment, hospitality, and fashion.
Large corporations are major employers of technology professionals. They often maintain information systems (IS) or information technology (IT) departments that hire for many different positions. The number of in-house departments has grown with the increased usage of computers in the workplace. Today, almost all companies have IS or IT departments.
Other employers of technology professionals are consulting firms. They hire college graduates with majors in computer science to help them integrate the latest technology into their clients' business. Most of these jobs are headquartered in large cities and require a lot of travel.
Careers in tech involve much more than coding and cubicles. Beyond software engineering, the tech industry offers a wide range of career opportunities. Meet these experienced alumni professionals as they discuss more about career on-ramps in this innovative and growing industry:
Naomi Gneco '19, software engineer, Goldman Sachs
Kelly Haberl '18, data scientist, Lyft
Joshua Zukoff '13, product manager, Google
Prepare for Jobs and Internships
Information, tips, and strategies to help prepare you as an undergraduate.
Be familiar with these terms and use them in application materials and networking conversations:
Big Data
Dark Data
The Cloud
Yottabytes
The Next Big Thing
Web x.0
Web 2.0
Heisenbug
3-D Printer
Higgs Boson
Knowledge of industry news can give you a sense of the culture and make you a better candidate. Technology is constantly evolving and changing. A few of the rapidly developing areas include:
Web 2.0: smartphones, GPS navigators, Android phones, Wikipedia, Facebook, and YouTube.
Information Security: due to compliance regulations, cyber-attacks, and increased awareness by the U.S. government of the need for increased IT security.
Virtualization: to share hardware resources and applications
Most entry-level positions require a bachelor's degree (computer science, math, engineering, and other majors if you have related experience/training). Additionally, some positions require certain certification. Examples include:
MCITP (Microsoft Certified IT Professional)
MCTS (Microsoft Certified Technology Specialist)
Cisco's CCIE
Red Hat's RHCE (Red Hat Certified Engineer)
VCP (VMware Certified Professional)
CSSA (Certified SonicWALL Security Administrator)
PMP (Project Management Professional)
ACSP (Apple Certified Support Professional)
CompTIA's Network+ and A+
CompTIA's Healthcare IT Technician
Institute for Certification of Computing Professionals - For certification information.
Quality Assurance Institute - For certification information as an analyst.
Some positions may require coursework or training in a particular application, operating system, or other technology. Examples include:
Java
CSS
HTML
C++
UNIX/LINUX
bash/Pearl
Python
Ruby
PHP
Continuous Integration System
Enterprise resource planning software
Scripting Languages
Relational Databases
Knowing your career goals is the first step to deciding whether or not to pursue an advanced degree or certification in technology. For example, most employers prefer applicants for a computer systems analyst position to have at least a bachelor's degree or a graduate degree for the more technically complex jobs. If you plan on becoming a director or manager, it would be a good idea to take leadership or management professional development courses or to receive an MBA. But there are many occupations, such as computer scientist, that do not require advanced degrees unless you're pursuing an academic position. Read job ads and the Occupational Outlook Handbook, published by the Bureau of Labor Statistics. They provide all kinds of helpful information, including how much education you need for certain professions.
Online Resources:
Advice on CS Graduate School from Williams College Graduates
Everything I wanted to know about C.S. graduate school at the beginning but didn't learn until later – A computer science graduate school survival guide, intended for prospective or novice graduate students. The guide also discusses finding a job after completing your Ph.D. and points to many other related web pages.
Alliances for Graduate Education and the Professoriate – AGEP is a network of universities dedicated to increasing the number of underrepresented minorities obtaining graduate degrees in science, technology, engineering, and mathematics
(Please check each association for membership information and conference dates.)
Technology Alliance of Central New York - Facilitate community awareness and education of technology and collaborate with like-minded organizations across Central New York.
TechAmerica - TechAmerica is a trade association that represents the information technology industry, including hardware, software, telecommunications products and services, Internet and online services, systems integration, and professional services.
Internet Corporation for Assigned Names and Numbers - ICANN is responsible for coordinating the assignment of Internet domain names.
Internet Society - This professional organization sets technical standards and provides leadership in addressing issues that confront the future of the Internet.
National Center for Super Computing Applications - For news on research projects and new technology developments and to learn about areas of science employing high-performance computing.
World Wide Web Consortium - Tim Berners-Lee, creator of the World Wide Web, founded the World Wide Web Consortium (W3C) in 1994 to provide information and news on web technology.
Business Software Alliance - BSA is the voice of the world's software industry and its hardware partners on a range of business and policy affairs.
The Entertainment Software Industry Association - For information on the entertainment software industry.
IEEE Computer Society - For information on scholarships and student membership.
Software & Information Industry Association - For more information on careers in computer software.
Computer Research Association - CRA's mission is to strengthen research and advanced education in the computing fields, expand opportunities for women and minorities, and improve public and policymaker understanding of the importance of computing and computing research in our society.
Association for Computing Machinery - Contact ACM for information on internships, student membership, and their student magazine Crossroads.
Society for Technical Communication - For information on careers and internships in technical writing.
Information Technology Association of America - For information about the IT industry.
Find opportunities
The CrunchBoard – One of the most popular job boards for internet and tech jobs.
Dice.com – The "career hub" for tech.
iCrunchData – The place for jobs in big data, analytics, and tech.
TechCareers – Job listings, educational tools, and networking opportunities.
ITJobPro – Global tech sourcing solution.
RubyNow – A popular job board for Ruby developers.
Mashable – Mashable's job boards are not limited to tech but they feature many positions in the industry.
CareerBuilder – Contains articles, job postings, and news. A great source of information on IT.
Institute of Electrical and Electronics Engineers Computer Society Jobs Board
NationJob – use the advanced search feature and look for IT and computer job pages.
Vault.com – provides the industry context needed to identify your best job opportunities. Use the Research Companies tab to browse popular industries, or search for key terms using the search bar. You will need to create an account using your Colgate e-mail address to view this content.
ZipRecruiter – internship and job search resource for opportunities in technology and more.
National Science Foundation – The NSF Graduate Research Fellowship and the NSF Minority Graduate Fellowship are three-year fellowships open to U.S. citizens pursuing graduate study in science or engineering. These fellowships provide a cost-of-education allowance and a stipend for living expenses.
AAS Science & Technology Policy Fellowships
DOE Computational Science – Students in their first or second year of graduate study in physical, engineering, computer, mathematical, or life sciences are eligible to apply for the DOE Computational Science Graduate Fellowship. Exceptional senior undergraduates who can meet all the requirements may also apply.
Association for Women in Science – AWIS provides undergraduate awards for students in their first, second, or third year of college as well as predoctoral awards open to advanced doctoral students. Each year about ten predoctoral students receive a full award for $1000 or a Citation of Merit for $500.
FastWeb – A free database of national, local, and college-specific scholarships.
Colgate Handshake Opportunities
Check Colgate Handshake, Colgate's internship and job database, for opportunities that may interest you in this field.
Connect to Careers
Latest stories about internships, workshops, professional networks, and more.
Technology and Computing Advisor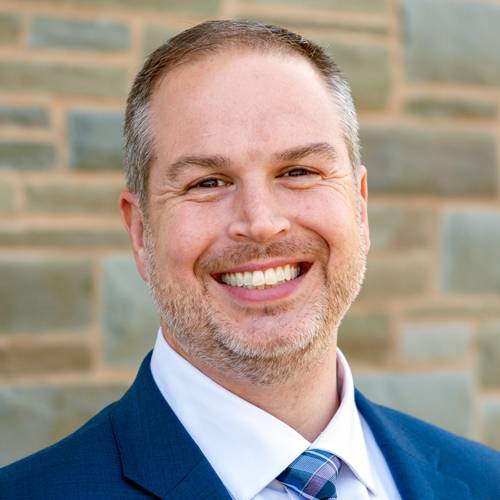 Assistant Director of Career Development
James joined Colgate Career Services in September 2014 as a Career Advisor with a focus on the STEM disciplines. Prior to his arrival at Colgate James was employed at Rensselaer Polytechnic Institute where he served as an Associate Director and Lecturer in the Archer Center for Student Leadership Development.
James earned an Ed.M. degree in Higher Education Leadership and Policy Studies with a concentration in Student Affairs Administration from the University at Buffalo and a BA in History from the State University of New York, College at Geneseo. James brings to Colgate more than ten years of experience working with college students in a variety of capacities including, leadership education, curriculum design and assessment, community development, and one-on-one coaching. He enjoys helping students bridge their interests and passions with their professional goals to find a sense of fulfillment and success.
Originally from the Finger Lakes region of New York State, James resides in Syracuse and is excited to enjoy the diverse array of outdoor recreational activities that Central New York has to offer.
Questions? Call 315-228-7380 for an advising appointment.